To paraphrase an old saying, "Art is in the eye of the beholder." And it's everywhere if you simply allow it to catch your attention – even on the pavement!
OK. I admit it. I'm a texture-holic. And yes, I see texture almost everywhere. Especially when I've got time for daydreaming.
Road trips are a great time to let your mind wander freely – at least when someone else is driving! Lucky for me, Jack loves to drive out on the open roads. It's the perfect time to just soak up the scenery and tune into what's really there.
Several years ago, we were driving through the panhandle of Texas and all the sudden, I started actually 'seeing' the markings on the pavements. The more I looked, the more I was fascinated. And I was fascinated enough to pull out the camera and take pictures. (Don't worry, I skipped the road kill… Some things I prefer to forget!)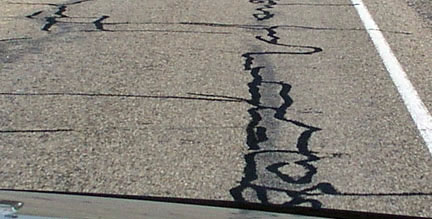 If I remember correctly, I was thinking about a class I had done with Jane Dunnewold, where she encouraged us to collect ideas for markings that could be useful for silk screens, stamps and other tools. If I wanted to make artwork related to my travels, these seemingly random markings just might be useful.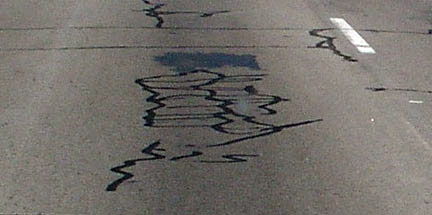 Some of the patterns were isolated and abstract.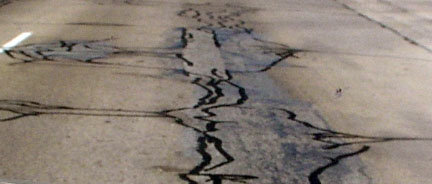 Others were more connected.

And some reminded me of maps. This one almost looks like the voting districts carved out in a lot of large cities… and I promise to drop the political analogies before I get myself into trouble.
All the while, I had to wonder. Were the markings strictly related to highway wear-and-tear? Or were the highway workers really closet artists?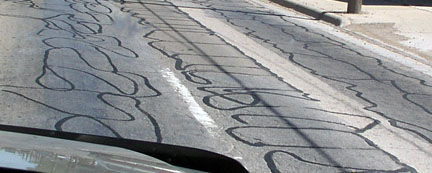 When I got to this stretch of road, I was totally convinced the highway crews were totally bored or had a great sense of humor. You'll never convince me that the cracks in this road remotely resembled the curvy, script-like lines of tar. Yes, Virginia, art is everywhere – if you just open your eyes to see it!