Do you ever find yourself doing "hotel art?" You know, you're at a conference, you take a class, and you just can't wait until you get home to finish up whatever you just learned about? Or you took a class that involved messy stuff, and you really have to wash out that fabric before you pack your suitcase to head home?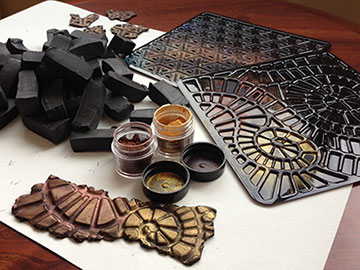 There are tons of good reasons to travel with art supplies and to make art whenever you get the chance. It's just a little more tricky than playing in your work room at home.
I did a little "hotel art" in my room last week getting ready for a series of make-and-take session for a bunch of sales reps. As I was preparing to play with polymer clay, pigment powders, and stenciling with textile paint, I thought it would be fun to share my Hotel Art Commandments. That's commandments – not "suggestions" – unless you want to get an extra large bill after the housekeeping staff becomes unglued trying to clean up after you.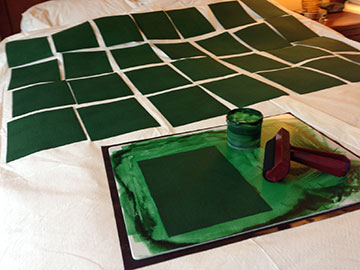 Thou shalt carry a drop-cloth with thy supplies.
Hotels used to favor brightly printed bedspreads that were capable of hiding a multitude of sins, but not any more. In at least 80% of my recent trips, I have encountered beautiful white linens and duvet covers. They look great, but show every speck of dirt from a suitcase, let alone a little "oops" from a spontaneous art project.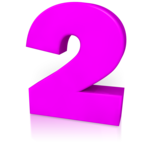 Thou shalt seal any jars containing liquids before putting them in thy suitcase.
There is NOTHING worse than opening a suitcase to find that something has leaked or spilled. Especially if the suitcase contains your clothes as well as your art goodies. Get yourself a roll of electrical tape to seal any jars or bottles as you pack. It's stretchy and the best way I know to seal containers for travel. Then put everything in plastic zippy bags. And, no, it's not overkill to double bag stuff that might spill.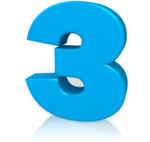 Thou shalt always pack an apron.
Always. I do my best to pack lightly when I travel. An apron is the most compact weapon for "oops" protection available, and far more important than the extra sweater that you "might" need. Don't leave home without it!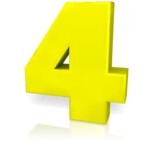 Thou shalt bring thy own art towels.
No, it is not okay to use the fluffy white towels in the room to clean up after yourself. If you are carrying art supplies, make sure you pack a couple of the old grungy towels from your studio. With your own towels in hand, you'll stay on good terms with the housekeepers. Besides, you can toss them in the trash before heading home without a twinge of guilt.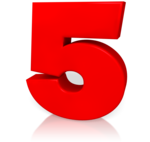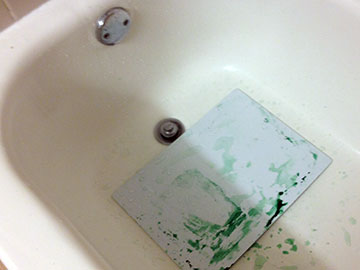 Thou shalt not leave a film of dark green paint in the sink or tub.
As you know, you should never allow paints (and other gooey stuff) to dry on any surface where you don't want it to be permanent – and this includes the hotel bathroom. You brought your art towels, right? Use them!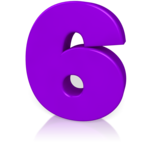 Thou shalt not leave the hotel carpet full of shiny stuff.
If you've ever tipped over a container of glitter or pigment powder, you know what an incredible mess it can make. It's so much better to be safe than sorry. Don't even think about opening that jar of shiny stuff until the drop cloth is in place.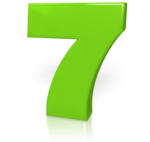 Thou shalt order room service BEFORE thee begins to play.
Face it. What they don't know, won't hurt them. It's far better to avoid having any staff in the room once you're in the middle of your art project. Trust me. And don't forget to hang the "Do Not Disturb" sign on the door until you know you've got everything tidied up, including the bathroom sink.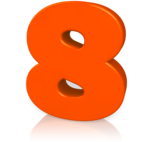 Thou shalt always carry an extra stash of zippy bags.
Actually, this is a good habit to get into for any trip, not just trips that may involve hotel art. You never know when you'll need an extra plastic bag to pack a wet garment, a muddy pair of shoes – or those dirty art towels that you decide to take home with you.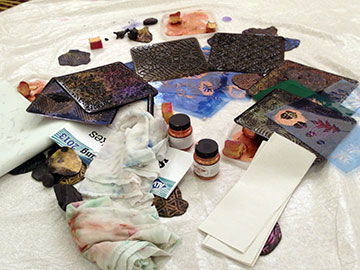 Thou shalt not feel guilty about throwing away inexpensive supplies when necessary.
This is for teachers. There are occasions when time is short; or, there is simply no good way to clean up and reuse the supplies from a class. When this happens, it's perfectly okay to push everything disposable into the middle of the drop cloth, roll it up, and deposit the whole works in the trash bin. (You did bring a disposable drop cloth, right?)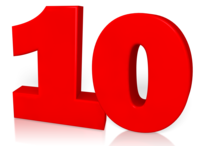 Thou shalt have a wonderful time making art!
I rarely leave home without at least a small stash of art supplies in my bag. Even if it's just colored pencils and a drawing book. I love being able to sketch out a pattern that catches my eye, or capture the color of gardens in bloom. While "hotel art" can be challenging, it can also be incredibly fun and rewarding. At least as long as you have a few key supplies on hand, and a few simple commandments in mind.
Do you have any good "hotel art" stories? I'd love to hear about your adventures. I just know I'm not the only one who indulges in this game! Leave a comment here on the Blog, or hop over to our Facebook page. And have fun making art!