by Shelly Stokes, Founder and Creative Mentor


I had the good fortune to connect with Terri at Terri Johnson Creates the other day. Terri is a multi-talented sewer and crafter who has focused her attention on all the marvelous possibilities for Silhouette cutting and printing machines.

For those of you who are unfamiliar with these machines (like me), the Silhouette cutters hook up to a computer. They come with a basic software package that allows you to download or import images, resize them, and so on. It is like having a printer with a knife attached.
I have heard about the cutting machines for a while, and I saw them at Quilt Market last fall. But to be perfectly honest, I was not sure how I would use one. Well, one conversation with Terri and I am thinking this could be a totally cool addition to my toy box. Here is how Terri created a vinyl stencil and used it to paint an image on fabric.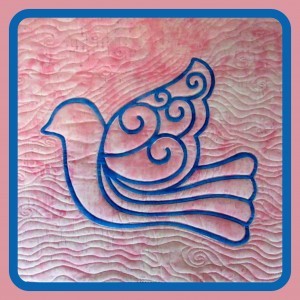 First, here is a photo of a wall quilt made by Alice Ridge, one of Terri's friends. Terri used this photo as the sample in her blog post.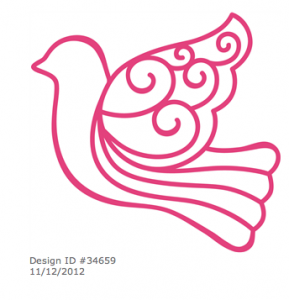 The first step is to choose an image. It can be one that you created or one that you download from the Silhouette online store. Terri and Alice used an image from the store.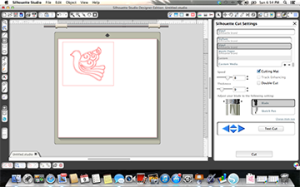 Next, Terri opened the image in her Silhouette software, enlarged it to the correct size and put a border around the image. Once the image was ready, Terri fed a roll of vinyl into her machine and let it do all the work of cutting the image.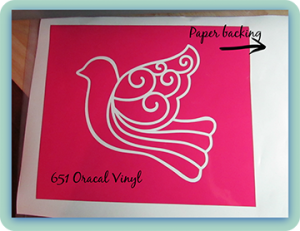 Once the stencil was cut, Terri peeled up the parts of the design that she wanted left open for painting.
Now, when I looked at this, my first thought was "How in the world does she get all those vinyl pieces in the right spot on her fabric? If you look at the image, there are no bridges like you would have on a traditional stencil.
Of course, she had an answer to that. (Thank goodness!) There is special Transfer Tape that can be pressed down onto the stencil parts and they will all peel up in a single sheet. Once you press the whole sheet down onto fabric and use a squeegee to make sure it is secure, the transfer tape will lift off from the stencil, and you are ready to paint. (I think I am going to have to get myself one of these little wonders — this sounds like way too much fun!)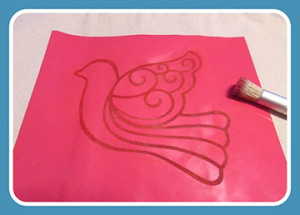 Once the stencil is on the fabric, it is easy to paint the image with our favorite Paintstik colors. Terri used a matte color on light fabric, but these would also be great fun with iridescent colors on dark fabric.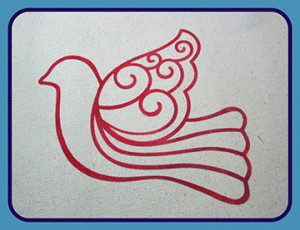 Finally, here is an image of Terri's painted dove on a light colored canvas. As always, there are no drips, no runs, no errors.
Learn More and Get a Great Deal on a Silhouette Cutter
First off, a huge thanks to Terri Johnson for sharing her knowledge about Silhouette cutters. There are tons of possibilities for these machines and they deserve a closer look.
I encourage you to click over to Terri's site to read her original post. Terri has a blog full of ideas for using Silhouette machines for all manner of crafts. She also does weekend retreats where she teaches all kinds of different ways to use these clever machines.
Terri also has a link to a very special offer that is good only through tomorrow, February 14th at the SilhouetteAmerica site. Click over to this post on Terri's blog for a link and a promo code. You can save about $100 on each of the two packages.
Have you ever used the Silhouette Cutter?
If you have, I would love to see some of your work and hear about your experience on Cedar Canyon Textiles' Facebook page.
(Full disclosure: Terri does get a commission on sales when you click through the link on her blog. And I'm happy to support her as I will be taking advantage of all the knowledge sprinkled so generously through her blog!)