Hi All! It's Monday, so it must be time for a little Design Magic. Last week I shared the wonderful birds that TART Lauren Parker created as a part of her lesson on Positive/Negative Stenciling. This week I'd like to share the 4 pieces created by the TART leaders at In Good Company.
The four talented artists at In Good Company say this: "Our business features the work and art of four women: Sue Engel, Sue Anne Iman, Jamie Grant, and Susan Wetzsteon. It is the collaboration of talent and ideas sparked by an interest in quilting and design which we have turned into a business for the past 15 years. Our focus at present is textile art quilts." If you are looking for a way to explore textile art topics on a regular basis, the TART program may be just what you are looking for.
Positive/Negative Stenciling Lesson.
One of the TART lessons last fall was on the topic of Positive/Negative stenciling. The lesson was based on the concepts in my book, Design Magic for Paintstiks on Fabric. (Click here to see the lesson on their blog.) Here are the quilts created by the TART leaders and posted on their blog.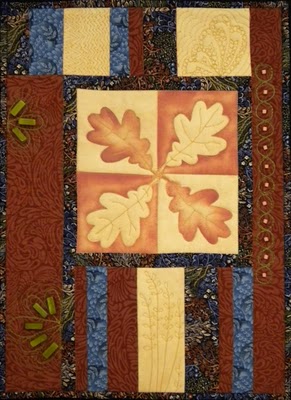 Sue created her positive/negative stencil from actual oak leaves and they provide the focal point of this art piece. Her strip piecing, beading and machine quilting add a great deal of detail and interest.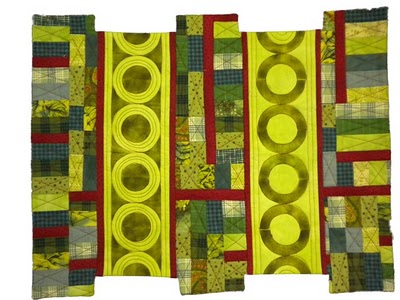 Susan separated her positive/negative circles to form strips within a scrappy pieced unit. She has named this art piece "Hugs and Kisses" because of the combination of O's created with Paintstiks and X's created with the machine stitching.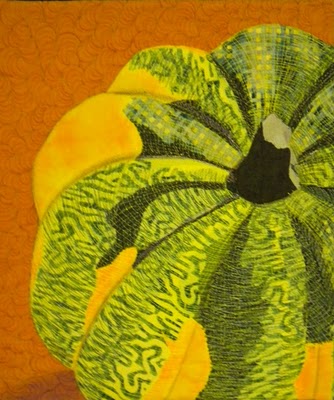 Jamie designed a positive/negative stencil and painted a piece of fabric which was then cut up and used as the skin of the Winter Squash. Thread painting blends the prints and adds texture to the squash. Watercolor pencils were used to give dimension.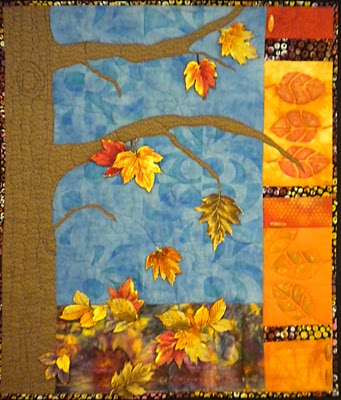 Sue Anne has created a beautiful fall scene and has used a number of techniques to color her fabrics. The blue background is her positive/negative stencil. In order to create a subtle background, several areas were left unpainted. The side border leaves have been printed and stamped. The dimensional leaves were cut from a commercial fabric, lined and sewn with invisible thread which puckered slightly when steamed.
Learn more about stenciling with Positive/Negative images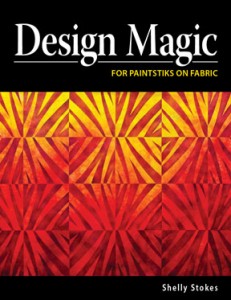 If you want to explore the possibilities for positive and negative images, pick up a copy of Design Magic today. Shop with your local quilt store or place your order with our new Online Store. Design Magic gives you a 3-step method for:
Creating a design
Turning it into a pair of equal and opposite stencils (positive and negative)
Adding repeating images to fabric with Shiva paintstiks
The book also includes 5 projects that you can make with your own designs, or you can use any of our pre-cut mylar stencils. For more information, visit the Design Magic page on our site.