by Shelly Stokes, Founder and Creative Mentor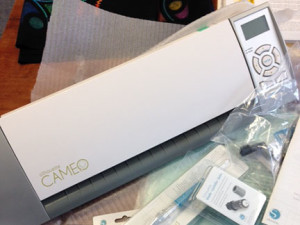 My Silhouette Cutter arrived last week, and of course I dropped everything and took it out for a spin. Who could possibly resist a brand new toy with so many possibilities?
Since it arrived, I have done a few experiments. (Yes, I promise to share, but not all in one day.) Some of my tests worked beautifully, some were absolute duds. I can see that I have a lot to learn about this marvelous machine — and that it has a bit of a learning curve.
Fortunately, the manual has you start with something really simple. And with so many possibilities, simple is good!
Create A Text Stencil
Since purchasing my first Mac computer (more than 25 years ago!), I have been in love with type, text and fonts. I just love the way you can shape the way words "feel" by changing the font, also called a typeface.
For those of you who have better things to think about, a font is a complete set of letters, numbers, symbols of a particular style. Yes, fonts are also the basins holding the holy water for baptisms, but we are not going down that path today.
Here is what happens when you change the font for a particular word:

As you can see, the font you choose for your text can greatly influence the feeling of the words. In fact, there are people who spend their entire career designing fonts, choosing the fonts for books, ads, and webpages. It is not something I want to do for a living, but it is something I notice when I am reading.
But I digress… let's get back to our Silhouette experiment.
I opened the software, typed in the word Create and chose a font. I chose the first script font that I found in my font list (Allura) and decided that was fine for a test.
I placed a sheet of green paper on the sticky cutting mat, fed it into the machine, held my breath and hit the button to cut. (I know, I know. I really should read the manual first. But who has time for that?)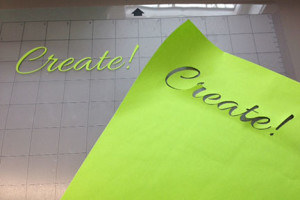 I quickly discovered that plain paper is not the ideal material for making stencils. It worked, but pulling it off the sticky cutting mat without tearing all the delicate bits was a bit tricky.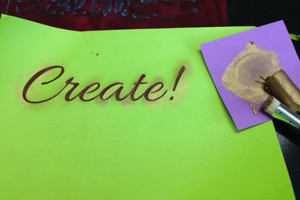 To test my stencil, I sprayed the back with sticky spray, grabbed an Iridescent Gold Paintstik and a stencil brush and a piece of scrap fabric from the bin.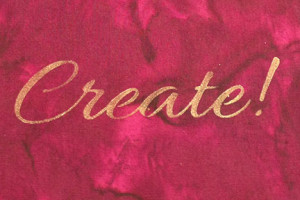 I'm pleased to say, it works like a champ! I have always loved the idea of stenciling words on fabric, but never had the patience to hand-cut small stencils. Machines like this Silhouette cutter open up a whole new world of possibilities.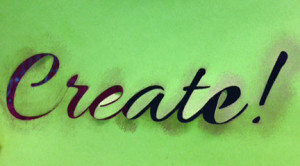 As I mentioned, plain paper was not a great choice for making a stencil with this cutter. To cut an image, you stick your stencil material down on a cutting mat with a tacky surface and feed it into the machine. Pulling the material off of the cutting mat can be a challenge.
I pondered what other materials I might use for stencils and got my answer while I was running a label for the post office. Aha! Mailing labels are sticky backed paper on a release liner. Time for another test.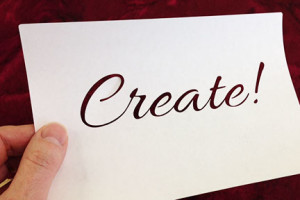 I went back to the cutter, placed a sheet of label paper on the cutting mat and cut my image again. This time, I was able to peel up the stencil without worrying about tearing it. And, sticky-back paper is perfect for stenciling with Paintstik colors. Just stick the label on your fabric and paint away.
As a designer, I can see that this amazing machine is going to be incredibly handy. I will be using it to test out designs for rubbing plates and stencils — without having to send them to the manufacturers for prototypes. And, of course, for just making my own art. And even if I were not designing stuff for other people, I would love having this toy in my studio. It is just plain fun!
I am anxious to test out plastic stencil material, vinyl stencils and stamping materials to see how well they fit into the things I like to do. I will keep you posted as we go along.
What Is Your Silhouette Story?
Do you have a Silhouette machine or one of the other cutters? Do you use it with your fabric art? Leave a note here in the comments or click over to our Facebook Page. I would love to hear from you.