After a week of feeling like I was spinning my wheels, I finally got a few things done. For the record, I gave myself permission to spin my wheels and ignore most everything after getting some hard-to-digest news. But getting a few small things off my To Do List and onto my Ta Da List has helped me get back into action. (Yay!)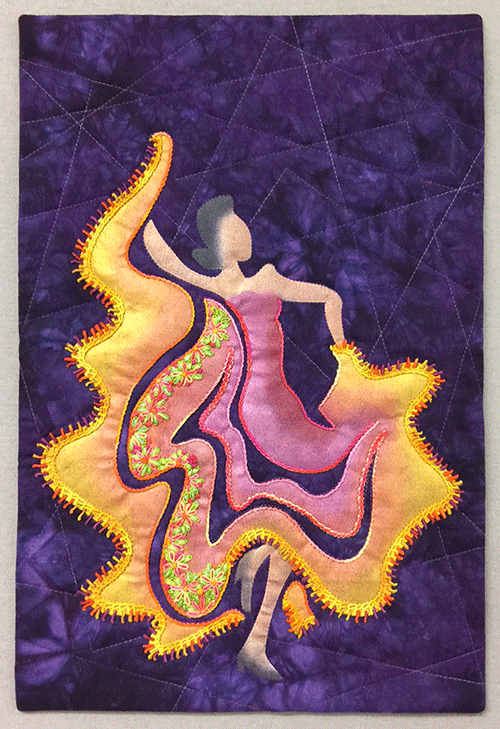 First, I finally finished up on the little dancer that I stitched on during my art residency in Chapala, Mexico this spring. I created this piece as a part of a challenge based on the word Movement. I think she fits right in.
If you want to see how my dancer was made, you can view the original posts here: Part 1, Part 2 and Part 3.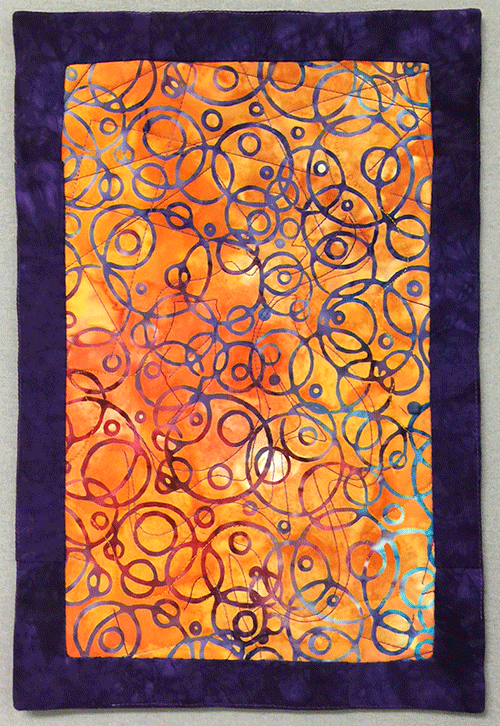 Now I know someone is going to ask about the lack of binding… Yes, I finished the piece with my Almost-Invisible Best-of-Show Art Quilt Facing technique. This piece was pretty small for this type of facing. Because we are getting ready for the class, I wanted to try it out.
The second item to go onto my Ta Da List is also related to my time in Mexico. I purchased a magnificent tapestry from Francisco and Janice at Aztek Studio. It has (sadly) been taking up space on my big work table since I arrived home. And that's Not A Good Thing!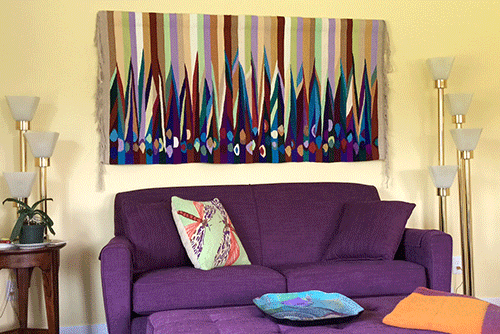 I put a sleeve on the back and recruited my somewhat skeptical husband to help me hang it above my (ahem!) purple sofa. As I expected, he said something along the lines of "Well, it sure adds a bit more color to the place…"
When we moved into our new home, I told Jack there would be No More Beige. Thankfully, he is a good sport and puts up with my desire to be constantly surrounded by color and pattern. After all, we lived in a house decorated in neutral colors of his choosing for 17 years. (I get to choose for the next 17!)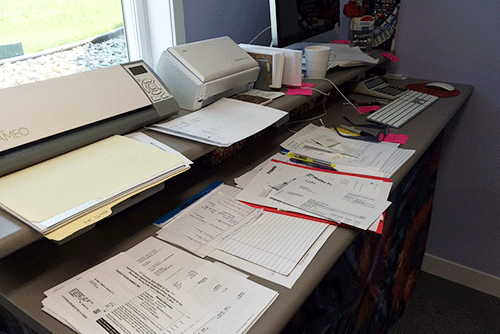 The third item on my Ta Da List was not nearly as much fun. I cleaned up both desks in my office. Both the computer desk and the tech-free desk were piled higher and deeper. Blech!
The computer desk is a whole lot more functional when I do One Thing At A Time. It doesn't stay that way, but I try…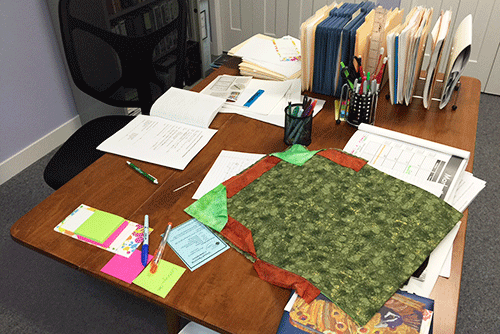 And the tech-free desk (where I can sit when my feet are tired), well, what can I say. It's tough to think straight when there is no open space.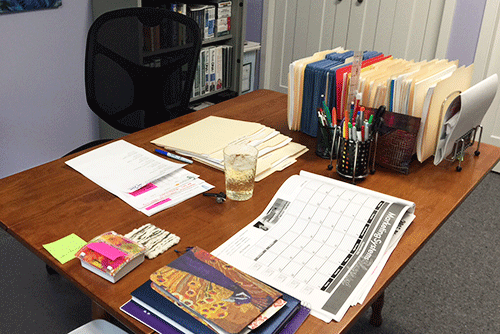 I truly dislike sorting and filing. (I need an office nanny.) But I get a whole lot more done when I'm not digging through a pile of papers saying I Know That Blankety-Blank Thing Is In Here Somewhere!
That's the highlights for the week. Not exactly a barn-burner, but it got me back on track. And you know what? Just getting a few things done – getting ANYTHING done – is a great therapy when life isn't going your way.
Now that things are neat and tidy, I think I'll have to spend some time in the studio. My Alphabet Challenge is calling… and that's a Very Good Thing.
Your Turn
What's your secret for getting stuff done? Especially the stuff that's just been hanging around? Leave a comment! I'm always looking for good strategies for keeping things on track.