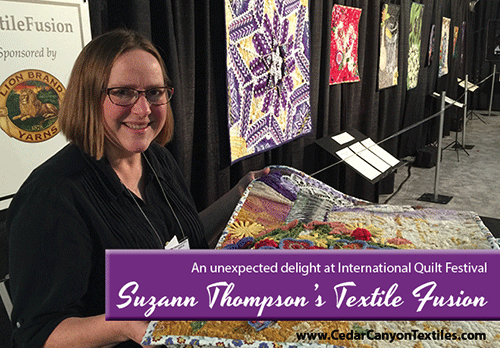 A visit to the International Quilt Festival is always amazing. Between the competition quilts and the special displays, you'll find everything from antique and traditional to off-the-wall and cutting-edge contemporary. And just when you think you have seen it all, you run into something so different that it just about knocks your socks off.
On Sunday afternoon, I walked through the exhibition hall from a different direction and found myself in the middle of an exhibit of Suzann Thompson's Textile Fusion quilts. From a distance, they look like pretty typical pictorial quilts. But up close? Oh, my goodness. The surface of Suzann's quilts are made from knits and crocheted motifs. Talk about an unexpected surprise!
Clearly, Suzann is not your typical quilter. She uses both recycled knits and pieces she knits specifically for a project to create the textured surface for her quilts. Then she embellishes the pieces with beads, buttons, embroidery and crocheted motifs.
Suzann explains it this way: "I love to knit, crochet, sew, and embellish. TextileFusion was born because I couldn't choose just one craft and leave the others behind."
It goes without saying that her quilts are both fascinating and unique. And for a texture junkie like me, her exhibit was a totally delightful detour that encouraged me to think differently about what makes a quilt – yet again!
The Firewheel Meadow quilt is a perfect example how her pieces look very different from a distance and up close. As you approach, you see a field of flowers…
… but up close, the texture of the crocheted motifs burst from the surface.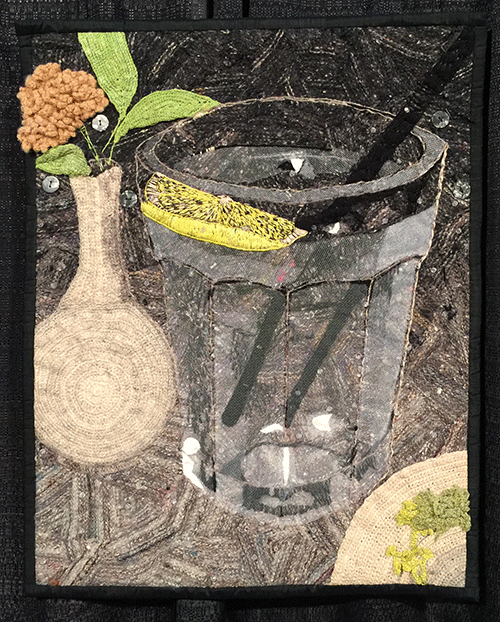 Suzann has explored all kinds of subjects using her Textile Fusion technique, from this still life to snowflakes and gold fish. You can read more about Suzann's adventure with Textile Fusion and see more of her quilts on her Gallery Page.
Your Turn
So, what's your take on Suzann's mixed media quilts? Are you comfortable calling them quilts — or does it seem to stretch the boundary? I'm curious to hear your thoughts.