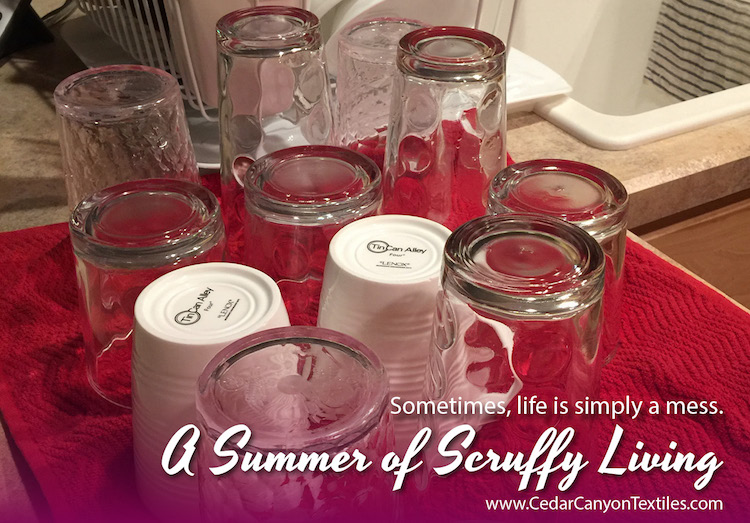 It's not often that I run into a post on FaceBook that is truly helpful, but a post on Scruffy Hospitality totally hit home. In the post, Robin Shreeve talks about her journey from "everything needs to be perfect" to embracing Scruffy Hospitality. Skip the dusting. Don't worry about the pile of papers or the dirty dishes. Stop thinking that your home has to be white-glove-inspection-ready before you can invite friends for a visit. Nobody really cares!
As we prepare for a move from Minnesota to Mexico, I'm feeling the need to embrace Scruffy Hospitality and Scruffy Living – at least for this summer. It's going to be messy. It's going to feel chaotic. It's going to make me crazy at times – and it's going to be OKAY.
As I walked downstairs to the office and studio this morning, I took a deep breath. The desk is piled with papers from the trip to Lexington and Atlanta.
The sewing table holds remnants from the roving collection that I shipped to a reader in California and piles of prepared-for-dye fabric earmarked for several of my friends.
One end of the worktable holds bins of stuff that didn't sell at the big Quilter's Garage Sale.
The other work table is piled with samples that need to be "piled and filed" and some embroideries that I forgot to give to my friends when they were here on Monday.
Along with the mess, there is progress.
One shelf in the studio closet holds the small stash of fabric that is coming with me to Mexico. (That's a big change from the colorful (and plentiful) stash that was there a few weeks ago.)
And there are a few open cubby holes in the storage units under my work table. It's a mess, but it's a step in the right direction.
Owning My Scruffy Life
I'm not the tidiest person around, but almost 30 years of marriage to a certified neat nut – and the need to get our home ready to sell – make this Scruffy Living more than a little uncomfortable. But it is what it is – and I'm learning to go with the flow.
In spite of the messes, I invited my friends for a spontaneous gathering. They brought themselves, their own lawn chairs and something to share. We laughed, we ate, we enjoyed a lovely spring day. We shared a bottle of wine in mismatched glassware.
Nobody cared about the dust on the end tables or the crumbs on the tablecloth. Nobody cared about the glassware (or lack thereof). You know what? I think this summer of Scruffy Living will be just fine.
Your Turn
Have you learned to embrace Scruffy Living? Share your stories below.