Do you ever get to a point in a project where your feel stuck? Where you know that the next choice will "make or break" your satisfaction with the overall result. Do I see you nodding your head yes?
If you are anything like me, this probably happens on a regular basis. It seems there is always one particular detail in any project that can have a profound affect on the final result.
While working on my Shape Shifter bag, I ran smack into this problem when it came to choosing an accent color/fabric for the front of my bag. (If you read the earlier Shape Shifter articles, you'll know I'm using the Candice Bag pattern from Lazy Girl Designs.)
[If you are just tuning into this series, click over to the
Blog
and search for Shape Shifter.]
Bold or Subtle… That is the Question
Now, we're not exactly talking about life and death here. This is not a "to be, or not to be" type of issue. But, the little details like choosing an accent color can be a really big deal in how we feel about our finished projects, whether or not we can actually put our finger on it.
Today I want to share my thought process as I explored a bunch of possibilities for the accent on my Candice bag.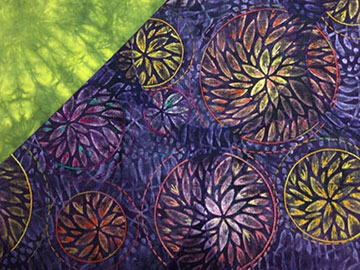 My first inclination was to go bold. Something like lime green or this really strong over dyed yellow. Fortunately, I had enough sense to say "something's not quite right here." I sent a couple of photos off to the DIVAS (my small quilt group) and they promptly gave my initial choices a big thumbs down. Lucky for me, we were meeting a day or two after I sent my photos, so I rifled through my closet and picked out a bunch of fabrics that might work. I hauled it all to our meeting.
While we looked at the choices, it became clear that subtle was going to win the day. Anything bold was a distraction from the design and stitching details in my Shape Shifter fabric. So even though lime green is my favorite neutral color, I pulled out a gorgeous piece of hand dyed fabric made by one of my friends and narrowed my focus.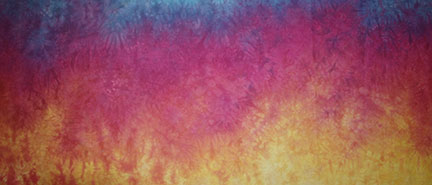 As you can see, I still had a big decision to make. This piece of graduated fabric still has a ton of colors in it. You're not even seeing the part that blends over into a soft green! Time to play the audition game.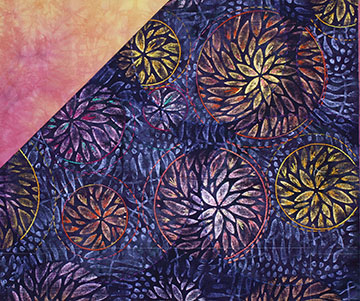 I used a lot of yellow and orange in the paint and stitching in my Shape Shifter fabric, so I took a close look at the gold and tangerine areas of the fabric. But, it still felt too distracting. I decided I wanted to go with the pink/purple/blue range for my accent.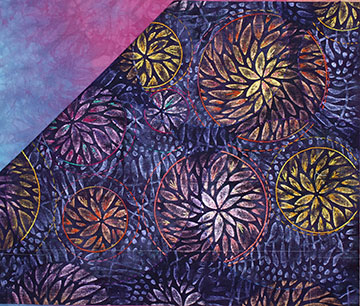 Now the question was which way the color should blend. Should it blend from blue to pink, or from pink to blue. When I'm in doubt. I lay the fabric out on the floor of my studio, take photos, then do a quick crop so I can see what the final look will be.
You can get the same "cropping" effect by laying white paper or fabric around your piece to block off the areas you don't want to see. I like the photo approach because it allows me to see more than one option on the screen at once. There is almost always one that stands out and says "Pick Me!"
In the end, I chose a section of my fabric where the color graduated from pink at the bottom to a pale blue at the top. It is subtle and does not distract from the details in the Shape Shifter fabric.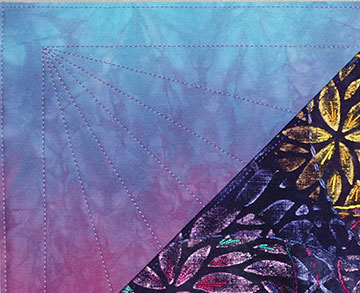 My final step was to do some simple quilting to attach the accent fabric to the Stiff Stuff interfacing. Stiff Stuff is not fusible and I wanted to make sure I didn't have any shifting going on when I put all my layers together.
This was also an opportunity to add a subtle accent with an angular feel to it, a nice contrast to all of the circles in my Shape Shifter fabric.
Before I go, I want to say that I don't always go through such a formal process when I make choices for my projects. But this one is special. I put a lot of hours into creating my fabric and adding all of the stitched details. I didn't want to blow it by just grabbing any old fabric out of my stash for the accent. In this case, it was totally worth the extra time to find the piece that was just right.
How Do You Choose Your Accent Fabrics?
Now that I've shared my thoughts on this, I'm curious to know how you choose your accent fabrics. I'd love it if you would leave a comment here on the blog or click over to our Facebook Page and make a post there.