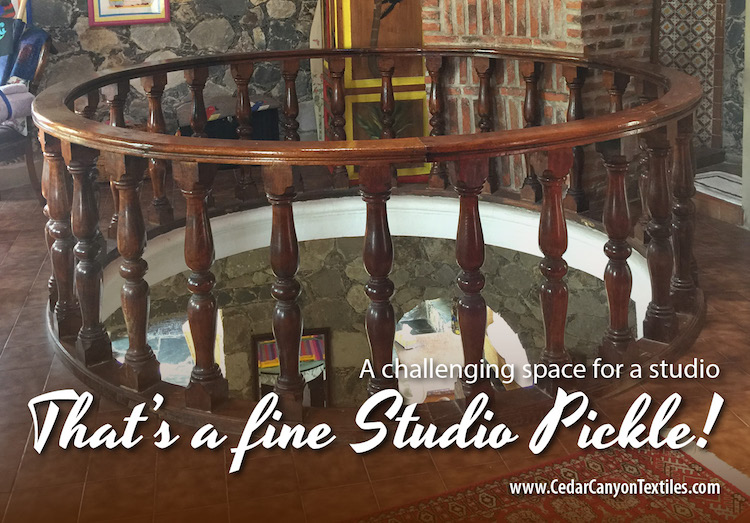 I've been taking a hard look at the room that will become my studio here in Chapala. As I was pondering – and looking at the hole in the middle of the room – I couldn't help feeling like I was in a bit of a pickle. Make that a Studio Pickle!
What's the best spot for the sewing machine? Will I be able to set up a decent size work table? Where's the best place to sit and stitch? I'm thinking that this round room and my square furniture are going to be challenging, to say the least.
The studio is on the second floor of this tower of the Castle. The curved staircase going up to the room is just 32" wide, so moving furniture up and down is not easy. (Let's just say that it requires several strong bodies a few decades younger than I am!)
Looking from the top of the stairs, the studio space is like an oddly shaped donut. To the right, there is a space between the hole and the stairs. (The space behind the brick dividers is a bathroom.)
Across the room, there is a good stretch of wall space, but not a lot of floor space. That will be a good place for storage. Maybe a design wall? We'll see.
The section of the room with the most floor space is in front of the windows, so that presents another set of challenges. See what I mean about a Studio Pickle?
There are no easy answers in this room. No straight walls. All curves. And that hole in the floor. Hmmm…
After spending a lot of time with a tape measure – and dragging my sweetheart upstairs to give me a hand – I managed to make a rough diagram of the space. If that hole had been in the middle of the floor, the drawing would have been easy. But the architect clearly had other ideas when he designed the house, and this is not a home that is easily remodeled. So I'll be living with that hole in the studio floor for years to come.
Studio Pickle? Studio Challenge?
I'm certainly not the first person to find herself in a bit of a pickle when it comes to studio space. And really, I have no complaints. El Castillo is a marvelous home and I look forward to spending lots of time here in the years to come. The space is odd – and a bit of a challenge – but what a lovely problem to wrestle with as I decide what to ship down when we return!
Your Turn
So, what about you? What's your Studio Pickle? What odd space have you carved out for your creative work? Leave a comment below – I'd love to hear your story!