I have a bad case of the dreaded out-of-sight, out-of-mind syndrome. Especially when it comes to my fabric stash. If I can't see it, I swear it doesn't exist! I also have a passion for color and I'm more inspired to do something creative when I'm surrounded by the materials I love. Do I see you nodding your head in agreement? I thought so.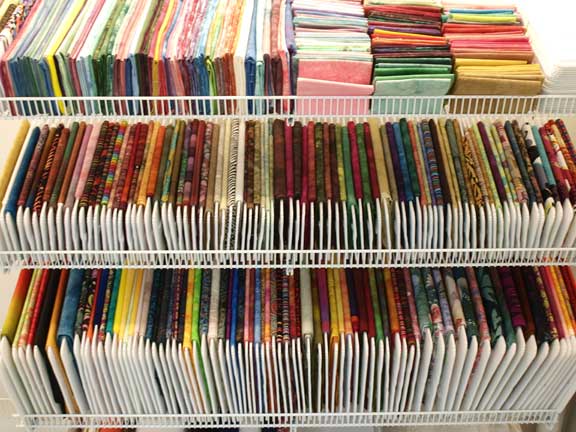 When we moved into our new home, my husband put his foot down and told me I absolutely could not simply move all my bins and boxes into the studio storage closet. He said, "If you just put it all in there, you'll never open the boxes, and you'll never put the closet together properly. You know what? He's absolutely right.
With a bit of imagination and some help from my friend DeNiece at TheFabricOrganizer.com, I now have a well-stocked personal fabric store in my studio closet. When I need a dose of color therapy, I simply open the closet doors and flip on the light. Woohoo! Here's how it works.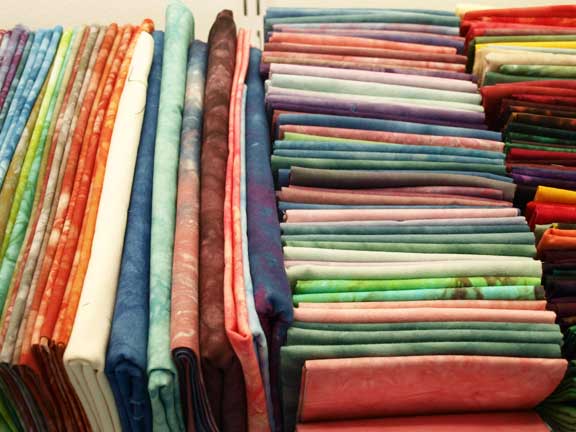 The top shelf is packed with small pieces of fabric like fat quarters and half yards. I have a fair amount of fabric left over from the early days of my business when I was dying fabric and selling it. These pieces make great backgrounds when I want to play with fabric art techniques.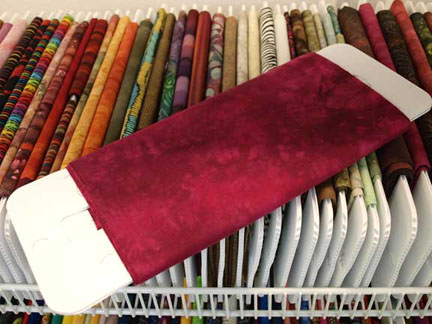 I wrapped the fabric on the second shelf around the small organizers from TheFabricOrganizer.com. (Personally, I think DeNiece is a genius for coming up with this idea.) I love the organizers because they help me tidy up my stash and actually see what I have on hand.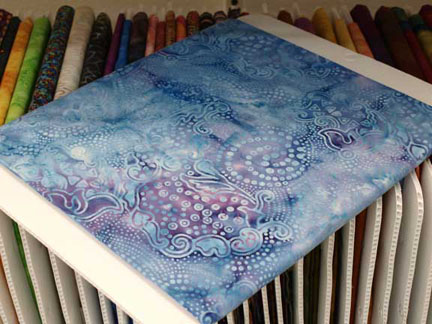 The third shelf contains fabric wrapped around the large organizers. If you have one or more yards of fabric, the large organizers are the way to go.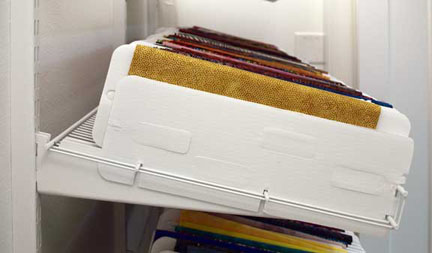 The biggest challenge was finding a way to keep the fabric from falling off the ends of the shelves. After much head-scratching, I decided to cut notches in a couple of organizers. (They can be cut with a pair of heavy-duty scissors.) Then I wedged the organizer between the shelf support and wire slats. It works like a charm!
If you want to make a similar shelving unit, look for
Shoe shelf support brackets: They are made to hold shelves at a downward slant.
16″ tight mesh shelving: The wire mesh on this shelving is closer together and your fabric pieces won't fall through the gaps.
If humanly possible, install a light above the rack so you can have an instant dose of color therapy, not to mention an easier time seeing the treasures you have stored on your new shelves.
How do you store your stash?
If you've got a favorite storage solution that allows you to SEE your stash, I'd love to hear about it. Leave a comment below, or post a photo over on our Facebook page. I can't wait to see your great ideas!