Last week was more than a bit of a detour here in South Dakota. My sweetheart Jack had emergency surgery and was stuck in the hospital for four long days. I passed a few hours by working on some stitching. It hasn't been much of a vacation, but we made it through and I expect we will be home by the end of the week.
And you are a curious bunch of readers! After 6 or 7 notes wanting to know more about my little stitching project (make that sanity project… ). I figured it was time for a blog post to show you what I was up to.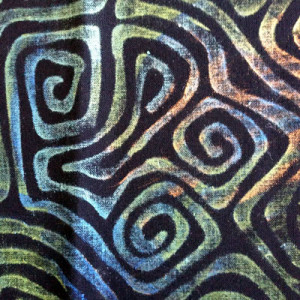 I started with a piece of black cotton with a Paintstik rubbing done with one of my Curves Rubbing Plates. I have learned to save my demo pieces and they come in handy once in a while.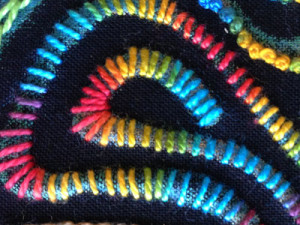 I have a lovely collection of #8 Pearl Cotton from Laura Wasilowski at ArtFabrik.com. In the center, I just did some simple side-to-side stitches. I was planning to do something more with it, but it looked just right. (Knowing when to quit is half the battle… .)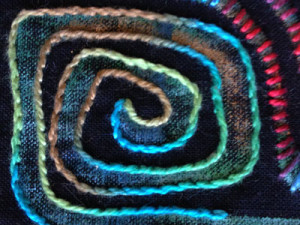 On this spiral, I used a simple outline stitch. The coloration of the thread matched my paint colors perfectly.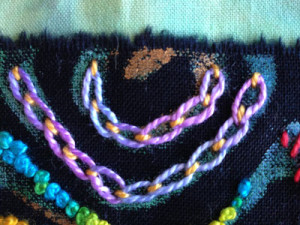 This is a combination of two stitches. First I did a chain stitch, then I used a back-stitch to add a touch of gold. I like the way it looks like links in a chain, and it adds a nice touch of color.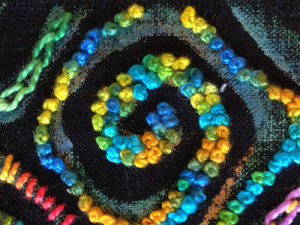 Do French Knots give you fits? Well, make a whole bunch of them and you'll be able to stitch them in your sleep!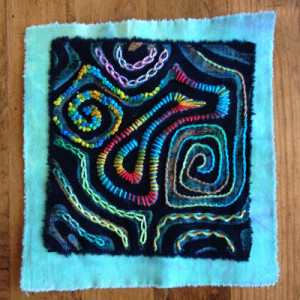 Right after I started, I realized that my black fabric had twisted and wasn't "square" on the background. Thankfully, I resisted the temptation to pull out the stitching and start over. (I am a recovering perfectionist and I'm always pleased when I give myself permission to allow something to be delightfully imperfect.)
I absolutely love working with variegated thread. The gentle color changes are so much more interesting than single-color threads.
And I'm so thankful that I scooped up my thread collection and a couple of very portable projects before we left home. It was incredibly good to have something to pass the hours in the hospital while Jack was sleeping. Not to mention that you can't sit down with a stitching project without finding out which of the nurses love quilting and needlework.
When I think back now, it's rather humorous to think this is the piece I brought with me. I felt like stitching around the little spirals helped me make sense of the "detour" Jack and I found ourselves on last week. It was certainly a restful meditation to help me along the way.
So, when life sends you detours and you're not sure what to do — grab a needle and thread and stitch yourself a path. As for now, I'm working on stitching a path home across South Dakota. We will take two days to make the trip, and I hope to be home by the weekend.