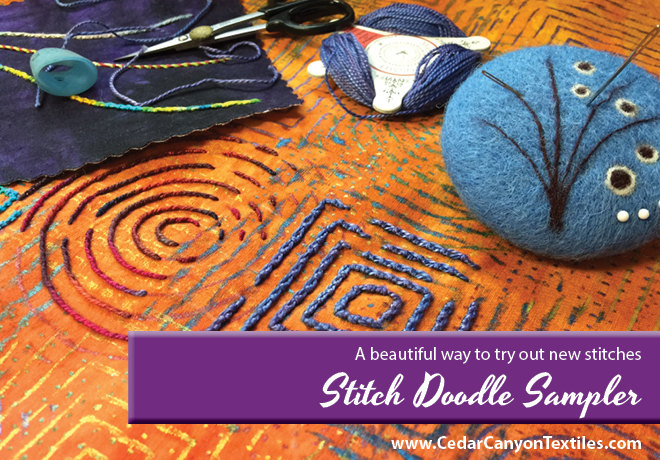 While I was working on my Bailando En La Noche art quilt panels, the second-most common question I heard was, "How do you decide which stitches to use?" Most of the time, I didn't have a good answer. I was very new to the world of hand embroidery, and I was pretty much using the stitches my friend Jean was teaching in a class — or just picking stitches out of a couple of books. 
(The most common question, in case you were wondering, was "Are you really doing all that stitching by hand???" Yes, I did it all by hand. Seriously.)
But let's get back to question on choosing stitches. Is there a way to Test Out Stitches without working directly on a current project? For me, a Stitch Doodle Sampler is turning into a Very Good Way to see how stitch and thread combinations work. Here's what I'm up to…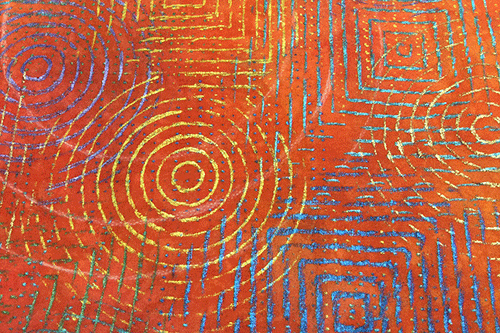 I was digging in the closet for something and found this piece of fabric covered with Paintstik Rubbings. If it looks vaguely familiar, it's because a photo of this fabric appears on the cover of my Paintstiks on Fabric book.
Now that I'm hooked on stitching, I said to myself, "Self, this would look really cool with a bunch of stitches added." Besides, if I stitch on a piece of really cool fabric – instead of something plain – maybe it will turn into something pretty amazing. (I'll admit that's a lofty goal for a doodle cloth, but I'm allowed to dream, right?)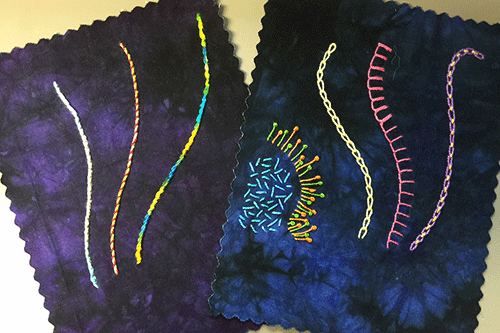 I already had a series of small samples that I made in Jean's stitching class. My intent is that all of these little samples will reside in a neat and tidy book one day. For now, these small samples live in my embroidery tote. I pull them out when I'm looking for ideas.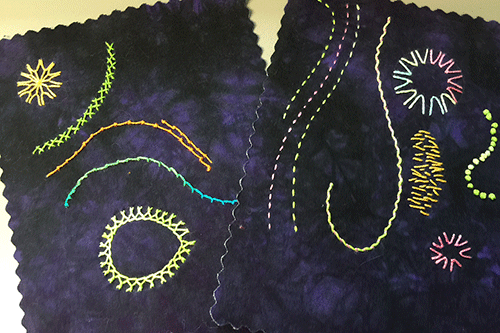 These small samples are made from scraps of quilting-weight cottons. I use dark fabric for my samples because I prefer dark colors for my quilts.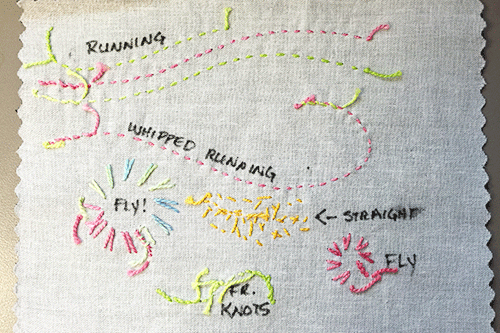 I add Face-It Soft Interfacing to the back of my fabric so that I can stitch on it without a hoop. The side benefit is that I can record the stitch names on the back. And that's good! With all the lovely stitches to choose from, I'll never remember them all.
Now, the small samples are fine, but they really don't show me how the stitches work In Real Life. Is it easy to turn a sharp corner? Can I use the stitches around a curve? Is the weight of the thread too light or too heavy?
By using a piece of my painted fabric for a Stitch Doodle Sampler, I get a much better look at a stitch/thread combination in action. Here are a few stitches I have played with so far: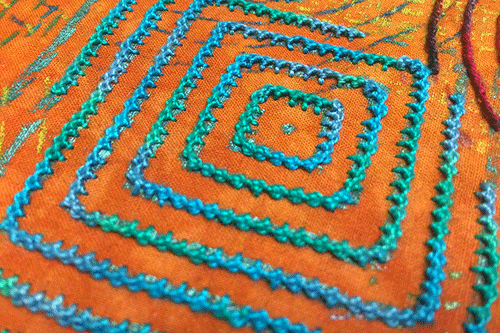 I started with Palestrina knots, which have quickly become one of my favorite stitches. I simply love the texture!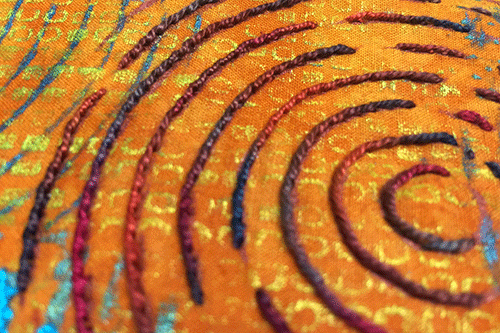 I don't always choose a complicated stitch. I added these Back Stitch circles when I was waiting for Jack at the doctor's office. He was having a stress test – or something else that was pretty important – and it was much better than sitting and watching the clock.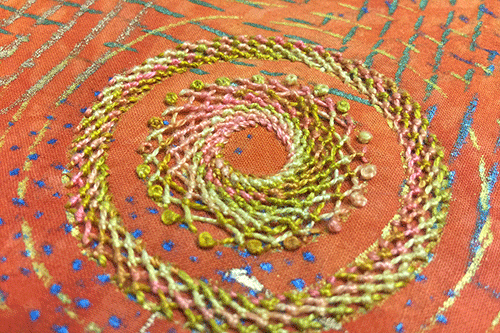 This is one of my improvised stitches. When I was working on my art quilt panels, I figured out how to open up a Trellis Stitch so it looks more like a fish net. (It's normally very dense, hiding the ground fabric.)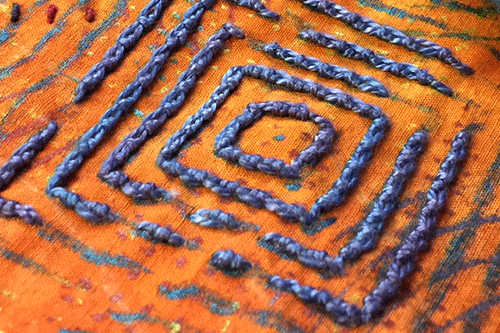 Finally, I added some Portuguese Knotted Stem Stitches in size 5 pearl cotton. I decided that this thread is Much Too Heavy for small shapes like this, but it will be fine for a larger areas. And that's exactly why a Doodle cloth is so helpful!
My Stitch Doodle Sampler Rule
I have set only one rule for my Stitch Doodle Sampler. No Ripping. I'm a (not always) recovering perfectionist, and I like thing to look Just Right. You know the drill, right?
When I'm not thrilled with the way a stitch looks, I remind myself that It's Only A Sampler. It doesn't have to Be Perfect. In fact, the mistakes I make here will keep me out of trouble when I'm working on something that counts. So, deep breath, the stitches stay in, and I move to the next little experiment on my Stitch Doodle Sampler. Whew!
Your Turn
Do you keep a Doodle Cloth on hand? Do you have a favorite way to test a technique before you work directly on your project?
Chime in below in the Comments. I would love to hear about your strategy!