Freezer paper and sticky spray have always been my go-to tools for masking off areas of my fabric when I paint. But during our recent Totally Textured online course, Janice Skene got tired of using sticky spray and looked around her studio for an alternative. She had some Fabri-Solvy from Sulky on hand and said it worked great.
As a huge consumer of sticky spray, I thought I should give this a try. So I ordered a package online and waited for the little brown truck to arrive.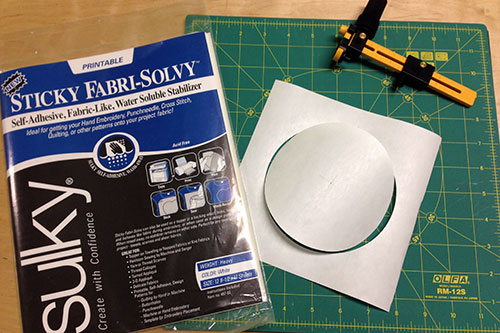 I ordered Sulky's Fabri-Solvy as it is easily available here in the US. According to one embroidery supply site, the product is also sold as Vilene Tacky, Wet N Gone Tacky or Aqua Magic. All are a fibrous water-soluble stabilizer with a pressure sensitive tacky coating. With the product in hand, it was time for a test.
I cut a 7" square from a sheet of the stabilizer then cut a circle from the middle.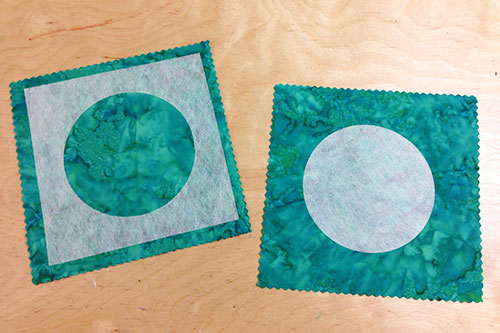 I pressed the circle onto one piece of fabric and the "not circle" onto another so you can see them. (Just press with your hands — NOT an iron!)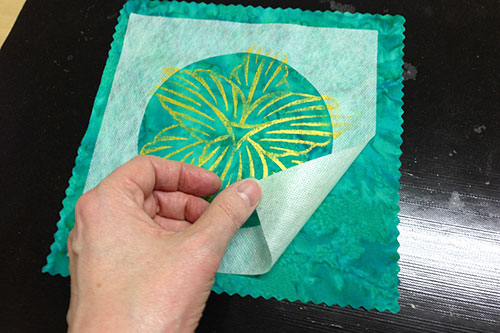 To see how the material worked, I made a two-part rubbing. (This technique is from Lesson 3 in the Totally Textured course.)
In the first step, I made a rubbing from the lily plate inside the opening of the "not circle" mask. Then I peeled off the mask. So far, so good!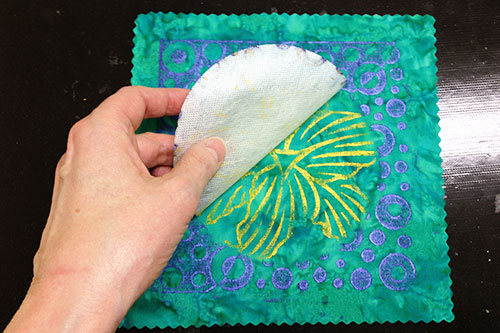 To make the second layer, I covered up the first rubbing with the circle of Fabri-Solvy. I added the background rubbing with one of the Doodles rubbing plates and peeled off the circle.
This stuff definitely works like a champ — and not a spritz of sticky spray needed!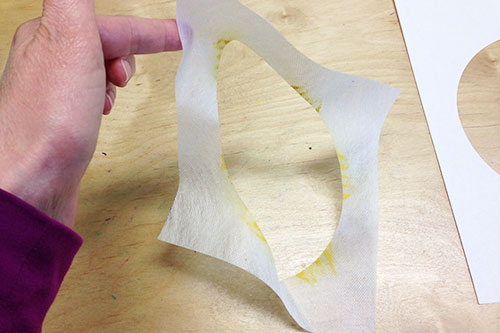 I found only one problem with the Fabri-Solvy. It's pretty wimpy stuff!  With a big shape cut out of the middle, I had a hard time laying it down straight on my fabric. So I pondered that over a cup of tea.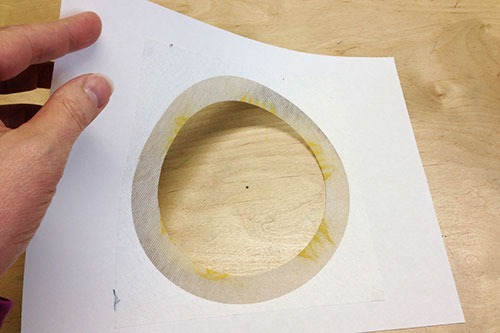 I headed back into the studio with an idea. I cut a larger circle in a piece of paper and stuck the stabilizer (carefully) to the paper. The circle in the paper is about 1 1/2" larger than the circle in the mask. So I still have about 3/4" of sticky stuff available to grip my fabric, but the mask is much, much easier to work with.
Learn more about Masked Marvel Rubbings in the Totally Textured online course.
This new idea for sticky stuff is just one of the great ideas that came out of the first Totally Textured course that has just wrapped up. I think I learn as much from my students as they learn from me!
Do you want to learn to make Masked Marvels — and a whole lot more? Get yourself registered for the next session of Totally Textured. We begin on Monday, March 16, 2015. And that is just a few short weeks away!