Susan Stein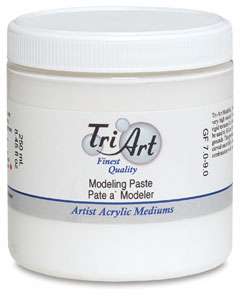 Modeling paste is a fascinating art material that can be used on fabric. It can be applied quite heavily, yet it remains flexible when it dries. You can stitch through (dry) modeling paste without damaging needles or your sewing machine — it's a very interesting tool for adding dimensional texture to your fiber art.
Supplies:
~ Maple stencils [Cedar Canyon Textiles] ~ Flexible Modeling Paste by Liquitex®, Tri-Art® or similar [art or hobby store] ~ Palette knife
~ White fabric, 10" by 12"
~ Dye-na-Flow™ paint by Jacquard
~ Sponge brushes
~ 8" by 10" stretched canvas [art or hobby store] ~ Adhesive spray such as 404 [Spray and Fix] ~ Copper foil [art or hobby store] ~ FabriTac™ glue, masking tape
Step 1
Spray adhesive onto the back of the stencil and let dry.  Press the stencil onto the fabric.
Step 2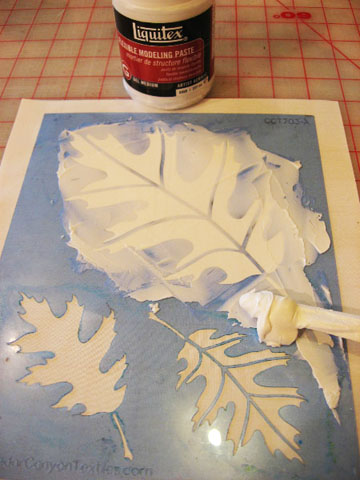 With a palette knife, smooth modeling paste into the openings of the stencil, making it thick and smooth.  Remove the stencil and let the fabric dry.
Step 3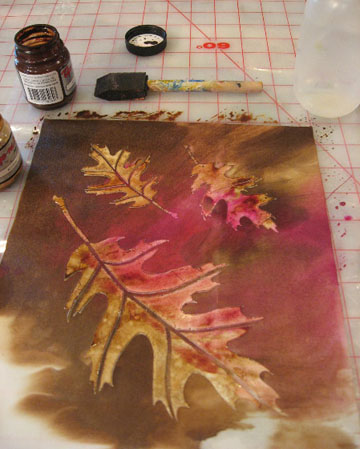 With two or three colors of paint, brush over the dry modeling paste and background fabric.  Spray with water if you want more blending-plenty of liquid, allowed to work on its own, will give you attractive and unexpected results.  Let dry.
Step 4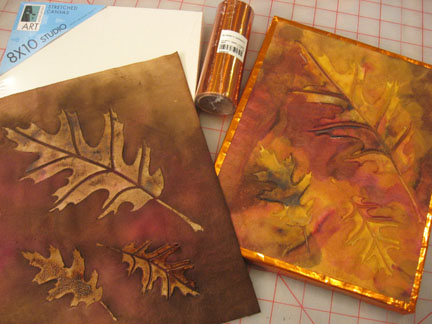 Wrap the painted fabric around the stretched canvas folding in the corners neatly. Tape the fabric to the back of the canvas.
Step 5
Cut a piece of copper foil 38" long by 1 ½" wide.  (If your canvas is more than 3/4″ deep, cut a wider strip of foil.) Starting in the center on the bottom edge, wrap the copper around the edges of the stretched canvas, with ¼" showing on the front and ½" showing on the back, mitering the corners.  Glue the front edges down and tape the back edges in place.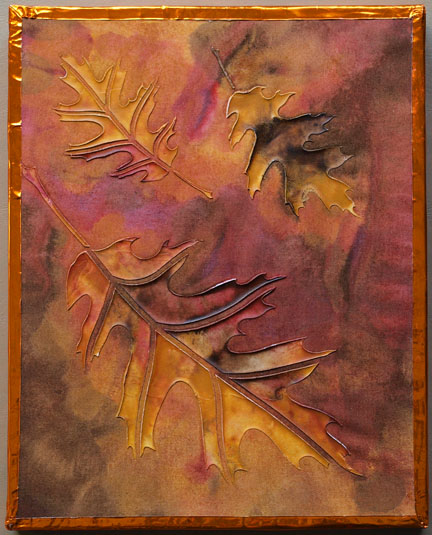 You now have a lovely piece of framed art.