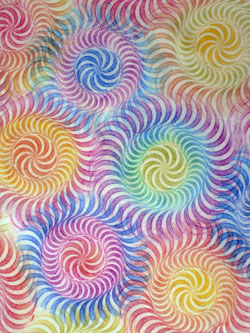 No, we're not going to run and jump into puddles, but we are definitely going to play with water — and a few really cool water-based products. Technique #3 from Rubbing Plate Roundup is actually 3 techniques tucked into one section. I call the section Water Color Rubbings and it's a ton of fun!
When I asked for ideas on using rubbing plates last summer, I got some surprising answers. Several of you wrote in about using water based coloring agents, like Neocolor II wax pastels and Inktense blocks. And somewhere in the (mountainous) piles of paper on my desk, I found a project sheet from a magazine that called for making rubbings with inkpads. I visited my local shop for stamps and sent off an order for the other supplies and got ready for a fun day in the studio.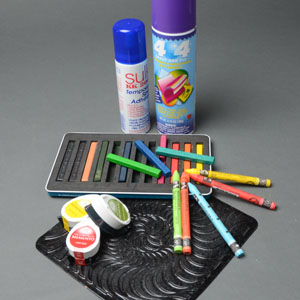 Most of you know that I spend most of my time playing with my Shiva Paintstiks, which are an oil and wax-based product. So water-based colors were definitely a new experience for me, and I'm happy to say I really like them! Some of the products create a soft, watery look and others produce a nice crisp image. They dry quickly, don't stiffen the fabric, and may be permanent.
Before you go on, let's go back to the last sentence and read it again… some of the water-based products MAY be permanent. Got it?
The key with the water-based products is to test, test, test before you use them on a project that's going to be washed. Visit the blogs of people who use them, scour the pages of Quilting Arts magazine, dig up whatever instructions you can to learn if there are ways to make the pigments permanent. (Most of these products are made for use on paper or canvas, so we are using them in a way that the manufacturer may not have tested…)
I don't mean to throw a damp rag on your enthusiasm by giving you the warning about permanence. But I do want you to think about it and make sure you choose the right coloring agent for a project. It always comes down to using the right tool for the right job.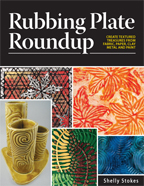 What has all this got to do with stamp, squish and spritz? You'll find the answers — and all the instructions for inkpad rubbings, Inktense Rubbings, and Neocolor II rubbings start on page 16 of Rubbing Plate Roundup. If you don't already have your copy, order it today and we'll get it shipped off to you right away!
Collaborator Corner: Meet Nancy Bryant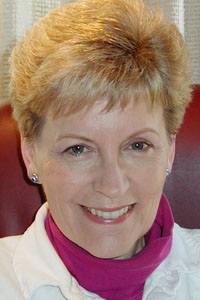 In the past month, I've introduced several of my co-conspirators in Rubbing Plate Roundup, including potter Jeanine Center and fiber artist Angela Grasse. Today, I want to introduce Nancy Bryant, a talented fiber artist from Corvallis, Oregon. Nancy taught me about water soluble wax pastels and how they can be used with our Cedar Canyon Rubbing Plates.
Here is a quilt from the gallery section of Rubbing Plate Roundup. Nancy used a rubbing plate and water soluble pastels to create the background fabrics for the quilt, then appliquéd the tree over the top. It's lovely!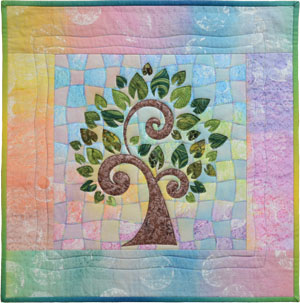 Nancy has this to say about the inspiration for her magnificent work.
"Inspired to sew by my grandmother, a dressmaker, I made my first dress at age 9. Sewing has been a passion of mine ever since.I find great joy in beginning with a piece of fabric and creating something lovely and intricate that speaks to the viewer.Since 2004 I have been creating fiber art in my studio in Corvallis, Oregon. My studio time is spent pursuing three arenas: art quilts, accessories, and apparel.
"I have experimented with a wide variety of media and techniques. These include curved piecing, dyeing, stenciling, stamping, silk screening, felting, bleaching, and other processes to alter the fabric. Some quilts are embellished with yarns, ribbons, beads or buttons. I love to work with bright colors and strong value contrasts."
I spent some time wandering around Nancy's website at AltaVista Studio and I was blown away by the amazing garments, the yummy scarves and the beautiful quilts. I was really glad that my charge card was nowhere in sight. I think I could ring up quite a bill shopping with Nancy! (It would certainly be an upgrade to my closet!) Here are a few of my favorite images.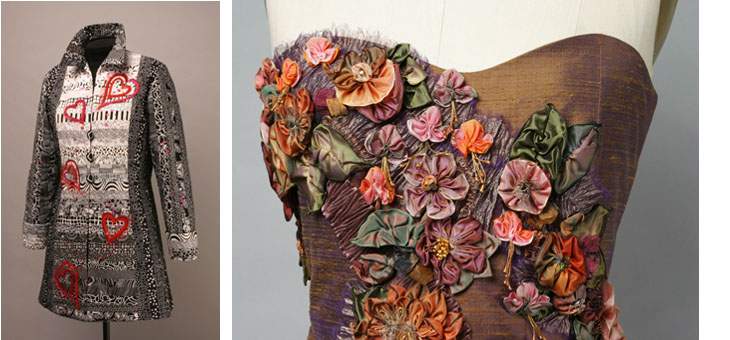 As you can see, Nancy's taste runs from incredibly elegant to delightfully whimsical. It's a real pleasure to meet such an adventurous soul. I'm so glad she shared her knowledge about the water soluble pastels with me — and with you!
If you haven't already clicked through to Nancy's website, take a moment right now to take a quick tour. You simply have to see her work. It really is amazing.