One of the things I love most about Quilt Market is the opportunity to catch up with my friends and find out what they are up to. When Joan Hawley (THE Lazy Girl, in the flesh!) stopped by, I got a first hand look at her new line of interfacing products.
When I decided it was time to make a new Candice Bag with my Shape Shifter fabric, I called Joan right away to find out how I could get some samples. She went way beyond the call of duty and sent me not only the pieces for my new bag, but a sample of all 7 products in her Sew Lazy line.
As usual, Joan's labels and instructions are head and shoulders above the competition. She really has a gift for explaining things in the simplest manner and in the fewest number of words. The rest of us need to take lessons!
So what has all this got to do with Shape Shifters? A lot, actually. I'm going to use 3 different types of interfacing in my Candice bag, and I thought I would share my impressions.
How I'm Stabilizing My Shape Shifter Bag
My Candice bag will have painted fabric on the front pocket and on the back of the bag. I'm even doing some embroidery on both panels. You heard that right – I'm actually doing something that requires needle and thread rather than a machine! Now, I don't often do hand stitching, so I consulted one of my friends who does for advice.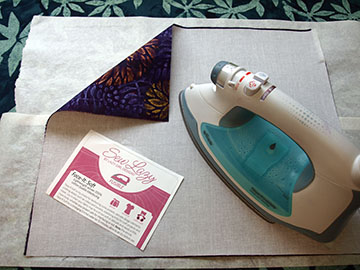 She suggested that I add the light weight fusible interfacing (Face-It Soft) to the front pocket and stitch right into the stabilizer that I'm using in place of batting (Stiff Stuff Firm) for the back panel.
I love the Face-It Soft. It's perfect for adding body to the fabric without adding any stiffness. One thing to note, you need to preshrink Face-It Soft before using it. I often skip reading the directions on fusible stuff, so I'm glad that I caught this in time.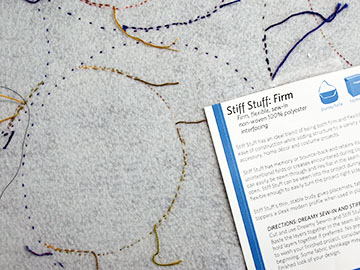 I was more than a little concerned that hand stitching through the Stiff Stuff was going to be difficult, but I've been pleasantly surprised at how easy it has been.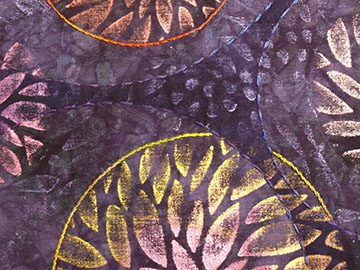 I really have to step up the pace on my stitching, otherwise you will get your Shape Shifter Challenge bag done before I do! Ah well, it's a pleasant way to wind down after dinner, or a relaxing way to start my day when I wake up earlier than I had planned.
The third product I'll be using for my bag is the Face-Firm fusible interfacing. I'll be adding this product to the bag lining and inside pockets. I haven't put those pieces together yet, but this is a similar weight to products I've used in the past. Knowing Joan, I'm sure it will be "just right."
If you want to learn more about the Sew Lazy products, click over to these entries on Joan's blog:
Sew Lazy Interfacing Overview – A description of all 7 products
Stiff Stuff Sew In Interfacing – Joan's post with some video clips about Stiff Stuff
You can get Sew Lazy Interfacing products from your local quilt shop or independent online stores; you won't find it in the big chain stores. Joan has links to several online sources at the end of the Stiff Stuff article.
Have fun creating your bags. I can't wait to see them!