by Shelly Stokes, Founder and Creative Mentor

I get a fair number of questions from readers and customers regarding whether or not paintstiks have any odor, and how to remove the residual odor from their fabric. Let's take these questions one at a time.
Q. Are there any fumes or smells associated with Shiva Paintstiks?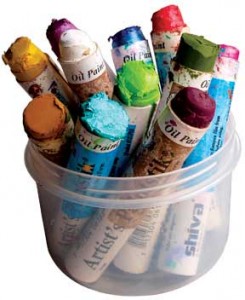 A: I hate to disagree with the information on the packaging, but the answer is yes. While the paint manufacturer calls the paintstiks "no odor," I call them "low odor."
I have a pretty sensitive nose when it comes to chemicals and fragrances. When I am using my Paintstiks, they have a distinctive odor. They smell like a combination of crayons (wax) and oil paint, but the smell is very light compared to a traditional oil paint. To be honest, I do not consider it a bad odor. In fact, I rather like it. But I think it is a bit of a stretch to call the product "no odor."
I actually notice more of an odor as the paints are drying than when I am painting. Again, it is not an obnoxious odor, but I notice it if I am working next to the fabric that is curing. For me, the smell is the strongest during the heat setting process. That makes sense because the heat from the iron will drive residual oil out of the paint. When I am heat setting small pieces, I don't mind. If I need to do a lot of heat setting (or a large piece of yardage), I put it in the clothes dryer and let it do the work for me.
If you are particularly sensitive to chemical odors, I suggest purchasing one or two colors and experimenting with them to see if it is a product you can work with. As with any product, there is no sense making a big investment only to find out you are too sensitive to the smell to enjoy using it.
Q: How do I remove the residual Paintstik odor from my fabric?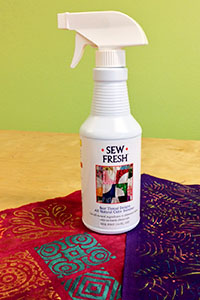 A: Some people notice a residual odor in their painted scarves, quilts and garments. You may not notice it at all, or you may find the odor hard to live with. It all depends on how sensitive your nose is.
I have found two products for removing most of the odor from fabric embellished with Paintstik colors. One is Sew Fresh from Bear Thread Designs. The other is Fabreeze for the Wash.
Remove odors with Sew Fresh
Sew Fresh is a product that was introduced at the 2013 Fall Quilt Market. I tested Sew Fresh on fabric that had been painted two weeks earlier. One piece had a moderate amount of paint applied. The second had a very opaque application of paint.
To remove residual Paintstik odor with Sew Fresh, you must allow the paint to air-dry first, then heat set the paint with an iron or in the dryer. (For instructions on dry time and heat setting, click over to the Ask Shelly page. See questions 4 & 5 under Paintstiks at the top of the page.)
Once the paint has been heat set, spritz both sides of your fabric with Sew Fresh and allow it to dry. For a light to moderate application of paint, one treatment of Sew Fresh may be sufficient. If you have really opaque rubbings on the fabric, it may take several applications of Sew Fresh to eliminate the residual odor.
In my testing, I found that the Sew Fresh worked great on all fabric except those with very heavy paint application. Even then, the residual odor was almost (but not quite) eliminated. (That is according to my very sensitive sniffer… .)
Sew Fresh can also be used in the washer. Follow the instructions on the bottle.
Remove odors with Fabreeze for the Wash
One of my customers successfully removes the leftover smell by gently washing her fabric with Fabreeze for the Wash. I went to purchase this product for testing, but I was put off by the fact that it contains a fragrance.
I do not like products with artificial fragrances and I avoid bringing them into my house as many of them will give me a headache. (Thankfully I do not have that reaction to Paintstiks!) If you like Fabreeze products, this is another option for removing residual paintstik odor from your fabrics.
What's your secret smell-remover weapon?
Do you have a product that you like for removing the smell of paints or other odors from fabric? Please share! Leave a comment here or hop over to our Facebook page.