A Sneak Peek At Shelly's New Space
I am truly the luckiest woman I know. The entire lower level of our beautiful new home — ready for moving in next month — will be one big creative play space. How amazing is that?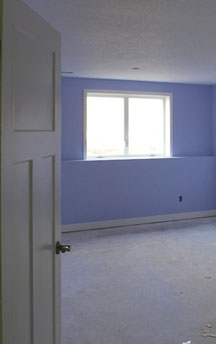 I was feeling a bit guilty about dedicating so much space to myself and my creative pursuits, but my husband told me to "get over it!" He gently reminded me that I've been working in my business like a crazy woman for almost 7 years, and I've never really done anything special for myself with the proceeds from the business. And you know what? He's right!
Now that I've dropped the guilt, I'm really looking forward to creating a home office and studio space to fuel my creative passions. I love my current space, but I have to admit that working in a warehouse is not the most creatively stimulating environment…
Let's take a quick tour. First, a peek at the new office. Nothing is complete just yet, but I love the light purple I chose for the walls with the white millwork. I'm going to make a pair of bulletin boards like I have in my current office and cover them with a fabulous South African sunprint.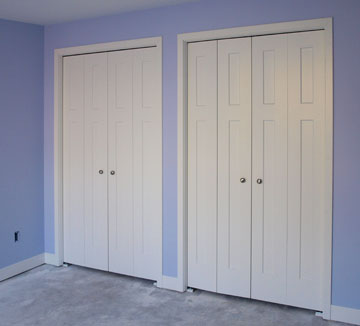 A huge closet will give me plenty of space for shelving and storage. I'm going to work hard at keeping my new space less cluttered. (But, as we all know, that means changing my habits more than changing my space…)
The studio space has a wonderful, huge window on the North side of the room. Here's what it looked like a few weeks ago.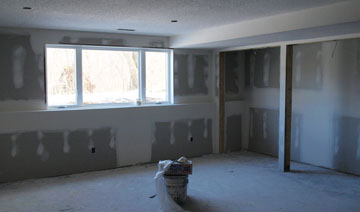 And here's what it looked like yesterday afternoon.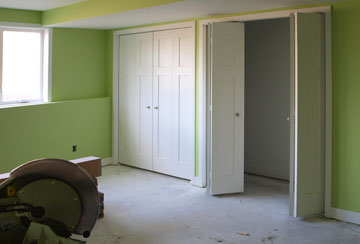 I'm absolutely in love with the bright, "springy" green that I chose for the walls. I'm beyond tired of working in beige rooms. I think I'll christen my new space as Anything But Beige! (And in case you are wondering, that name was inspired by a fabulous new friend I met at the CABS conference — Janice Pope, owner of Anything But Boring patterns.)
In the opposite corner, I'll be setting up my new video corner.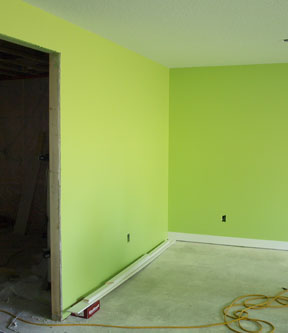 It doesn't look like much at the moment, but you'll be seeing a lot of this corner of my world in the months to come. Stay tuned!
Spring Cleaning Pattern Blowout!
Spring has come early this year, and Leanne and I are doing some major-league Spring Cleaning in the warehouse. I am closing out my line of paintstik patterns to make room for new and different products — and you are the Spring Cleaning Lottery Winner!
To make space for great new things, I've got two special offers that are perfect for a lovely spring treat. And, they have zero calories — which is a lot better for you than that basket full of Easter candy. Ready? Let's have some fun!
Deal #1: All Remaining Patterns are $3.99!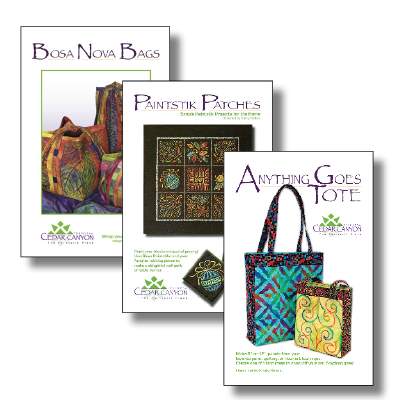 We still have copies of 3 patterns that all need a good home. You save 60% when you adopt these patterns at the very low price of just $3.99 — and I'll know in my heart that they have found a wonderful sewing room to hang out in with stacks of lovely fabric. What could be better?
Deal #2: Buy Rubbing Plates, Get Paintstik Patches FREE!
The only thing better than a pattern at $3.99 is… a free pattern! When you order one or more sets of our Rubbing Plates or the Rubbing Plate Sampler, we make sure you get a copy of the Paintstik Patches pattern at absolutely no charge. There is a limit of one free pattern per order.
While the cover of Paintstik Patches is graced by a Holiday theme quilt, the pattern can be made up with ANY of our rubbing plates as you create a delightful quilt or table runner. Here is a photo of the runner featured on the back of the pattern.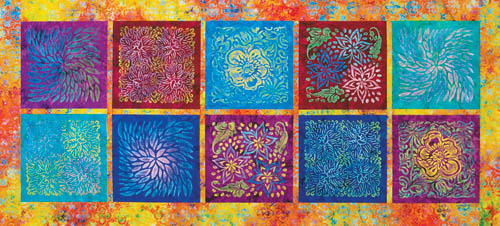 I haven't had time to make up a runner with the Doodles Rubbing Plates, but that's on my list of fun things to make when I get set up in my new studio. It should be fun!
The pattern closeout prices are good while supplies last — but don't delay — quantities are limited. We are running a special promotion for our wholesale customers as well. They've already cleaned out our supply of three other patterns, and these could be scooped up at any time.