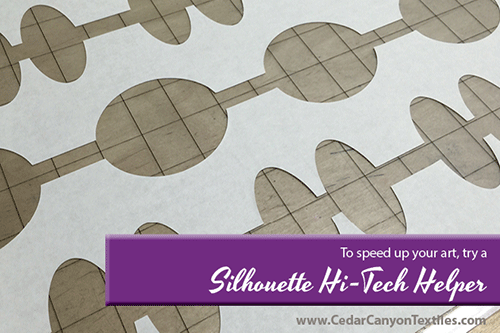 As I have been prepping for the Whole Cloth Collage class that will begin in mid-January, I started pondering how I might speed things up. For previous projects, I have always drawn images on paper and cut them out by hand. (Although I do use an Olfa Circle Cutter whenever possible.)
I looked over at the end of my desk, and I had a light-bulb moment. I've got a Silhouette Hi-Tech Helper just waiting for me! I bought myself a Silhouette Cameo cutter about two years ago, and I have to admit that I've not used it as much as I should. It was time to put this baby to work!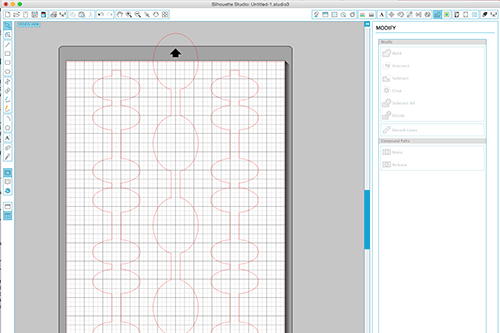 Before I started making stencils for projects, I sat down to play with an idea. I usually work in Adobe Illustrator and then import those designs into the software for my Silhouette cutter, but I decided to save a step and use the Silhouette software.
I worked with some simple shapes (long rectangles and ovals), then used the tools in the software to "weld" the shapes together into columns.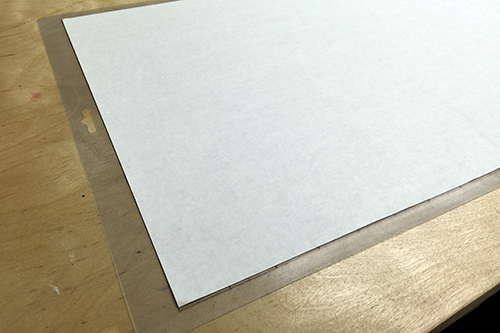 Next up, I placed a sheet of freezer paper on my cutting mat…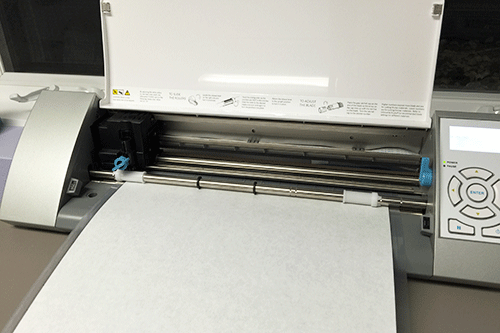 … and loaded the mat into the machine. The mat has a sticky surface, and that keeps the paper in place.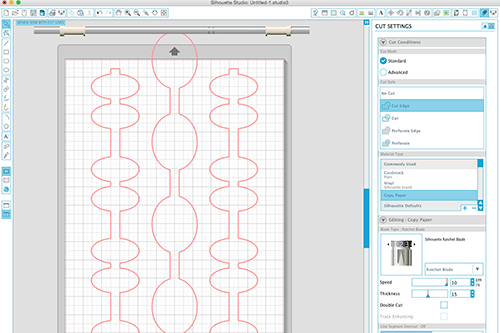 Back in the software, I clicked over to the screen with the settings for the cutter and made everything was set up right. When I finished, I scrolled down to the bottom, clicked on the Start button and watched as the cutter did it's magic.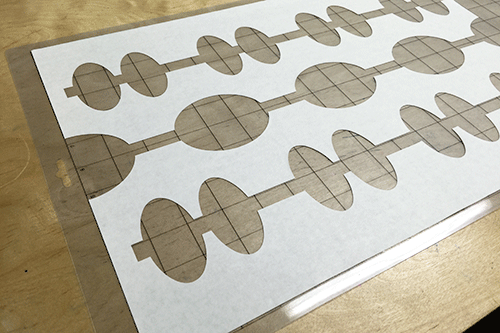 The cuts in the paper are so narrow that it's hard to see much of anything until the cutting is done, but it is truly Oh-My-Goodness Fast! In less than 2 minutes, the cutter zipped through the three columns of shapes I set up in my drawing. (I'm good with an X-acto knife, but nowhere near that good!)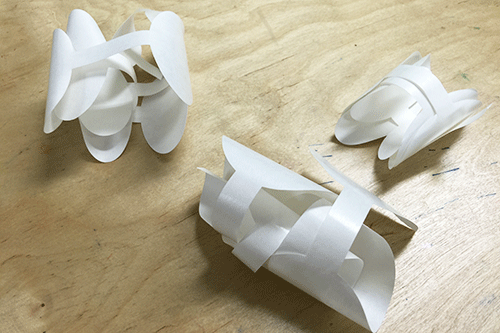 After gently peeling the paper off the sticky surface of the cutting mat, my freezer paper shapes were curled up like Christmas ribbon. Oops! Time to warm up an iron!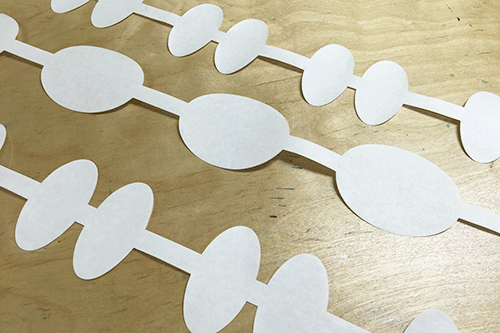 Ah, much better. A quick press with a warm iron and my shapes were flat – and I was ready to move on to the next experiment.
I know I can't put huge pieces of paper into my cutter, but I can definitely see how this Silhouette High-Tech Helper is going to make help speed up some of my stencil cutting. Plus, these shortcuts will make great Bonus Lessons for the Whole Cloth Collage online course.
Resources
If you want to read more about my (few and far-between) adventures with my cutter, you can check the following posts:
Taking My Silhouette Cutter Out For A Spin
Cutting and Transferring a Vinyl Stencil
Test a Design with a Silhouette Cutter
Your Turn
Do you have a High-Tech Helper in your studio or sewing room? Leave a note and tell us what it is and why you love it. I'm always looking for great ways to speed up my work!