by Shelly Stokes, Founder and Creative Mentor

Remember "If at first you don't succeed, try, try again?" I must have heard this phrase a gazillion times growing up. I can still hear a chorus of young voices in my head — and not all of those voices are happy.
While I try to keep my perfectionist tendencies in check, this little phrase often pushes me to make one or two extra attempts at something that doesn't seem to be working. And sticking with a problem just a little bit longer can lead to an "aha" moment — a solution to my creative dilemma.
Taming the Spanish Knotted Feather Stitch
My current project has painted medallions, each ringed with a band. I want to add texture to the painted sections of the fabric, but I don't want to cover up all of the paint. After learning the Spanish Knotted Feather Stitch at my local Modern Stitch group, I thought it would be perfect for the painted bands.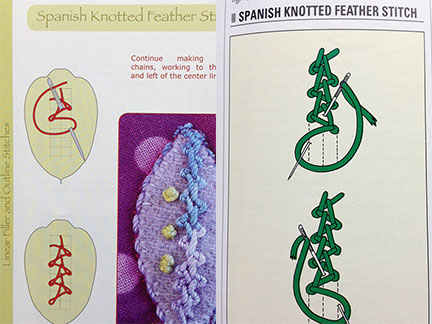 This stitch is too complex to remember after a single class. Fortunately, Sue Spargo's Creative Stitching book and the Mary Thomas Dictionary both have instructions. (See resources below for links to these books.)
The stitch is open and angular — a nice contrast to the painted bands. Or so I thought…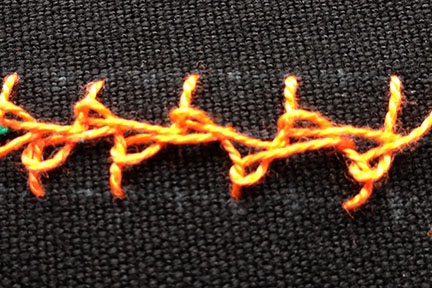 After carefully following the instructions and stitching the pattern, I ran my fingers over the stitches — and promptly made a mess. Ouch. This was not promising. But, if at first you don't succeed… you know the drill. Time to try again.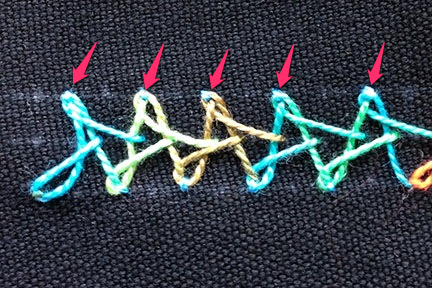 I made another set of test stitches. Then, working from the back side of the fabric, I made a small catch-stitch over each loop along the edge of the band. (See the arrows in the photo.) Once each loop was secured, the stitch retained its shape — regardless of how much it was handled. Woohoo!
Before you ask, my use of  "catch stitch" in the paragraph above is not the name of a specific embroidery stitch. It is simply my way of explaining what I am doing. Technically, I did a short Straight Stitch over each loop.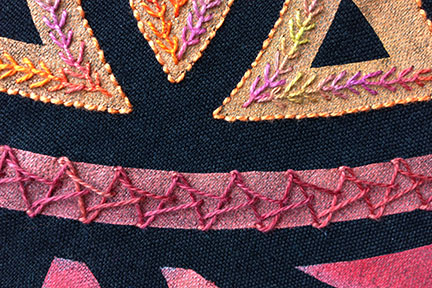 How does it look in a real project? I like it a lot! The Spanish Knotted Feather Stitch adds plenty of texture to the band without hiding the paint. Problem solved!
Resources
Books mentioned this blog post:
Creative Stitching, by Sue Spargo
Mary Thomas's Dictionary of Embroidery Stitches, by Jan Eaton
How Do You Solve Your Creative Dilemmas?
Do you find it useful to "try, try again?" Do you reach a point where you have to let it go? I'd love to hear your thoughts on solving creative dilemmas. Leave your comments below or hop over to our Facebook page. Thanks!