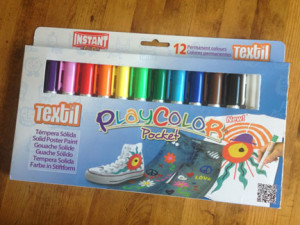 After 14 years of playing with Shiva® Paintstiks®, I'm thrilled to announce that there is another solid paint product on the market. It is different than my beloved Paintstiks, but it is very cool, none the less. I'll be talking about the PlayColor paints a lot over the next few weeks. However, today I want to give you a quick rundown on what they are and how they compare to our Shiva Paintstiks.
PlayColor paints are tempera paint in a solid form. (Our Shiva Paintstiks are oil paints.) PlayColor paints come in two sizes and two formulas. Standard colors are for paper and porous surfaces, TEXTIL colors are for fabric. (If it doesn't say TEXTIL on the marker, don't use it on fabric — it will wash right out!)
Both types of colors come in a plastic tube. The Thick size is very much like a glue stick, and the Thin or Pocket size looks more like a marker.
PlayColor TEXTIL Paints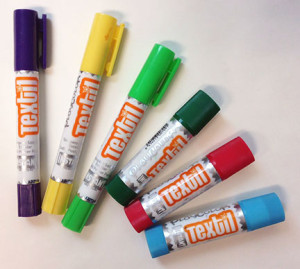 As a fabric nut, I was thrilled when the company introduced a version of this paint specifically for fabric. I have been playing with Artist's Paintstiks for years, and it is fun to see a new product in this space.
The TEXTIL paints come in both thick and thin sizes. I prefer the Thick size for making rubbings, as you get a larger surface area on the end of this stick. Either is great for stenciling, but the Thin size is easier to work with if you simply want to doodle and draw directly on the fabric. Now, here's the good, the bad and the bottom line. (No, there's nothing ugly!)

The Upside
PlayColor paints dry FAST. They will be dry and ready to heat set in minutes, not hours or days.
PlayColor paints are in plastic tubes and there is no film to peel from the outside of the stick. Simply pop the top off, twist up and paint.
Clean-up is easy — just soap and water. No worries about getting paint on your clothes. They will wash right out as long as they have not been heat-set.
PlayColor paints are inexpensive, making them perfect for projects for kids or as a toe-in-the-water way to see if you like using solid paints to embellish your fabric.
PlayColor TEXTIL paints are permanent on fabric once they are properly heat set.

The Downside
PlayColor TEXTIL paints come in matte colors only. Sorry, no shiny stuff.
Although these colors dry fast, they take longer to heat set. Be sure to follow the instructions carefully. If you cheat on the heat setting time, the paint will wash out. (Trust me, I tested this!)
PlayColor paints come in limited colors. There are 12 colors in the TEXTIL set. However, they can be mixed on palette paper, giving you more options when you are stenciling images. Plus, you can blend from color to color right on the fabric when you work with a brush.

The Bottom Line 
While PlayColor paints are not as versatile as my dearly-loved Artist's Paintstiks, they are pretty darn cool. I stenciled these images from our Oliver Owl & Friends stencils in just a few minutes. By the time I washed up my brushes, the paint on the fabric was totally dry and ready to heat set. Nice!
Even if you already have a nice stock of Paintstiks, these paints have a place in your toolbox.
PlayColor paints are perfect for any projects that include kids. (Should I mention yet again the less-mess, super easy cleanup?)
There is very little mess involved. Just pop the cap, twist the paint up like a lipstick and paint!
They are fantastic when you want to be able to add a quick image to fabric and start stitching a few minutes later. (Yes, they dry FAST, and can be heat set almost immediately.)
And, these paints are a great alternative for anyone who wants to enjoy the possibilities of working with solid paints without making a big investment.

Order Your Set Today!
PlayColor TEXTIL Paints are now available in our Online Store. The TEXTIL colors come in 2 sizes, Thick and Thin (Pocket).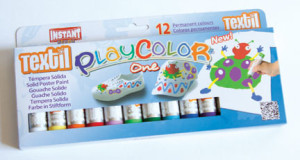 I like the Thick size paints for making rubbings. These are the same size as a glue stick, so they have a larger surface area on the end of the stick. The PlayColor TEXTIL One set is only $19.95 — an incredible deal, any way you cut it!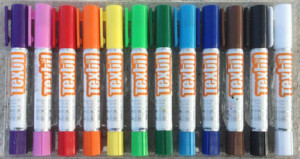 The Thin (or Pocket) size paints are much easier to use if you want to doodle and draw directly on your fabric. The paint is about half the size in diameter as the Thick size, so it is easier to control. The PlayColor TEXTIL Pocket set is $24.95, just a shade over $2 per color. Nice!
In case you are wondering, there is actually more paint in the Thick size sticks than the Thin (Pocket) size sticks. The Thin size come in taller packages, but they contain less paint.
PlayColor for Paper (and More!)
When you click over to the PlayColor page in the Online Store, you'll see the TEXTIL colors and several other sets of paints. The standard colors (not TEXTIL) come in matte colors, metallic colors and fluorescent colors. These colors are fantastic for paper, wood, cardboard and other surfaces. They are fantastic for you mixed-media fans, but will not be permanent on fabric.