Oh my goodness, what a week! I flew to Cleveland last weekend and taped a couple of new segments for Quilting Arts TV on Monday. While I was there, I had the opportunity to tape a couple of additional segments for the website, so we'll be posting those in the next couple of weeks. (I had great plans to do blog entries from the studio in Cleveland, but my camera was behaving badly — so here I am playing catch-up at the end of the week.)
My next stop was Chicago. I spent the day on Tuesday doing a couple of classes for the wonderful people at Brewer Sewing Supplies and Bernina. That was great fun. But Tuesday was the highlight of my trip — I had the opportunity to tour the paintstik factory and meet the people who produce our amazing paints. I was thrilled to see the paints being made, and they were tickled to see how I use the paint on fabric. It was a great way to end a trip.
New Stencils, New Paintstik Colors
I came back to the office yesterday to find samples of our new stencils waiting for me. This is a new product line that will be introduced at Fall Quilt Market in October. I sat down to test the snowflake stencils and was just thrilled with the results. Here's a peek at my testing…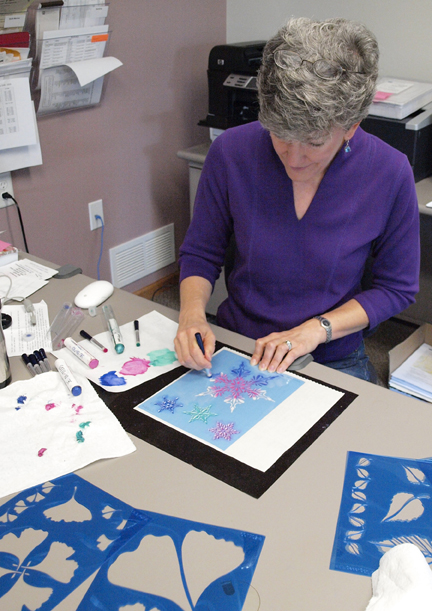 We'll also be introducing new paintstik colors at Fall Quilt Market. We have 3 new iridescent colors and 3 new matte colors. I tested the snowflake stencils with the new iridescent colors and they are magnificent! The colors are Iridescent Jade, Magenta and Sapphire. (And yes, they will be available in a set of Mini Jewel Colors!) The new matte colors are Periwinkle, Marsh Green and Fuchsia.
Here's a closer look at the iridescent colors.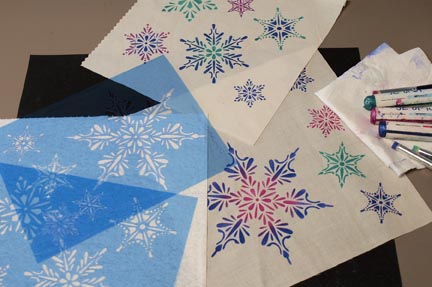 Well, that's what I've been up to this week. It's great to be home, and I'm looking forward to a long weekend to wrap up a busy summer.