Like many of you, I belong to a small group of like-minded women who share a common creative passion. We get together on the first Wednesday morning of each month. It's not the best meeting time for me, but I'm the only one in the group still working full time and for a group of so-called retirees, these women are busy! I'm also the baby of the group at "just" 50-something.
When meeting day rolls around, I have this nagging tug-of-war going on in my brain. One side says "You've can't do that – you've got deadlines to meet" while the other side says "Screw the deadlines – I want to go play with my friends." Sound familiar?
Usually, time with my friends trumps the deadlines. After all, I don't think I'll be lying on my deathbed wishing I had written one more newsletter or made one more sale. But I might very well wish I had been less tied to my work and spent more time enjoying the marvelous women in my life.
I'm a DIVA

That's said with a very big grin, in case you missed it. My small group of fabric art friends is called the DIVAS. I wasn't around when they chose the name, but they tell me it stands for Designing Innovative Visual Arts Sisterhood. That's a pretty high-falutin' name for a group that just loves to gather for coffee and yack about our latest quilting and fabric art successes and flops. Oops. Make that "challenges."
And being a member of the DIVAS, I just couldn't help claiming the title of Shiva Diva. With a studio full of Paintstiks, it was just too good to pass up. You won't find that on my business card, but that's my not-so-serious title among my friends.
I've met tons of women who belong to these small groups and I love the names. Some are pretty tame, like Sew & So and Stir Crazy Quilters. Others are more literal. One of my favorites is the Stitch and Bitch Club. There's no guessing what goes on in that group!
Whatever the name, our groups have a lot in common. They are usually small, often 6-12 people. Large enough to have fun, but small enough to meet in our homes. Because they are small, they give us a chance to belong to an exclusive little club that stays remarkably constant over the years. And that's hugely comforting in a world that changes so fast!
DIVAS Do Big Birthdays!
While all of us are old enough that we'd rather not be counting birthdays, we have a special tradition for Big Birthdays. You know, the ones that end in a big fat ZERO. It started when several of our members were turning 70. Someone came up with the big idea that each of us should gather up 70 "embellishments" to pass along to the birthday girls.
Now the word embellishments is pretty wide open to a group that does fabric art. It might be 70 buttons, 70 beads, 70 strands of embroidery floss or 70 fake flowers. You just never know with this group! I just wish I had photos from the meetings where our members went home with 700 new treasures.
Sometimes, we choose a theme that really fits the member. When Janet turned 60, we replenished her stash with any and everything related to Halloween. Trust me, she will NEVER run out of Halloween goodies. She's got more fabric with black cats, witches and pumpkins than Heinz has got pickles!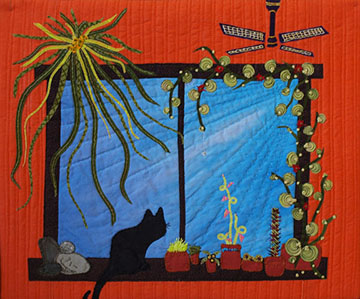 This month, Jean turns 60 and I can't wait to see what our group comes up with for her. Jean loves beading, hand stitching and embroidery. The details in her work are remarkable, and are often made from little, teeny bits of fabric.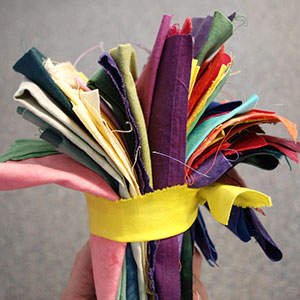 I don't have a big collection of threads, and Jean's got more than enough beads to last 3 lifetimes, so I decided to go the fabric route. I pulled out my bin of hand-dyed fabric scraps and found 60 pieces for Jean. It didn't make much of a dent, but I suspect these will actually get used now that they are in her possession.
I made sure I found a couple of pieces of orange fabric in the stack as it seems she can't make a quilt without it. I was looking for some baby girl pink to add a prank, but didn't find any in the bin. Oh darn!
Does Your Small Group Do Big Birthdays?
What's your small group story? I'd love for you to share the name of your group and your birthday traditions. I'll bet they are all over the map! You can leave a comment here on the blog or pop over to our Facebook page. See you there!