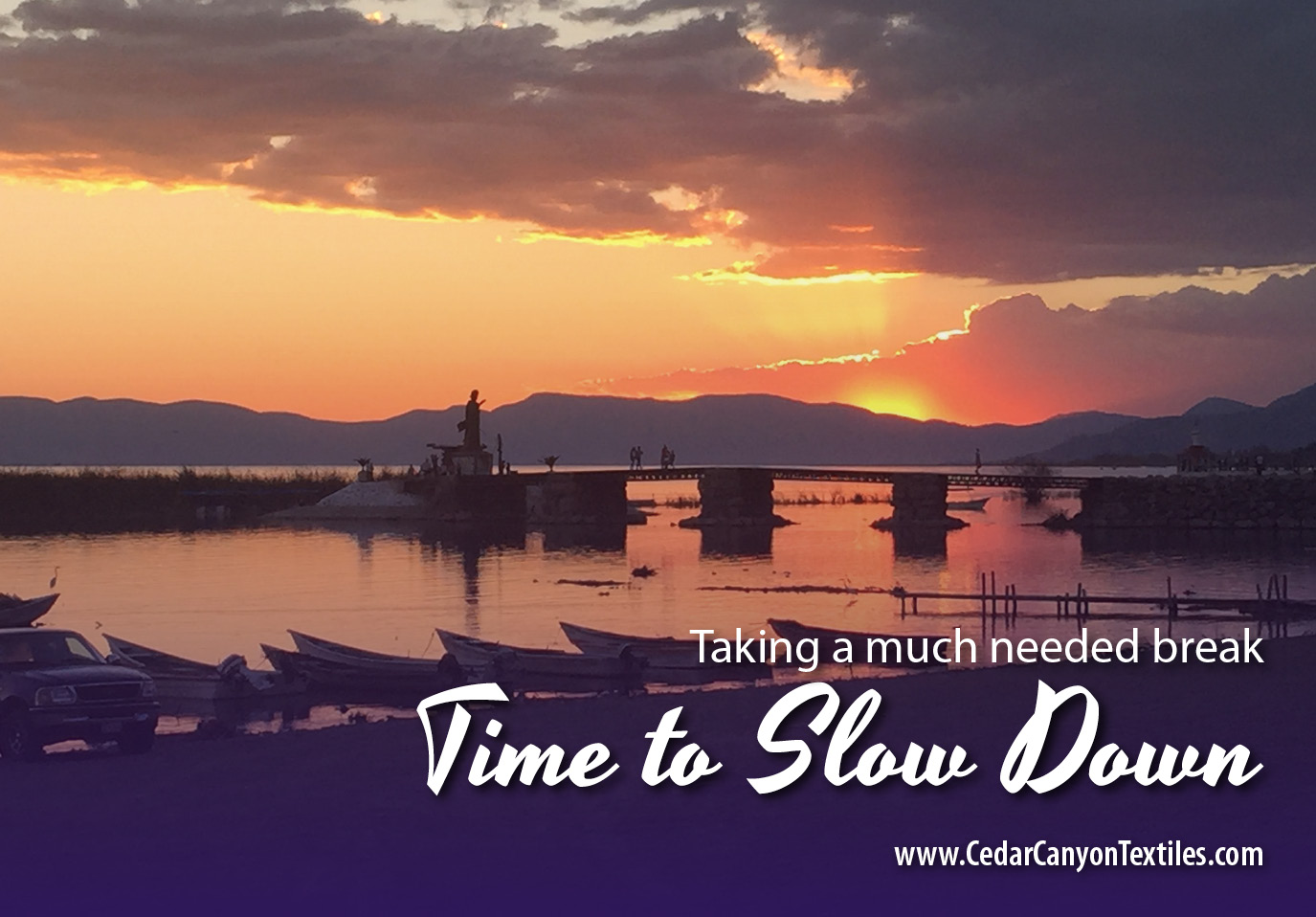 When I gave myself permission to take a break this fall, I had no idea how much I needed that break. And having taken a bit of a breather, it's clear that I need to slow down to the speed of life.
It's not that the past couple of months have been quiet. Far from it. I moved to Chapala for the winter, traveled to Atlanta to teach at the All Things Silhouette conference, painted scale models and the full size image for my next embroidery project and completed a sample for the CraftCast course I'll be teaching in February.
Last week, I traveled to Minnesota to take my sweetheart to the doc for a (very successful) skin cancer procedure and then packed him up and brought him back to Chapala for the winter.
And now it's time to slow down to the speed of life. For the first time since I started my business 20 years ago, I'm giving myself permission to stop thinking about the next big thing for the business, the next class, the next blog post. I'm giving myself permission to think about the next cup of tea, the next stitches to go into my project, the next visit with a friend, and the next dinner with Jack. For now, that's enough.
While I take this time to learn how to live in my new home, it will be interesting to see what I miss – and what I don't. I'm curious to see happens.
Can I switch off the observer in me that sees everything as a potential blog post? Can I stop feeling the need to take step-by-step photos and just "do the project" instead of "documenting the project?" Can I stitch for the sheer enjoyment of stitching instead of thinking about how I would teach someone else to stitch?
To be honest, I'm not sure how this is all going to play out. It may be great fun, and it may be a bigger challenge than I'm up for. I've been doing, doing, doing for a long, long time. Jumping into the next big thing is my default mode. Giving myself permission to stop – or at least to slow down – is kind of scary.
So, what's next? That's a great question!
Starry Night Journal Cover
First off, I'll be teaching a class on CraftCast in the beginning of February. (No, I'm not totally disappearing into the woodwork!) The live webinar will be on February 3rd, and the replay will be available for on-demand viewing a couple of days later. We'll be stenciling on fabric with Shiva Artist's Paintstiks and then turning our painted fabric into a Journal Cover. (My journal cover is sized to cover a Composition Book.)
I'll send out more details about the class as we get closer to the date – or you can click over to CraftCast and register now.
Then what?
After that? I'm really not sure. I'll just take things one day at a time for a while and see what bubbles up. I'll most likely pop in here and there with a short note. Just no regular schedule – at least for now.