A few weeks ago, I showed you a photo from my booth at Quilt Market. We featured a number of home dec ideas using the new Forest Friends Rubbing Plates and Oliver Owl & Friends Stencils. Now that the stencils are in the warehouse and ready to ship, I want to share a few of the ideas with you.
Here's a really quick way to add images to a lampshade – without the worry of making a mistake while you're painting. (And you've got to love that!)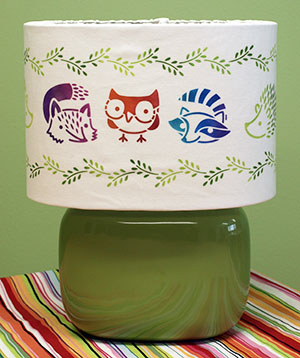 Before I left for Houston, I made a quick pass through some of the local stores looking for easy-to-decorate home accessories. When I got to Target, I hit the jackpot. Green, purple, and turquoise are "in" this year, and I had plenty of things to choose from that would fit into my booth colors perfectly.
I found this cute little lamp with an oval shape shade and I thought "perfect!" My next stop was the local quilt shop to pick out some bright fabric. When I mentioned stenciling on the lampshade, one of the employees suggested that I make a cover for the shade instead of painting directly on the lampshade – it's a whole lot easier to replace a piece of fabric than to find another lampshade in the event of a big "oops." What a great idea!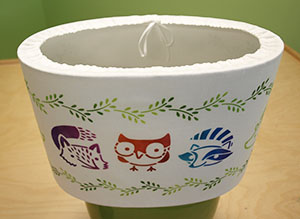 I measured around the lampshade, cut a strip of fabric a 2″ taller than the shade and about an inch longer than the distance around the shade. (This one is not tapered, so I didn't have to think too hard.)
I stenciled a band of really cute little critters from the Oliver Owl & Friends Stencils, added the top and bottom border, and let the fabric dry overnight. I heat set the images with an iron, and stitched the band together at the ends. Then I folded the top and bottom edges over, stitched a small casing, and threaded a 1/8th inch ribbon through the casings.
After putting the cover over the lampshade, I simply tied the ribbons and tucked the ends under the shade. It doesn't get much easier than that!
Making a lampshade cover rather than painting on the shade has another benefit. When it's time to change the decor of the room, you can simply replace the cover with another one – or use the plain shade. There's no need to buy a whole new lamp or hunt down a new shade.