Joan Ford of Hummingbird Highway is one of my quilty business friends. (That's Peaches perched on her shoulder…) You probably know Joan from her Scrap Therapy books and all things scrappy. Joan lives on the traditional end of the quilting world, and I live over on the art quilting end of the spectrum. None the less, we both see huge potential in the Silhouette cutting machines.
Here's a peek at a recent conversation we had about whether a Silhouette machine makes sense for traditional quilters:
Shelly: Hey Joan. You and I been talking about the Silhouette cutting machines on and off for the better part of a year. Maybe longer. A lot of the how-to materials already out there are aimed at non-fabric crafters, it's been tough to figure out how we could make this thing useful in the fabric world.
Joan: Right. All I see is paper this, vinyl that, and rhinestones, cards, t-shirts, and you name it. I like all kinds of crafts but for me, it's all about quilting. What about us FABRIC people?
Shelly: You're right. What about quilters and fabric art fans? Does the thought Silhouette for Traditional Quilters make sense? I know you have questions. Fire!
Will It Cut Fabric?
Joan: First things first. Can the Silhouette cut fabric? I'm not too keen on treating my soft quilting cottons with additives so they become stiff and paper-like.
Shelly: I had a lot of questions about this, too, Joan. When I went to the big All Things Silhouette conference in April, everyone I talked to said we had to stabilize the dickens out of fabric in order to cut it on a Silhouette. But, I decided to be a Doubting Thomas and do some testing.
It worked! The fabric does need to be stabilized, but we've got options. Fusible web when we want it – or freezer paper when we don't want to add any stiffness. So yes, we can cut fabric without making it as stiff as a board.
And before you ask, yes, we can use our scraps! I know you've got bins and bins of tidy scraps that are just perfect for your projects. It's super easy to press scraps to freezer paper and let the machine do the cutting.
Joan: Yay! Shelly, you know me too well! I love finding new ways to use my scrap fabrics!
Do I have to draw my own designs?
We've talked about using the Silhouette software to make our own designs. Do I have to make my own designs? Or can I buy them?
Shelly: Good question. There are tons of great designs in the Silhouette Store and in lots of places around the internet. Sometimes a design will be just what I want, so there's no need for me to start from scratch. But often, I might like the vine on one design and the leaves on another.
Here's an example. I purchased the two designs on the left from the Silhouette Store. Then I cut them apart with my super cool erasing method and put them back together to form the drawing on the right. I didn't have to draw anything and I got a design that's just right.
Is it hard to make my own designs?
Joan: That's pretty slick. What if I want to make my own design?
Shelly: You can do that too. And it's not rocket science. A lot of drawing programs (especially Adobe Illustrator) have 20 gazillion tools and options and possibilities. For me, they are downright intimidating.
But the Silhouette Studio software is a drawing program that has been put on a serious diet. The people that designed it did a great job of distilling the tools down into a simple easy-to-use subset of what you find in something like Illustrator. They kept a lot of good stuff, but dramatically reduced the complexity. (Can you tell I'm a little excited?)
Joan: Yup. You are definitely excited. And you've got me excited, too. But I've got more quilty questions…
What about Appliqué?
What about appliqué patterns? I hate the tracing part of the prep – light boxes and reversing shapes – bleh-h. I'm always so anxious to get to the sewing. Can the Silhouette help me there?
Shelly: Absolutely. There's a pretty decent tracing capability in the Silhouette Studio software. You can scan a paper pattern or take a photo of it, then import it into the software for tracing. It's much faster once you get the hang of it – and it's fun!
And get this. Change the cutting blade to a marking pen, then draw the appliqué shapes directly onto the fabric with the Silhouette. Change the pen back to the blade, and cut around the shape to add the seam allowance. How cool is that?
Joan: Okay. You've convinced me that I should open the box. I just know there are some really fun things waiting around the bend at Hummingbird Highway using this machine.
Where do I start?
But… I still have to get over those 'fresh out of the box' jitters. To be perfectly honest, I'd rather not experiment to figure all this stuff out. Where do I start?
Shelly: No problem, Joan. I've done the heavy lifting for you. I did all the experiments and figured out how to make this machine work for you and your traditional quilting friends – and and the fabric art folks that hang around with me. And I'm running a class that starts on June 6th. It's six modules over eight weeks. We'll cover everything we talked about here today and a bit more.
Joan: Sounds perfect, but that's right around the corner. I'm up to my eyeballs in deadlines. Do I have to be online at a certain time? Can I go back to the lessons after the course ends?
Shelly: I think you've got lots of friends in the "I'm really busy" world, Joan. But it's okay. All of the lessons are pre-recorded. You do them when it works for you. You have "forever" access to the classroom, so you can start when your schedule lets up and come back whenever you need a refresher. Plus, I'll be answering questions in the classroom for two weeks past the end of the eight weeks, so there's plenty of time even if you start a little late.
Register Today!
Joan: [Squawk!] Okay Peaches! We'll sign up! Good grief. I think Peaches is more excited than I am…
Where can I send my friends to learn a little bit more about the June 6 workshop?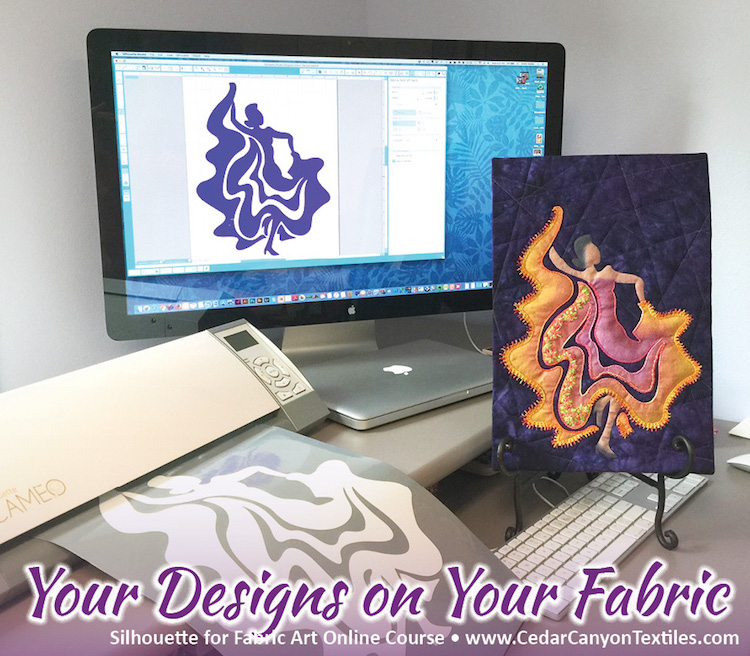 You (and Miss Peaches) can find all the details at the Silhouette for Fabric Art information page. If you've got a Silhouette that's gathering dust (or still in the box! * a-hem! *), this is the perfect time to put it to use!
Silhouette for Fabric Art Course Info
Your Turn
Is "Silhouette for Traditional Quilting" part of your world? Leave a comment below to let me know how you are using your machine – or what possibilities you see for using it.