As we were building our new website, my project manager told me about a really cool web-based service that makes it very easy to get feedback from customers and community members — people just like you.
Last week, I signed up for a trial run, kicked the tires, and decided this looked like fun. Then I had one of those middle-of-the-night "aha" moments. This is the perfect way to set up Show & Tell for our Community. Woohoo! This is going to be lots of fun!
But, there's a catch… Before we can share your amazing projects with your friends in the Community, we need something to show. And this is where you can help me out.
If you have made a project, any kind of project, using Paintstiks, Cedar Canyon Rubbing Plates or Cedar Canyon Stencils, I want to see them. Yes, it's time for you to show off your stuff! Think you can do that for me? Great. Here's how…
Go To Our Secret Share-Your-Project Page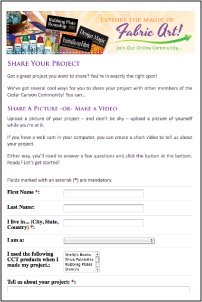 That's right, it's still a secret page on our site. I'm not going to open the Share-Your-Project page to the general public until you have a chance to show off first. (If you're hearing your mother say "Don't be a show off" in your head, tell her to go away. I really want to see what you've been working on!)
On our Share page, tell us your name and where you live, and answer a few questions about your project. There's also a spot to upload a picture of yourself. Don't be shy! Your friends in the Community would love to put a face with your name.
Upload a Picture, or Make A Video!
Now here's the cool stuff. You can upload a picture or your project (please do this) or you can make a short video and show us your project right on the screen. You need a webcam on your computer or laptop to do the video thing, but it's super easy. Just follow the instructions on the little screen image, and you'll be making your Show & Tell video in no time.
[Gremlin Alert: Sorry, you can't share from your iPad. Our software service relies on Flash, which is not supported by our friends at Apple.]
How We Will Share Your Project
We will be sharing pictures and videos in several places. Some will be shown on the Show & Tell page, some will reside in the Community Center, and we'll share some in future issues of Fabric Art Magic. When you post a picture or video, you give us permission to share your images. (You retain the copyright, of course.)
I really hope you will share your projects with our Community. Whether you create projects from fabric or not, we would love to see your work. If you used paintstiks or one of our tools, show it off. I can't wait to see what you're up to!
>>> Click here to Share Your Project <<<
While you're busy uploading your pictures and videos, I'll figure out how we can show your work to a few thousand of your closest friends. Sounds like fun to me!