As you know, I collected 12 of my favorite techniques for playing with Rubbing Plates and piled everything everything I could possibly fit into the pages of Rubbing Plate Roundup. Unfortunately, not everything fit! Drat and double-drat!
I want to make amends for my omission today by sharing one of the "missing techniques" that really should have been included in this wonderful book. It's my way of thanking you for joining me on this creative journey and sharing your time with me each week. You are very special to me, and I'm honored to share your day and your creative space.
Let's take a look at how you can add these beautiful effects to your fabric!
What you need:
The list is pretty simple — one paintstik, one brush, a piece of palette paper (or freezer paper) and a rubbing plate. I pulled out 3 colors when I was making up some samples.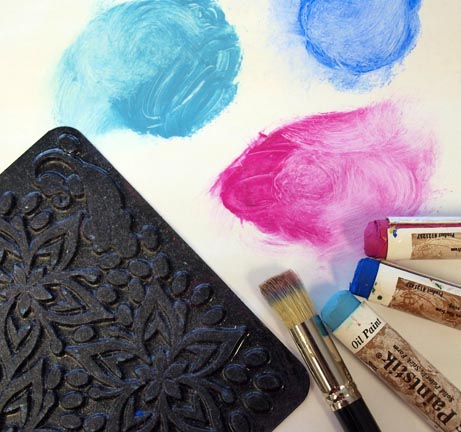 To try this out, just grab any old rubbing plate and any light to medium fabric that you have laying around. We're just trying this out — not making a masterpiece!
Step 1: Remove the film from the paintstik.
This is from Paintsitks 101 — whenever you want to work with your paintstiks, you have to remove the film from the outside of the stick. (See this entry in the Blog for my favorite way to remove the film.)
Step 2: Load the paint onto your stencil brush.
Rub a bunch of paintstik color onto your palette paper (or freezer paper). The rub the brush in a circular motion on the paper to pick up the paint.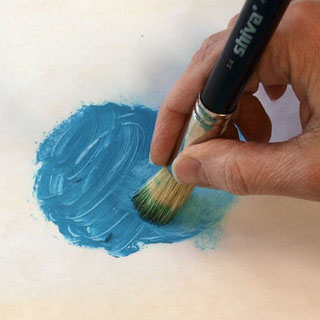 Step 3: Apply the paint to your fabric
Using a circular, scrubbing motion, apply paint to your fabric. Continue adding paint until the image is as dark as you want it.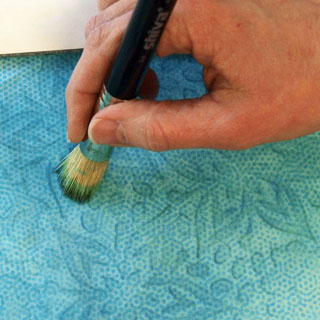 Note that I'm using a big, soft stencil brush rather than one of our short-bristle brushes. When I want a soft image, I use the biggest standard stencil brush I have. (And when I want quick, opaque coverage, I go straight for those short-bristle paintstik brushes!)
For a quick practice piece, just use any stencil brush you have handy. Actually, try using both if you can to understand the difference. You can decide which brush works best for you!
Some Quick Results
Here are the 3 samples I whipped up the other day. I started with a dotted turquoise fabric and used one of the Fantasy Flowers rubbing plates.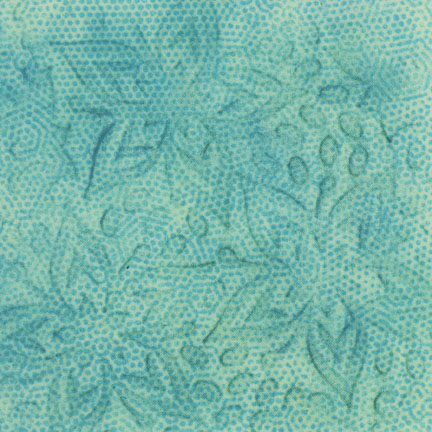 In the first sample, I just wanted to add am image. I used Turquoise (matte) paintstik color on turquoise fabric. The image is definitely there, but the fabric is still turquoise.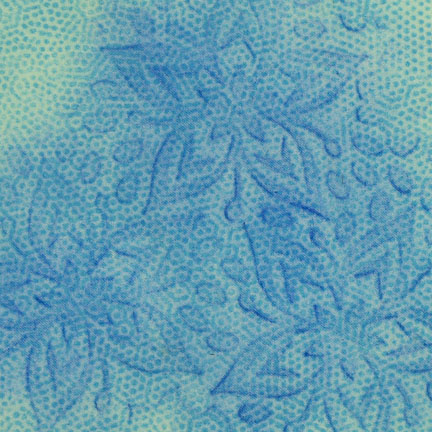 In the second sample, I chose Cobalt Blue (matte) paintstik color. This would be a useful choice if I my project contained a bright blue and I needed to push the color to blend with the other fabrics.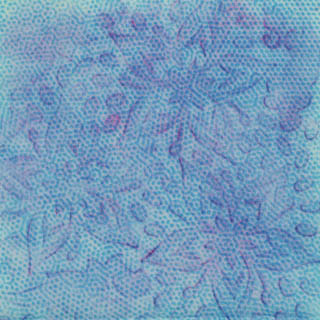 In the third sample, I added Fuchsia (matte) paintstik color to my fabric. This might be my choice if my project included a fuchsia accent fabric and I wanted to introduce that color into the fabrics to pull things together.
One more thing — can you see how the overall color of the fabric has shifted from turquoise to blue? When you do your experiments, use several different colors on one base fabric. Watch how the color shifts as you apply different paintstik colors. This will come in handy when you have a piece of fabric that's "close, but not quite perfect" for your next project.
There you have it — yet another wonderful technique for adding color and texture to your fabric with Rubbing Plates! Don't you just love getting a bonus to go with your book?
If you're wondering how you're going to remember this, read on…
Where Do I Store That Idea?
Now that I've given you a bonus technique to go with my Rubbing Plate Roundup book, you're probably trying to figure out where to put this little gem so you don't forget about it. At least that's what goes through my mind.
Here's my best suggestion for ANY bonus technique that you get in the e-mail or from an unexpected source.
Take a minute to think about where you might look for this information, whether it's next week or 3 months from now. For this technique, I would look for it under "paintstiks" or "rubbing plates."
Make enough copies of the information so you can file it in each of the categories that works for you. Yes, it's a little more paper, but it saves a whole lot of time hunting it down later.
Store one copy of the information in each of the appropriate spots in your filing system (or "idea piles" or whatever your system may be…)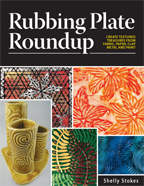 Here's an idea that works for me: When you have a book that is specifically related to the topic, add the pages to the book rather than storing it in a file (or pile). Since this technique is related to Paintstik Rubbings — which is explained in detail in Rubbing Plate Roundup — I'm going to attach a copy of this message inside the back cover the book. (I would attach the second copy to my reference copy of Paintstiks on Fabric — my best-selling "how-to" book on paintstiks — that I still reference today.)
Then, to make double-sure that I don't forget what I've done, I'll put a sticky note in the Paintstik Rubbings section of each book to remind me about the added technique
And, if you don't already have your copy of Rubbing Plate Roundup or Paintstiks on Fabric, you can buy them from your favorite local shop or order from our Online Store. Place your order today and we'll have your books on the way to you in no time.
Oh, just one more thing… don't forget the Rubbing Plates!