I'm really bad at keeping secrets, especially when I'm excited about something new! I drove up to visit our rubbing plate company yesterday to see the prototypes of our new Doodles plates. They're absolutely gorgeous!
When I make this trip, I take along a supply of fabric and paintstiks so I can test the designs right from the molds. It's not a perfect substitute for the end product, but it's enough for me to know whether or not the designs will work as they are — or whether we need to make changes. (It's far easier — and less expensive — to make changes before the machinists start drilling the thousands of little vacuum holes in the molds.) Here's a picture of one of my rubbings and the mold that we use to make the plates.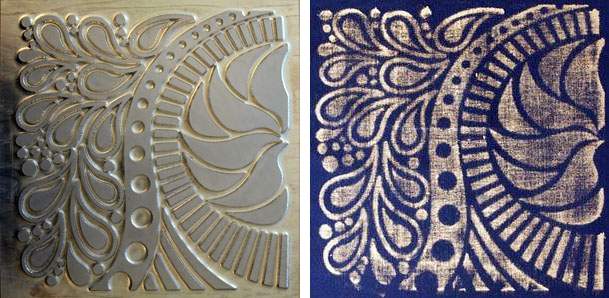 If you are familiar with Zentangles® or zen-doodles, you'll understand the inspiration for this set of rubbing plates. (If not, do a search on "zentangle" and discover a fascinating way to spend your time!)
I had to switch back to engineering mode yesterday to review the designs. When I made rubbings from the molds, I discovered that we had the design elements on a number of the plates too close together. One of the engineers brought in a pair of calipers and explained the finer points of mold making and plastic forming and the ideal measurements for getting successful patterns. It was really quite interesting.
The bottom line is that we need to update our drawings and send them off for a new set of molds. (I hate when that happens!) But that's part of the process. It has been a while since we did a new set of plates. I guess I'm a little rusty. The good news is that they can turn a new set of molds pretty fast and we should still make our release date in October. And that makes me very happy.
Stay tuned for updates on these fabulous new plates. They will be a great addition to your toolbox!
That's all the news for this week. By the time you read this, I'll be off visiting family and winging my way to Toledo for the Checker Distributors Open House event.