by Shelly Stokes, Founder and Creative Mentor

Tuesday was the final day of our 30 Designs in 30 Days adventure. It felt like a marathon at times, but we made it!
I was about 15 days ahead of the group when we started, but I will be honest. Between keeping up with the group and taking care of the business, I did not keep up with my one-a-day pace. When we got to the end, I was just one day ahead of the group.
On the positive side, I was able to include themes and ideas that came up in the group discussion. Just when I wondered if I was going to run out of ideas, a theme or question would come in from the group that was exactly what I needed. See? It all works out!
As promised, here are my designs for Days 25-30.
Day 25 The Sound of Music: Create a design based on anything related to music.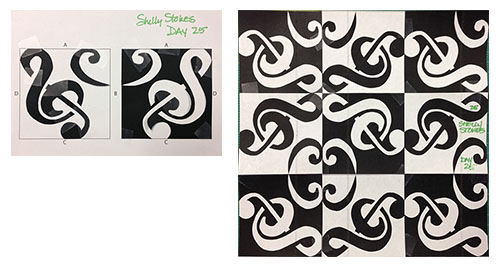 Day 26 – Anchors Aweigh: Create a design with a nautical theme.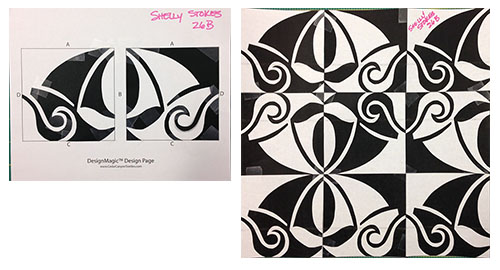 Day 27 – Stretch, Bend & Twist: Give one of your designs a workout by rotating, stretching or bending an element from a previous design.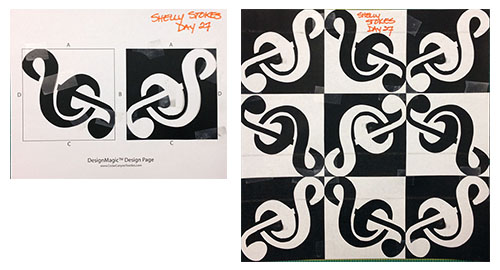 Day 28 – What's Your Number: Create a design that includes numbers.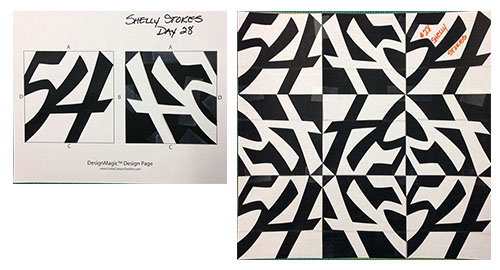 Day 28 fell on my 54th birthday, so I chose that number for my design.
Day 29 – Mix & Match: Create a repeating pattern from 2 or 3 of your designs.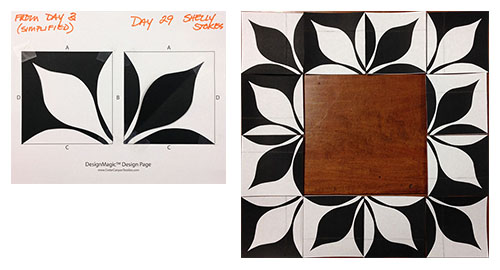 I started by simplifying my Day 3 Design. It turned out to be a really nice frame. Then I went through my 30 Days sketch books and dropped earlier designs into this frame.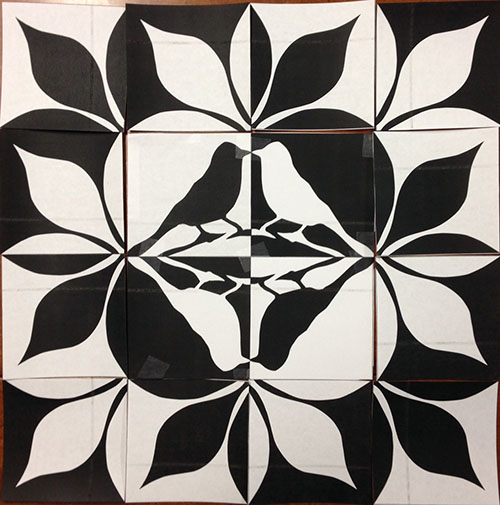 I tested about a bunch of my designs in this frame, but the birds are my favorite. I love the way the 2 designs work together. It looks like the birds are sitting in front of the sun or moon. Nice!
Day 30 – Make It Useful: Choose one design and paint it out onto paper or fabric.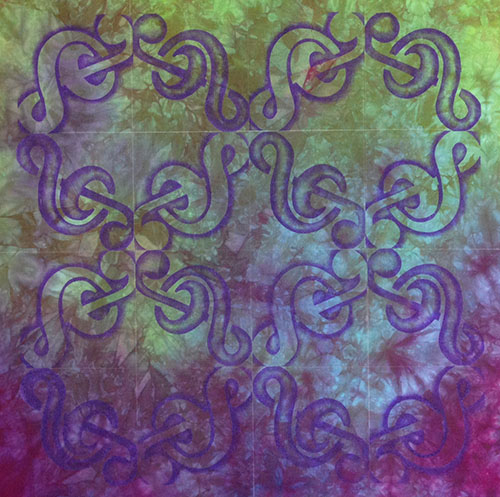 For my "graduation" project, I chose the treble clefs from Day 27. Rather than painting out the entire square, I opted to paint only the outlines. If you would like to know more about that technique, you can read the post titled Design Magic Wreath Stencils: Full Images or Outlines?
I have enjoyed my 30 Days with the group immensely, and I look forward to teaching the course again this winter. But for now, I will give my scissors and x-acto knife a break. It is time to get back to stitching!