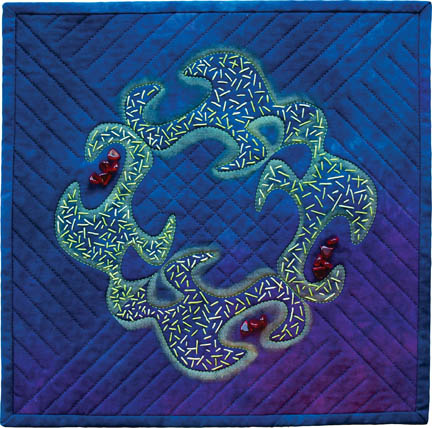 If you are like me, you like to take a little bit of time to do something creative before the Christmas holidays. I don't always have time to make a lot of gifts, but I love to make a little something special to decorate the house. (Not to mention, I like to carve out some creative time in the studio — just for me!)
Our Wreath Quilt Project, over in the Community Center, is a perfect "quickie" project that can easily be put together in short order. This is one of my favorite one paintstik, one brush, and one set of stencils projects. This 12″ square quilt looks fantastic as a table accent or on the wall, and it's fun to make. What more could we ask for?
I used an Iridescent Lime Paintstik, a 1/4″ brush, and our Design Magic Wreath stencils to make my little quilt. You'll find complete instructions in the Community Center. You can learn more about painting the outlines of Design Magic stencils in our blog article titled Design Magic Wreath Stencils: Full Images or Outlines.