by Shelly Stokes, Founder and Creative Mentor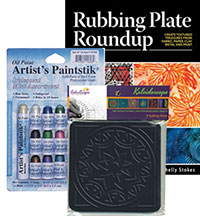 Our new Kaleidoscope Rubbing Plates will arrive in just a few short weeks, and we have a  very special Pre-Order Offer for you and your friends in the Cedar Canyon Community. Our Kaleidoscope Pre-Order Bundle includes:
The beautiful, new Kaleidoscope Rubbing Plates,
A copy of Rubbing Plate Roundup, and
An Iridescent Mini Paintstik Assortment (15 colors + a blender)
All for the low, low price of just $92.85. That is a full $33.00 off the retail value of $125.85 — and enough to pay for shipping this beautiful bundle anywhere in the US or Canada.
Or, look at it this way – you buy the 16-piece Paintstik Assortment at regular price ($89.95), and get BOTH the Kaleidoscope Rubbing Plates AND the book for just $2.90. That's right – less than $3 for both the book and the rubbing plates!

 Bonus: Save Even More When You Share With A Friend
Have you got a special creative friend or two? Double up and save an additional 10% on our Kaleidoscope Pre-Order Bundles when you order 2 or more – and you'll save on shipping too. That's 33% off the regular price when you order for yourself and a friend! Here's how it works:
Add two or more Kaleidoscope Pre-Order Bundles to your shopping cart (Limit 6).
Enter FRIENDS in the Special Code box and click on APPLY to capture your extra 10% savings.
All Pre-Order Bundles must be included in the same order.

Please note: Orders for the Kaleidoscope Pre-Order Bundle will not ship until the Kaleidoscope Rubbing Plates arrive in the warehouse. Orders will be shipped before July 1, 2014. We will keep you updated on shipping dates.