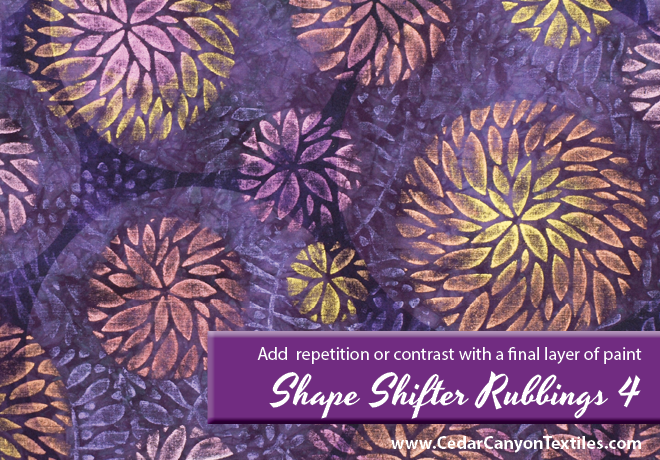 Ready for Lesson 4 in our Shape Shifter Rubbings series? Fantastic! Let's get started. If you have just joined us, here are the links to the first 3 lessons:
Lesson 1: The Basic Shape Shifter Concept
Lesson 2: Variations on the Theme
Lesson 3: Working on a Larger Scale
Adding The Final Layer
When I first started thinking about Shape Shifter Rubbings, I made a bunch of quick notes about ideas that were floating around in my head, including adding a sheer overlay to either repeat the theme or to introduce a different set of shapes. I like to do one or the other (repetition or contrast) whenever I get the chance.
I have a lot of fun fabric in my stash, including (believe it or not) purple tulle, also known as bridal netting. But, I'm not excited about putting a sheer overlay on a piece of fabric destined to become a handbag because I don't think it will stand up to the wear and tear. Correction – I KNOW it won't stand up to the beating my bags get.
So my next thought is to see if I can simulate that layer of sheer fabric with a darker (or different) color using my Paintstiks. As always, my first step is to do some quick tests before painting on my "good" fabric.
Test Step 1 – Press Linear Freezer Paper Shapes Onto Fabric
After allocating space on my painted fabric for the front and back of my handbag, I've got a bit of fabric left on one end. I cut a rectangle of freezer paper into some trapezoidal shapes, and pressed them onto the fabric.
Test Step 2 – Apply Matte Paintstik Color Between Shapes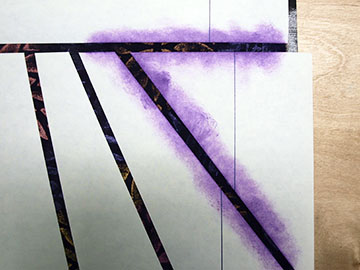 Next, I painted the areas between the paper shapes with a dark Paintstik color and a stencil brush. I used Dioxazine Purple on the right side of the fabric and Ivory Black on the left side.
Test Step 3 – Remove Shapes to See Results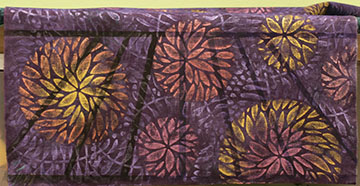 After adding the paint, it's time to peel off the paper and check the results. I like the effect of adding the next layer of shapes. I'm not crazy about the black on the left side, so I'll stick with the Dioxazine Purple for my shading. (That's purely a matter of preference. You may like the higher contrast of the black!)
Test Step 4 – Press Circular Freezer Paper Shapes Onto Fabric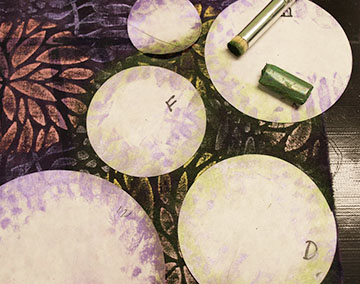 Next, I wondered what it would look like if I used an iridescent Paintstik color for my "sheer overlay." I pressed a few freezer paper circles onto my fabric and shaded the open areas with Iridescent Leaf Green.
Test Step 5 – Remove Shapes to See Results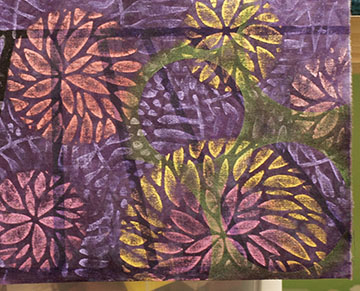 When I removed the freezer paper circles, I did indeed get an effect similar to adding a shiny, sheer fabric. Nice, but not what I want for this project. I'll stick to the dark purple for my handbag fabric and save the iridescent "sheer" for another day.
Step 6 – Position Pattern Pieces On Fabric and Cut Slightly Larger
Now that I've done my tests, it's time to add the final layer of Paintstik color to the fabric for my handbag. I made a pattern piece for the front and back of my handbag to help with placement.
For my bag, I'm going to use the Candice Bag from Lazy Girl Designs. I used this pattern for my last handbag and I love the fact that it is perfectly sized to carry my iPad. I prefer a smaller bag for everyday errands, but Candice is perfect for the extra stuff that goes with me when I'm traveling.
I'm actually a touch short on fabric because the piece I pulled out of the closet had already been used for something else. Fortunately, the front of the Candice bag has a slash pocket on one side, so I can squeak by without painting up a larger piece of fabric. Whew!
Step 7 – Press Freezer Paper Circles Onto Fabric and Apply Paint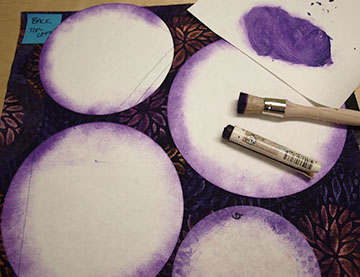 After all the testing, I chose repetition (more circles) over contrast (adding some other shape.) I made some really big freezer paper circles with my Rotary Circle Cutter tool, stuck them to my fabric with a warm iron, then painted the areas in between the circles with Dioxazine Purple Paintstik color and a stencil brush.
Step 8 – Remove Paper Circles to Reveal Results!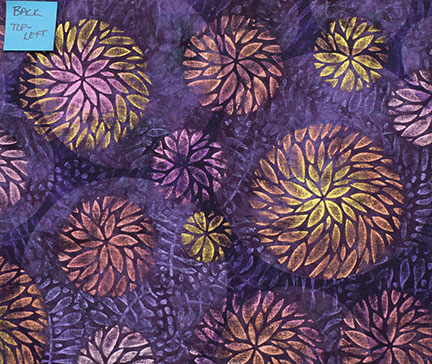 When I remove the shapes from the fabric, you'll see that I have yet another layer of circles. In this case, the added layers of circles is very subtle. It's there, but not really blatant.
I'm planning to add some stitching before I assemble my bag. I'll use the "shadow" circles to help me add an extra dimension to my Shape Shifter Rubbings.
I'll be the first to admit that I usually just jump right over to making a bag at this point, but I'm trying to be patient. I think I can have even more fun with these shapes by adding some machine and/or hand stitching to the fabric. I think I'll pass on anything like beads or baubles (given how hard I am on my bags), but this will be a great excuse to dig into my thread collection!
Got An Idea? Let's Hear It!
Well, I've been spewing out a bunch of ideas for Shape Shifter Rubbings for the past few weeks. What are you thinking about? I love to hear from you, so leave a comment below.