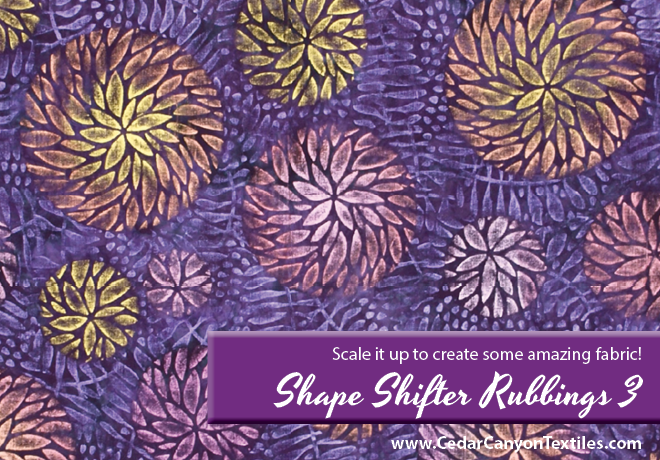 A few weeks ago, I started a series on Shape Shifter Rubbings. Before we jump into Lesson 3, Here's a quick recap and links back to the first two lessons.
In Lesson 1, I showed you how to make a multi-color rubbing by cutting a shape from a piece of paper, then using both the shape and the "not shape" as a mask.
In Lesson 2, we took a look at two variations on the Shape Shifter rubbing by rotating the rubbing plate and trading out for a different plate before adding the second color to the rubbing.
Today, we'll take a look at making Shape Shifter Rubbings on a larger piece of fabric. Ready? Great!
Go Big to Create Fabulous Yardage
First of all, don't panic when I say "yardage." Compared to the samples we started with, a fat quarter of fabric is "yardage." What I'm talking about is making a large enough piece of fabric for your project – nothing more. Now that we're clear on that, let's get started.
Materials: If you want to duplicate the fabric I made in this tutorial, you will need:
1/2 yard dark purple fabric
Floral Fantasy Rubbing Plates
Leaves Rubbing Plates
Iridescent Paintstiks: Light Gold, Orange, Watermelon, Pink, Magenta, Purple
Step 1 – Cut Shapes From Paper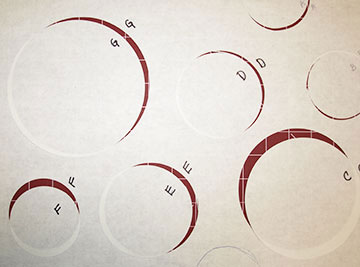 The first step is to cut a bunch of shapes from a large piece of paper. I wanted to paint a half-yard of fabric, so I cut circles from two large pieces of freezer paper using Olfa's Rotary Circle Cutter.
If your cutouts are a bunch of different sizes, you may want to mark the cutouts and the openings with letters or numbers to make it easier to match them up.
Step 2 – Position Paper On Fabric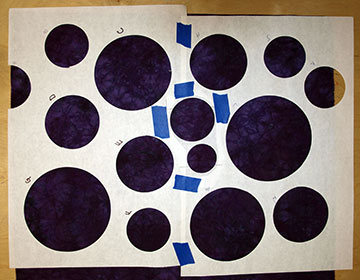 My next step was to place my big piece of "swiss cheese" freezer paper over my fabric, shiny side down.
Step 3 – Press To Adhere Paper To Fabric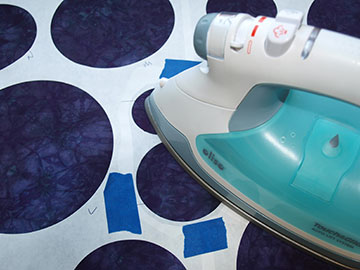 Because I was working with freezer paper, I used a warm iron to adhere the paper to the fabric.
Step 4 – Make Paintstik Rubbings Inside the Openings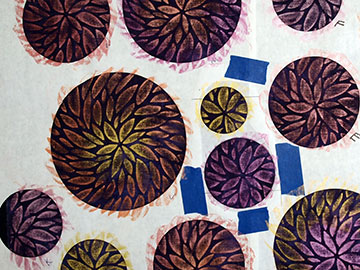 Here's where we get to the fun part. I chose one of my favorite plates from Floral Fantasy for the rubbings inside the circles. I wanted something bright, so I chose Iridescent Paintstiks in pink, yellow and orange tones.
Step 5 – Remove The Paper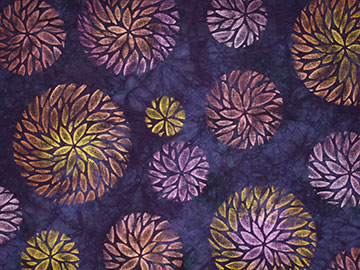 After adding rubbings to all of the openings, I peeled the paper off the fabric. I still had plenty of fabric to paint to fill my half-yard, so I repeated Steps 2 through 4 until my fabric was filled.
Step 6 – Cover Painted Shapes With Paper Cutouts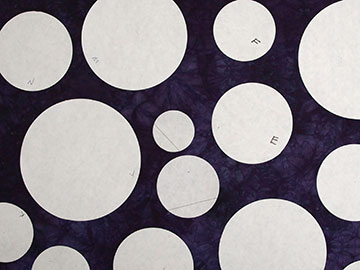 Our next step is to cover up everything we just painted. Rather than using an iron to "stick" the shapes to the fabric, I sprayed the back of all the circles with sticky spray. (Be sure to let the spray set up completely before pressing the shapes onto your fabric.)
Step 7 – Add Rubbings Between The Shapes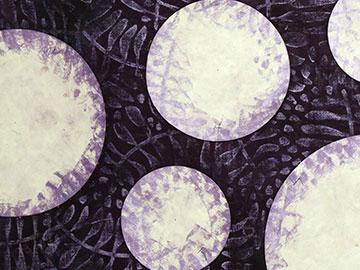 Time to add the background! My initial plan was to add the background in various shades of green, but I decided to go subtle instead of bold. I chose Iridescent Purple and the fern design from the Leaves Rubbing Plates for my background. To fill my fabric, I started at one end, then kept moving my paper circles to the next area of fabric until I was done.
Step 8 – The Big Reveal!
After you paint the background, it's time to peel off the paper shapes to see your fantastic fabric! I really like the way this fabric turned out. It's definitely a great candidate for my next handbag.
So, what do you think? Are you ready to make some larger Shape Shifter Rubbings of your own? If you have any great ideas to share, leave a comment. I love to hear from you.