Carved linoleum blocks are great for making Paintstik rubbings, but sometimes we want an image that is a little more subtle. No problem. Grab a foam dauber (or a stiff stencil brush) and you'll make 'shadow' rubbings in no time.
As I mentioned last week, I was doing some Paintstik rubbing experiments with my carved lino blocks. When I got to the 4th carved block, I liked the image, but I wanted something a little softer.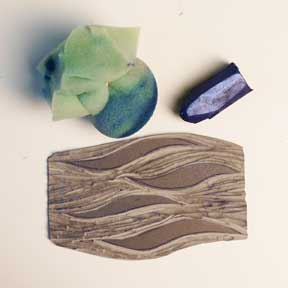 I was working with a small carved lino block and an Iridescent Sapphire Paintstik.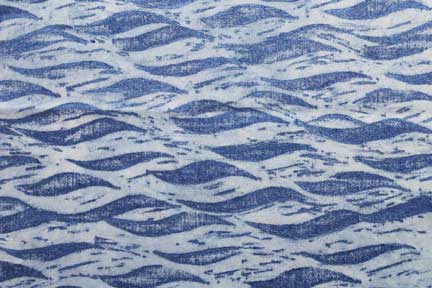 Here is the rubbing using the Paintstik directly on the fabric. It's a nice image, but not quite what I had in mind. So I rummaged through one of my tool baskets until I found one of my favorite homemade daubers.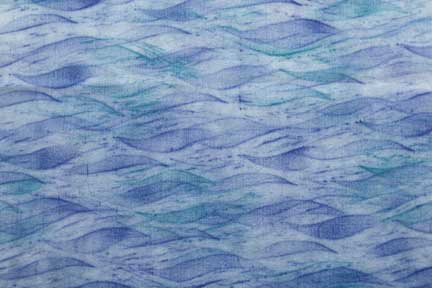 Using the dauber to rub the Paintstik color on the fabric, gave it a totally different look – very soft, subtle and "shadowy." Nice! To add a little bit of life to the piece, I added a few additional rubbings with Iridescent Turquoise.
If you don't have a dauber handy, you can get a very similar "shadow" effect with a stiff stencil brush. When you use a dauber or brush, you apply a LOT less paint to your fabric, and you get the softer effect. Here's a neat sample by reader Linda Clark: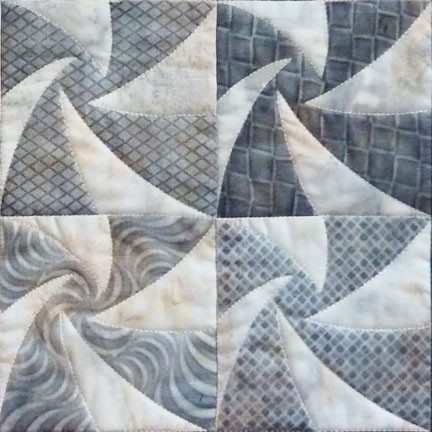 Linda put a stencil on top of her fabric, placed the fabric over a textured surface, and then added the Paintstik color with a brush. You can do the same thing with a dauber; both tools will give that soft, shadowy look.
If you want to read more about Linda's brush rubbing adventures, check out these entries in the Blog:
No More Boring Boarders and Linda Clark's Terrific Texture Hunt
Have fun with your Paintstik rubbings. We'll be back to linoleum prints in a few weeks. (I'm taking a short break after Quilt Market — it's pretty tough to write newsletters and talk to customers at Market at the same time.)