Are you dreaming about making your own designs, but a bit intimidated by the "techie" tools that can make your dream a reality?
Do you ever find yourself thinking...
I want to put MY designs on my fabric – I'm tired of using stencils and tools designed by someone else.

I've got this great design I made for a different project, but it's not the size or shape I need right now.

I'm totally okay with buying some designs – as long as I can modify them enough to work for me.

I was so excited when I bought this crazy cutting machine, but I've never figured out how to put it to work!
You're not alone – and it's not your fault!
It's not just you. Trust me. As a creative person, you are hard-wired to want to explore new ways to do things. It's perfectly normal for you to see a demo of a cool new tool – like a Silhouette cutter – and fall head over heels in love with it! It's just the way you're built!
But once the package arrives, reality sets in and you realize there is a pretty big learning curve hiding in a corner of the box. And then pictures of techie troubles begin to float in front of your eyes like a bad dream that just won't quit – and you wonder what in the world you've got yourself into. (Again.)
When you don't know where to start – or you want to find out how to do more – the single best thing you can do is to find a guide who speaks your language. Someone who can show you the features you should care about and exactly how to use them. Someone who can translate all that techie stuff into words and instructions you can actually understand!
When you can focus on the things that will work for you (and ignore the rest), new ideas will be percolating faster than you can keep up with them – AND you'll know how to get them out of your head and onto your fabric!
Now, just imagine...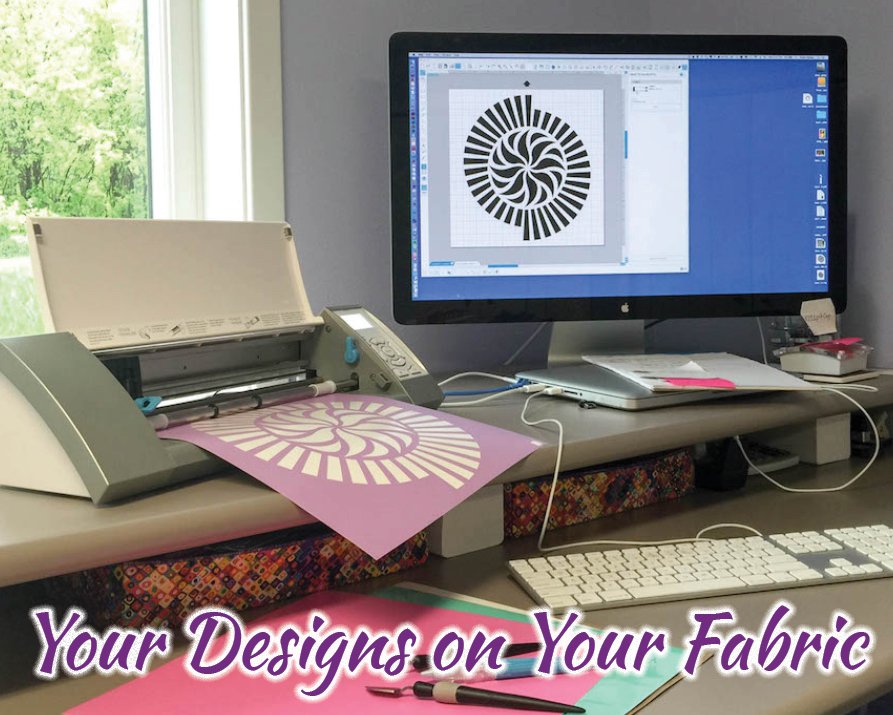 Having the freedom to change your own designs (or designs that you buy) to fit your next project perfectly.

Feeling liberated because you know the secrets to drawing your own designs!

Being confident that you can cut into expensive fabric without ruining it.

Being totally excited about using your high-tech helper because you know exactly how to use it!
If this sounds exciting, you're in the right place!
I'm Shelly Stokes, the Chief Creative Mentor at Cedar Canyon Textiles.
I'm a (reformed) engineer and fabric artist who simply loves finding ways to apply "techie" solutions to fabric art.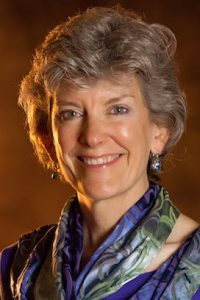 In a lot of ways, I'm just like you...
As a fabric artist and a quilter, I'm always looking for tools that will make my life easier – and my projects go faster. Time is precious, and I want to make the most of it. But once I learn how to do something, it takes a pretty good jolt to make me look at something new. (You know the drill…if it ain't broke, don't fix it, right?)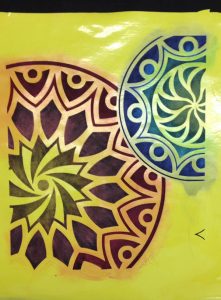 A couple of years ago, that "jolt" came in the form of a phone call from Terri Johnson. She needed help putting a project together for a retreat group, and she wanted to use Painstiks, my all-time favorite fabric art supply. When I asked her about her retreat, she said it was all about Silhouette cutting machines and different ways to use them. And I said "Silhouette? What's a Silhouette?"
After listening to her for about 3 minutes, I knew I had to have one. As in Right Now. From our conversation, I knew the Silhouette cutter would let me test a scale model of a very big project I was about to start painting – and that I would be able to cut the stencils FAST.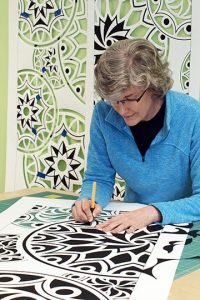 I had just spent three solid weeks cutting the stencils for my big project –BY HAND– and the thought of being able to cut stencils with a machine was enough to send me into a tizzy.
Long story short…Terry helped me learn enough to cut this first set of stencils from vinyl and transfer it to fabric for my paint test. (It was fascinating to watch the machine cut each stencil in less than 30 minutes!) I painted the test piece and adjusted my color scheme, and corrected one glaring design error. Yay!
And the, as much as I hate to admit it, my machine began gathering dust. I knew it should be my new best friend, but it just wasn't happening.
Now here's the really crazy part. In my first career, I was a programmer for an engineering group that designed computers. I went to college for all this techie stuff – and I was actually pretty good at it! So what kept me from embracing this incredible tool and learning how to use it?
Simple. I felt like a Stranger in a Strange Land.

See, I'm a fabric person. I'm not into paper art, card making, or scrapbooking. I'm not making personalized t-shirts or cutting fancy decals to stick on who knows what! I paint on fabric. I make quilts. Everything I do is related to putting color on fabric and turning it into something beautiful. And the people in the Silhouette world didn't speak my language!
Then one day I simply said Enough Already! If there isn't a Silhouette guru for the fabric art world, I'll be that person. And from that day forward, I learned everything I could to learn about these marvelous machines – and the software that makes them tick.
I took classes designed for paper art. I found every resource I could, knowing full well that it wouldn't have the answers I was looking for. I even got on a plane and spent a weekend (and a couple of thousand bucks) to attend to a conference where I was probably the only fabric artist in the group of 450 people! (You know you're in a different world when you walk through a vendor mall and are not tempted to buy a darn thing!)
Then I got to work. I figured out what worked, what I needed to care about – and what I could simply ignore because it didn't add value to my fabric art world.
And now, I'm excited to share this distilled wisdom with you. If you love working with fabric and the idea of adding your own designs to that fabric, I would be honored to serve as your guide to the wonderful world of Silhouette.
Your creativity is your best friend – and your worst enemy!
Now I am totally confident that you have some great creative genes in you – even if you think they have been "hiding out" most of your life. And those wonderful little creative genes are exactly what you need to to turn your Silhouette cutter into your favorite high-tech helper.
And if you are wondering just how these creative genes come into play here, stay with me. In less than a minute, I am going to share one very special secret that will change the way you approach all your creative activities – including learning about "techie" stuff.
But first, I want to make sure you are in the right place. I have an incredible secret to share. It's for you if you are tired of doing things the old way when you know there is a faster and easier way. It's for you if you know what you need (like a Silhouette cutter), but you're not sure how to use it – and you don't know where to start. If this is you… read on!
You're not alone in reaching out for the latest sure-thing solution. We all do it!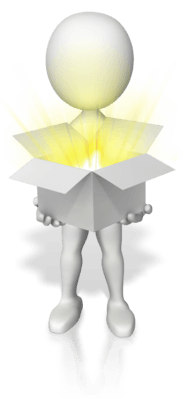 Today's big secret is important to you, to me, and to all of us at some point in our creative life. When we're stuck in a creative rut, or we need a new way of doing things, we reach out and grab the latest gizmo on the market, sure that it's going to solve all our problems (and wash the windows and let the dog out in the middle of the night to boot!)
We buy the new toy, full of excitement and anticipation, but somehow the air goes out of our ballon all too fast.
Now, I know what you are thinking, because I'm just like you – and I still struggle with the same dragons. Do you ever think to yourself…
"I know this thing should make my life easier, but these instructions were written for someone on a different planet."
"It takes longer to figure out how to do something with this crazy machine than to just do it the old way."
"I'm so tired of struggling when I try something new – I'm trying to do something simple, but I just can't make the darn thing work!"
Oh goodness. I know exactly how you feel! So many times, I've been right where you are, wishing I could snap my fingers and *poof*, instantly master a new tool or technique and start producing fantastic results in no time. Unfortunately, it doesn't usually work that way.
That's why I'm so excited about sharing this special secret. I just know that you'll be able to put it to use IMMEDIATELY – and get back to having the fun in your creative life that you deserve – and learn  to love that wonderful machine you brought into your studio. And what's not to love about that?
As creative people, we are plagued
by a short attention span.
Believe it or not, it's unfortunately true. As I traveled to trade shows, guild meetings and classes over the past few years, I have asked literally hundreds of people what holds them back from mastering a tool or technique. And over 90% of them say the same thing, "I just don't stick with it long enough" or "I'm too easily distracted by something new."
As quilters, painters, artists and crafters, we tend to learn something new, do a couple of projects, and then set it aside and move on to the next new and exciting tool or technique.
The most obvious reason for this is simple: As a creative person, you are blessed with an abundance of curiosity and willingness to explore new things. But you may lack the patience and persistence to keep going back to the well with the same tools and techniques to see "what else" you can create from them.
Unfortunately, this short attention span and the tendency to move on to the next thing can lead to feeling guilty and getting down on yourself as you think "I can't believe I bought all this stuff and now it's just taking up space in my studio!" or "Why do I think I'll learn to use this one when I've never mastered any of the other stuff I've bought?"
As a teacher, here's what I've learned that keeps creative people stuck. Ask yourself if any of these have stopped you before:

No step-by-step system.
Do you get stopped in your tracks because you don't have a  step-by-step system, just a bunch of ideas but no clue where to start?

It's too hard.
Do you worry that you will use up a bunch of perfectly good fabric and supplies without anything to show for it because the learning curve is too steep, so you never finish the project? (Or worse yet, you never start?)

Can't get the results shown by others.
Maybe you feel like you'll never be able to create something that looks like the picture in the book – and that you'll be disappointed in yourself, or that it will simply take far too long before you can create something you like.
If you can relate to any of these feelings, I'm excited to share that you can have a whole new relationship with a very special machine that may be gathering dust in your studio. Now, here's the big secret that I've been promising you…
The secret to Creative Success is
PLAYING – WITHIN A FRAMEWORK.
To do that, you need STEP-BY-STEP
SUPPORTED LEARNING, using
simple tools and techniques, so you get
GREAT RESULTS RIGHT AWAY!
Getting stuck is almost never a matter of talent or ability – it's a matter of process. Thankfully, that's pretty easy to fix.
Now here is the key… the power of exploring a topic in a step-by-step fashion is that repetition builds confidence – and confidence boosts learning and creativity. By having step-by-step expert guidance as you learn, you'll have fun immediately (which means you'll stick with your learning process long enough to really figure things out).
Then you never have to feel guilty about having yet another nifty machine just gathering dust or taking up space. You'll know exactly how to use it for any number of projects!
And if you follow this path, you will build your collection of beautiful, designs and tools right away, not to mention your confidence. Guaranteed!
In fact, I am willing to bet that if you use a step-by-step approach like I have been describing, you will find that you can't wait to get into your studio, to tackle the next step — and to have fun again. And that's what it's all about!
Best of all, this magically wonderful step-by-step process will be handed to you, because I have created it specifically for fabric art lovers just like you!
Fall in love with your Hi-Tech Helper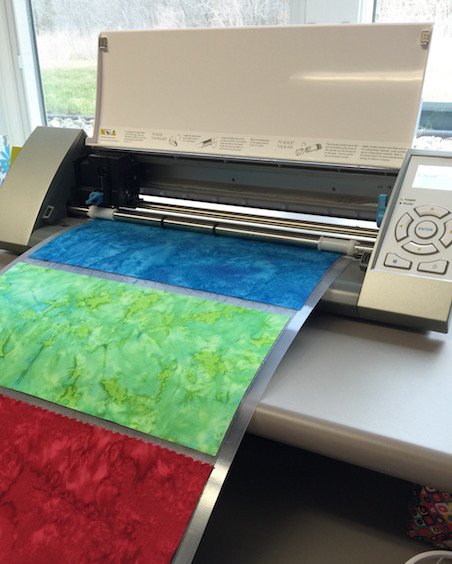 If you're reading this, I'm guessing that you already have one of the Silhouette cutting machines in your studio or work room. If not, I'll bet you've been on the fence about whether to bring one of the hi-tech helpers into your creative life.
Today I would like to invite you on a new adventure that I call Silhouette for Fabric Art, where we will be using these wonderful machines (and the software that drives them) to work for us.
In most of my classes, we paint on fabric – often adding designs from purchased stencils, rubbing plates and found textures. We have lots of fun, but I can't tell you how many times I hear people just like you say, "Hey, this is great… but how do I put MY designs on the fabric?"
In this course, we're going to take a step back. Instead of painting on fabric, we're going to create the designs – and then use these marvelous machines to cut the tools you can use to paint on fabric.
Before I say more, here's just one example of what you can do with your Silhouette cutter. I used my cameo cutter to cut a "renegade" stencil, painted the image with Paintstiks (of course!) and then added embroidery to bring my dancer to life. Sure, I could have cut the stencil by hand. But it was much more fun to save my hands for stitching – and let the machine do the cutting for me!

Now rather than simply writing another book that winds up in the pile of " I'll get to it soon " reading materials in your studio, I've created a series of step-by-step lessons (yes, that systematic learning system) to guide you through your Silhouette for Fabric Art adventure. I have nothing against books, mind you. It's just that I know that most of you will learn a whole lot more from a series of guided lessons than you will from a book.
And, by the way, you don't need a dedicated studio, work room, or even a special desk to have a ton of fun with your Silhouette. If you've got a desk or a table where you can put your computer and cutting machine side by side, you're all set!
From a dust collector to a valuable tool!
What an amazing course. The pace was good. I learned so much and I have the confidence to try different ideas. I will get the exercises done next week after the quilt show. This course has changed my Silhouette from a dust collector to a valuable tool. As always, your courses are so educational. Thanks a lot.
Janice Skene
Arborg, Manitoba, Canada
The Silhouette for Fabric Art Adventure
I love adventures, and I want to invite you to join me on this one! We are going to have tons of fun, learn some really useful skills, create beautiful designs, and cut the tools for adding those lovely designs to your fabric. By the end of your adventure, you will…
Love your machine and all it can do for you,

Be confident that you know how to use it to create your fabric art tools,

Have a clear strategy for getting ideas out of your head and onto the fabric – with YOUR designs exactly the way YOU want them to look!
Plus… You can come back to the classroom for a refresher Any Time You Want! That's right – you have Permanent Access to the course materials.
Now, you may be thinking that's a pretty lofty set of promises, but I can assure you that we've got you covered every step along the way. Let's take a look at everything that comes with your Silhouette for Fabric Art adventure, starting with the step-by-step lessons.

From Mystery to Mastery in Six Lessons

The key element to our adventure is a series of lessons that are specifically designed to do two things: First, to explore the design and cutting concepts one-at-a-time instead of lumping everything together in a single session; and second, to combat our short creative attention span by working on our new skills in a systematic fashion.
There are six lessons on our Silhouette for Fabric Art Adventure. The first lesson lays the foundation for a successful adventure – much like packing your suitcase and checking it twice (or three times!) before you set out. Then, we will explore the features of the Silhouette machines that matter to us fabric folks, from creating our own designs to cutting fabric, freezer paper and stencil materials.
My dream has finally come true!
Laura Murray
Minneapolis, Minnesota, USA
I've been designing stencils for the past 12 years, and I always dreamed of being able to use a digital drawing tool instead of doing everything by hand.
Now, having completed the Silhouette for Fabric Art course, that dream has come true! Although I'm not exactly a computer luddite, my past experience with attempts to learn software from manuals or YouTube usually ended in frustration because I'd get stuck, and never find a solution.
At times, I felt really stupid…. how could others do this, and I couldn't figure it out?
I thought drawing software was way beyond my ability. It turns out I was wrong; I just need the information to be presented in a way that I could process.
Your step-by-step tutorials in video format were easy follow. And I so appreciate that all the exercises were focused on fabric art. Finally – something I could actually relate to.
Now that I understand the software, it's reassuring to know that I can return to the video tutorials at any time for refreshers (I will surely forget some of the procedural details).
Shelly, thanks for making is possible for me to make friends with a digital drawing tool. I'm having fun!
Module 1: Get to Know Your Silhouette Studio Software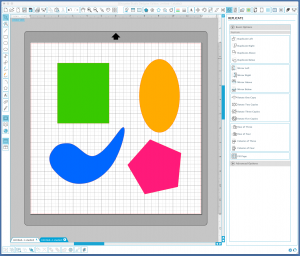 Before we set off, it's a good idea to look at a map. We'll begin with a guided tour of the Silhouette Studio software and do some basic drawing and cutting.
This lesson will cover:
A complete overview of the Silhouette Studio software, including the "must-know" settings that will make your life easier

A thorough discussion of the Cut Settings and basic-troubleshooting tips

A basic drawing lesson to help you learn your way around the different toolbars
Our cutting materials for Module 1 will include freezer paper and other light-weight materials.
Module 2: Edit and Manipulate Existing Designs
You'll find an amazing world of designs for sale (or free) on the internet. Learn how easy it is to edit and manipulate existing designs to make them work perfectly for your next project.
You will learn:
How to find designs, import them into Silhouette Studio and organize your library

How to edit and manipulate these designs with the Rotate, Sheer, Align and Replicate tools.

A really slick method for cutting shapes into multiple pieces (without using the Knife tool!)

In Module 2, we will learn to cut heavy materials like stencil plastic.
Module 3: Create Your Own Designs, Part 1
It's shocking to discover how many shapes can be created with with circles, squares and polygons. Once you know the secrets, unusual shapes are surprisingly simple to make using the powerful tools in the Modify Window.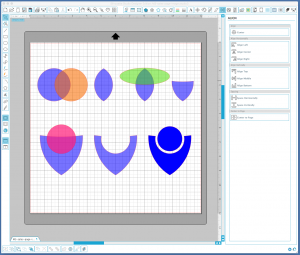 This lesson will include:
An easy-to-use strategy for creating complex-looking shapes from ellipses, rectangles and multi-sided polygons

A thorough picture-based explanation of the options in the Modify Window, including intersections, divisions and compound shapes. (I promise…it will all make sense!)

A delightful method for turning a stack of shapes into a circular medallion
We'll break a few rules and cut Renegade Stencils from sign-maker's vinyl in Module 3!
Module 4: Create Your Own Designs, Part 2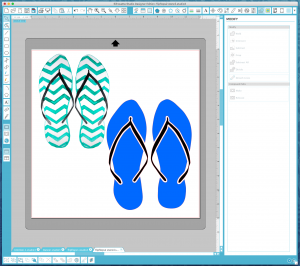 Sometimes you start with a shape, sometimes you don't! The free-hand drawing tools in Silhouette Studio are mighty useful – and more friendly than you might expect.
This lesson will cover:
How to use the free-hand drawing tools to create shapes with straight and curved edges

Using photos or images as a template for your free-hand writings.

Editing shapes with the Point Tool
The cutting materials for Module 4 include stabilizer and interfacing products.
Module 5: Trace Line Drawings and Images for Appliqué
Got drawings? We can work with those too! Whether you're starting with line drawings, appliqué patterns or simple graphics, we can bring images into Silhouette Studio, trace them and turn them into cut files.
In this lesson, we will:
Import drawings into the software with a scanned image, a photograph or a graphics file

Trace the drawings to create a cut file

Use our cutting machines to draw appliqué outlines on fabric

Add seam allowance the easy way with the tools in the Offset Window
Our cutting material for Module 5 is fabric – at last!
Module 6: Add Text To Your Designs
Adding text to your project is incredibly simple with your Silhouette. Use any font on your machine in straight lines, along curves – forward and backward. If you can imagine it, you can probably make it work!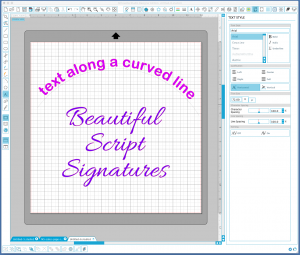 This lesson will include:
A delightful tool for previewing text in Every Single Font on your computer. (And if you are like me, that's a bunch!)

Special considerations for working with cursive (script) fonts

How to set text around curves and other shapes

How to modify fonts for traditional stencils (and why you can totally ignore this by using Renegade Stencils!)
In Module 6, we'll cover cutting instructions for any additional materials you bring up during the first five modules.
Uh, oh… Do you hear that little voice in your head spouting off a bunch of those pesky I CAN'T statements? That's perfectly normal, but don't give up just yet. Let's tackle a few of these I CAN'T gremlins.
This is going to take too long… It takes me forever to get good at something new.
No, it won't take forever. I will be right there with you at every step, and make sure you have everything you need to start getting great results quickly. And I do mean quickly. If you follow the steps in the lessons and do each exercise, you'll see very cool results in minutes – or perhaps a few hours. You will not need months or years of practice to become proficient at using your Silhouette cutter!
But Shelly, I'm not very good with this techie stuff. I look at the instructions and my eyes glaze over.
I can't wave a magic wand and make all your techie fears magically disappear, but I can promise to speak English and explain things in the simplest way possible, one little chunk at a time. Only you can decide if a high-tech tool fits into your creative life. But if you're comfortable enough on your computer to take an online class, you're probably adventurous enough to make friends with your Silhouette cutter.
Oh Shelly, I've got so much going on already! How can I possibly justify anything new?
If you already HAVE a Silhouette machine in your work room, this course is exactly what you need to put it to work – or to do even more with it. You've already paid for the machine, so let's turn sunk costs into a valuable investment that pays dividends.
If you're NOT SURE that a Silhouette is right for you, this course could absolutely help you decide. You can start learning before you buy the machine – the software is free! (Of course, this may be more than you need for a preview, but that's totally up to you.)
Will this course help me use a different cutting machine?
Sure it could – as long as you are comfortable taking the things you learn here and finding the equivalent capabilities in the software for your machine. Or, you can use the free Silhouette Studio software to create designs, then convert them to files that will work on your machine.
Just to be clear… I will NOT be able to answer specific questions about how to do things on a Scan-n-Cut, Cricut or any other cutting machine. You're welcome to join us, but I only recommend this option for those of you who are technically self-sufficient and conversant with your machine.
What if I'm traveling or I can't get online at the right time for the classes?
No worries. All of the videos for the classes are pre-recorded. There is no "set time" that you need to be online. You'll get a message when each new lesson is available, but you watch the lessons and do the exercises when it's convenient for you.  If you have a vacation scheduled, enjoy your trip! The lessons will be ready when you are ready to resume your Silhouette adventure.
Plus… You can come back to the classroom for a refresher Any Time You Want! That's right – you have Permanent Access to the course materials.
Remember, all those I CAN'T statements are exactly what's keeping you from truly enjoying your Silhouette cutter, your treasure trove of fabulous supplies and your creative life. When you hear yourself saying I CAN'T – and then decide to do it anyway – that's when you'll get back to having fun!
Am I the right teacher for you? Here is what my students have to say...

Mary Grande
Colorado, USA
I have used my Silhouette Cameo for three years to paint images on contemporary quilts but could not find courses or videos online targeted expressly for fabric applications. This course expanded my skills using out of the box functions and provided excellent tools for making the custom stencils in my work.
Shelly has the unique combination of an artistic passion, an inquisitive "what if" mind, and the ability to clearly and logically demonstrate using the Silhouette software.
A beginner will love this course and avoid the pitfalls I navigated on my own, and a seasoned user will be wowed, as I was, with "I-didn't-know-you-could-do-that" moments.

Helen Beaven
Wellington, New Zealand
I'm enjoying the class and the pace is just right for me. I've been learning heaps and like being able to go back and review the videos as I try the techniques, e.g. loading the vinyl without the mat.
Thanks Shelly for such a great class. I'm learning more than I thought I would and can't want for the next lessons.

Carol Walker
Oxford, OH, USA
I had dedicated this time to learning how to use my silhouette cutter so I am doing just fine. I am keeping up with the material and applying it to a project of my own.
I think the class is very well organized in an open ended method so the beginner can learn the basics of the software and cutter; and the more advanced person can use the material to add another dimension to their art quilts.
I really appreciate the videos you have created to show us each step and the feedback you give us.
It is almost like being in a real class.

~ Silhouette for Fabric Art ~
A Six Module Adventure for $197

What's included? I'm glad you asked! Let's take a look at all wonderful resources that are included with your course.
Six Lessons, Beginning June 19th, 2017
A detailed material list, right down to the specific materials that work best for creating fabric art tools.
A thorough review of the topic for the week, including video demonstrations and on-the-screen examples in the Silhouette Studio software. All of the videos are filmed in advance. You watch them at whatever time works best for you.
Tips, Tricks and Secret Weapons that will make it easier for you to be successful with this lesson.
Specific exercises to get you started as you explore the technique.
Permanent Access to your lessons in our Ruzuku classroom.
The schedule for our class will be divided into three sections. Instead of doing lessons for six straight weeks, we'll take a week off after Module 2 and another week off after Module 4. We're covering a lot of ground, and it will be good to pause a couple of times to let everything sink in!
And remember, you set your own schedule. The lessons are released on specific dates, but we won't have any "live" training sessions. All the videos are pre-recorded. You choose whatever time works best for you.
The lessons alone are worth the price of the course, but you'll get a whole lot more…

Bonus #1: Private Online Interactive Group
Along with your weekly lessons, your classroom includes a private discussion areas where you can ask questions, post photos of your work and chat with your classmates.
A safe and supportive environment for asking questions and getting feedback,
A way to connect with the other participants in the course, and
Endless inspiration as you "see" what your friends in the group are creating!
You'll get far more out of the course when you activity participate in the online discussions. As a matter of fact, I can just about guarantee that some of the coolest "aha" moments will come from the conversations in the group — and not from my pre-planned lessons. (And I LOVE when that happens!)
Bonus #2: Personal Attention in a Small Group Setting – for Ten Amazing Weeks
This course is limited to 100 people so that I can give each and every one of you the attention you deserve. And we'll have 10 weeks together. Not 10 hours, not 10 days, but 10 entire WEEKS where you can learn at your own pace and on your own schedule. (That's 6 lessons over 8 weeks plus 2 Bonus Weeks to ask questions and get feedback and the end of the course!)
Through the online forum, I will be answering any and all questions you post, providing encouragement, and giving you the personal feedback and guidance that you deserve.
Now, I know that 100 students may seem like a large group, but it's not. The reality is that only a portion of you will chime in with questions and post your photos – and the rest will be happily lurking in the background, soaking up all the inspiration!
So don't worry… you'll get plenty of my time and attention. I promise! With my background in engineering and 20 years of fabric art under my belt, I'm the perfect person to serve as your guide on this Silhouette adventure.
Bonus #3: Permanent Access to the Classroom
Technically, this is NOT a bonus, but I want to make sure you see this.
You have PERMANENT ACCESS to the Silhouette for Fabric Art classroom. It's yours. You paid for it. You can come back for a review whenever you want.
Life happens during courses – and it's almost impossible to digest all the information in one pass through the course. Rest assured that you can go back to the videos and course materials a month from now or a year from now. It's absolutely yours.
Creative learning can be hard!
Our private classroom is the perfect place for talking about the hard stuff. The things that keep us stuck. The old messages that keep coming up as we learn new things. The feeling that "it will never look as good as the picture in the book" — or the real zinger — "I'm not good enough."
I'll be there for you when you feel like you're dragging yourself through the creative muck and the techie meltdowns – and so will the other students in the class. I've watched this time and time again — and I know you'll find plenty of support when the going gets tough.
Creativity, Connection, Community
When you get right to the bottom of things, the real reasons for joining me and for joining this group learning adventure are simple. It's the connection. It's the community. It's the opportunity to nurture your creative spirit while you learn some exciting new skills — and create amazing designs and tools for your fabric art.
Still on the fence? You can do this!

Susan Pagano
Philadelphia, Pensylvania, USA
I really appreciate how you divided the videos up, the length of each video is perfect!
Your logical description of creating shapes with the drawing tools and creating erasers has really helped, I am a visual learner!
I knew what [the tools] were but I needed to learn how to use them. Thanks Shelly!!

Jeanine Center
Ann Arbor, Michigan, USA
I got behind because of storms, a flaky internet connection, and the usual trials and tribulations of life, but now I'm catching up.
I'm having the most fun making designs in the Silhouette software. It's like magic!
I won't be cutting until I get a Silhouette machine, so I'm glad that we can revisit these lessons as often as we want.

Susan Sanders
Taylor, Arkansas, USA
I am really enjoying learning to use the various tools and playing with designs.
My understanding is developing step by step.
Summer time distractions keeps me from spending as much time as I would like, but it is all going to work out.
Sign Up NOW!
This is where the rubber hits the road. It's time to get registered.
Your investment in this 6-Lesson Adventure is $197. No plane tickets, no driving, no hotels, no restaurants. Just one flat fee for 10 weeks of learning from the comfort of your own home.
Now before you say to yourself "that's too much for a class," think about what you have already invested (or are about to spend) on your machine, tools, accessories, and supplies. If you're like me, you've got at least $500 (if not more) into your machine and materials.
If you're making good use of your machine, good for you. If you're not, that's a whole lot of sunk costs just gathering dust because you haven't made friends with this amazing machine.
You can do this, but you need to invest a bit of time and energy – and yes, some money – to learn how the machine works and how it can help you with your fabric art projects.
I'll stop right here. I'm not going to do a big song-and-dance on why that's such an amazing value. (Even though it is!) Only you can decide if this course is right for you — if a gift for the creative little girl inside of you is worth $197. If you say YES! — and I truly hope you will — here's the next step.
What To Do Next
Click on the big green button to get claim your spot in the Silhouette for Fabric Art course!
If you want to take the class, sign up now. As in RIGHT NOW. Don't hesitate. Don't fool yourself that you'll think about this later. Just click the button, fill out the form – and give yourself a big pat on the back for treating yourself to a marvelous creative treat. You're more than worth it!
Before you go, fast forward a couple of months...
Imagine that it's three months from today. Is your Silhouette cutter still just sitting there gathering dust? Have you hidden it under a cover (or on the back of a shelf) to avoid the guilt?
Or, are you celebrating the completion of your Silhouette for Fabric Art adventure, feeling great about how much you learned, and simply thrilled with the beautiful fabric art tools you created along the way?
It's your choice. Join the fun – or risk staying stuck. As for me, I'll be blazing the trail for the Silhouette adventurers, and we'll be chatting and laughing all along the way. Join the fun!
Silhouette for Fabric Art – The Bottom Line
A Silhouette Cameo cutter is an amazing tool for fabric art. It helps me get designs out of my head and onto fabric – and it can do the same for you.
There's a lot to learn, but it's not rocket science.
I would be delighted to be your guide for this learning adventure. I'm a fabric person. I speak your language. I promise that you won't get lost in a sea of geek-speak.
You can do this. Click the green button and sign up now.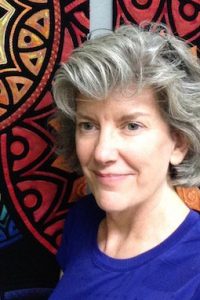 PS. This course is designed specifically for you. It's everything you need to know about using a Silhouette cutter for getting ideas out of your head and onto fabric for your quilts, garments and fabric art projects.
PPS. Six lessons, personal support from me, a friendly classroom, $197. Sign up now.
PPPS. Remember, you have Permanent Access to the Classroom. Come back for a review whenever you need one.