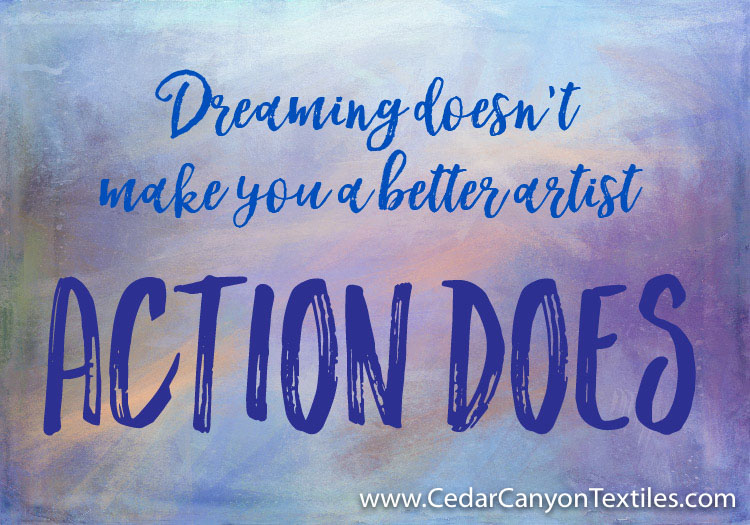 In early 2016, I ran across a fabulous article about Idea Debt by Jessica Abel. It was one of those "whack on the side of the head" moments for me then – and is just as applicable today. 
The essence of the article is that Too Much Thinking and Too Little Making is the perfect way to land in a big, huge pile of Idea Debt. And frankly, this Idea Debt thing is often what gets in my way when I really need to "stop thinking and start doing."
What is Idea Debt?
So, what is this thing called Idea Debt? Let's get it straight from Jessica:
Idea Debt is when you spend too much time picturing what a project is going to be like, too much time thinking about how awesome it will be to have this thing done and in the world, too much time imagining how cool you will look, how in demand you'll be, how much money you'll make. And way too little time actually making the thing.  

— Jessica Abel
Oh boy. I knew exactly what she was talking about.
Flashback
As I read Jessica's post, I found myself transported back about 4 or 5 years. The trends were changing and business was not as good as it had been. I needed to make some changes, and I came up with the idea of creating an online learning program.
But this was not going to be just any online course. Oh no! It had to be a Big Fancy Amazing Online Program, complete with Webinars and Live Streams and every other fancy-shmancy online gimmick available. It was going to be Big, Big, BIG!
But you know what? It never happened. I got so wrapped up in the planning and the packaging that I was totally burned out and pulled the plug on the whole thing. My big idea became a big pile of Idea Debt that dragged me down for the next couple of years.
I was paralyzed at the thought of actually teaching online until I was able to let go of the idea of creating a Big Amazing Online Experience. I was holding onto that Grand Idea so hard that I couldn't simply let myself start small.
Idea Debt is always lurking…
If you've been with me for a while, you know that I got over that disaster. I've been teaching online courses for several years – and literally, having the time of my life. In theory, I should be able to say that I've whipped that Idea Debt monster. Right? Well, not exactly.
As much as I hate to admit it, my Idea Debt monster simply changed her stripes. She's still there, just waiting to trip me up. She offers up a feast of doubt and keeps me thinking about the next thing instead of just doing it. Instead of just starting small and taking things one step at a time, my monster lures me into inaction by telling me "oh, you can't possibly start without knowing exactly how everything should work!"
Can you relate to that somewhere in your life? Do you have a Grand Plan about something that's so big that it keeps you from taking the first step? Yes?
You're not alone – and I have a 7-Step Solution, just for you.
Seven Steps to Freeing Yourself From Idea Debt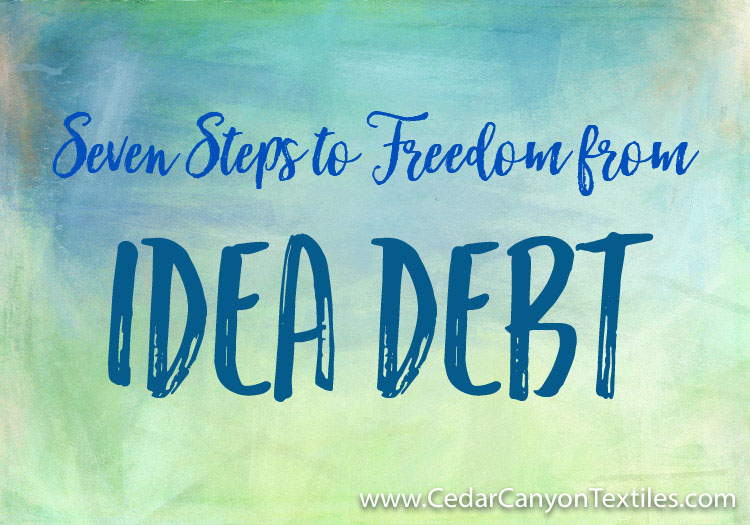 So, how do we keep from falling into the Idea Debt trap? Here are seven steps for less thinking and more doing:
1. Decide what you want to do (or learn)
When you latch onto an Idea, decide what you want to do with it. Don't make it a big, huge IDEA. An average, every-day "idea" is just fine. For example:
I want to "appliqué" designs with paint instead of fabric.

I want to learn to draw and cut my own stencils.

I want to teach a class on topic ABC.
2. See what resources are available (books, courses, seminars)
Is there a class about the thing you want to do? Has someone written a book about it? Set aside some time to track down the resources that might be helpful. Ask your friends for recommendations. You don't have to start from absolute zero and learn every hard lesson the hard way.
3. Sign up for the course (or buy the book)
Finding the class is not enough. Get yourself signed up. Buy the book. Book your flight to the conference. Whatever it takes to learn what you need to learn, just do it.
"I can't afford it" and "I don't have time" are usually excuses for not moving forward. If it's really important, we can almost always find the time or money to do what we need to do. (I'm not suggesting that you use your rent money to take a course, but most of us have enough wiggle room in our budget to do the things we really want to do.)
4. Complete the lessons (or activities in the book) with a series of small samples
I hate to break the news, but it is not enough to sign up for the course or buy the book. You actually have to do something with the resources you purchase. Remember? Less Thinking, More Doing.
And while you are doing, keep it small. Nothing says you need to make a huge project out of each lesson. Nothing says you have to love what you make as you learn – or turn the samples into Something Finished. It's perfectly okay to do the lessons, to try out the concepts on a small scale.
5. Review each sample and make notes of what works and what doesn't work
After all this Doing and Making, review your results. What worked better than you expected? What things didn't turn out the way you expected? What, if anything, landed on your "Never Again" list?
6. Make a "final" sample that incorporates the things that you want to take forward in your work.
To cement your new-found skills into your thinking, make a final sample based on the concepts you liked the best or found the most useful. Think of it as your Graduation Project.
Now, don't go nuts. It doesn't have to be a big, huge project. Another small sample will do just fine. The trick is to pull the concepts or elements that you like into a single piece that can serve as your starting point for future projects.
7. Let the rest go.
That's right. Let The Rest Go!
By doing the lessons and making the samples, you'll know what you want to hang onto – your "keepers" – and what to release. This releasing of the things that don't serve you is the key.
You tried it, and it wasn't your thing. Let it go. It's been sitting on the back burner for so long that you no longer care. Let it go. It's something you (or someone else) think you "should" do. Let it go, let it go, let it go!
Go To Work
If being stuck in your head is the cause of Idea Debt, then Making and Doing are the cure. Quit living in your head, stuck in all the grand plans and do something. As painter Chuck Close would say, go to work.
Your Turn
Do you have a pile of Idea Debt that is keeping you from moving forward? Have you found a way to "let go" and move on? Leave a comment below. I would love to hear what you're thinking.