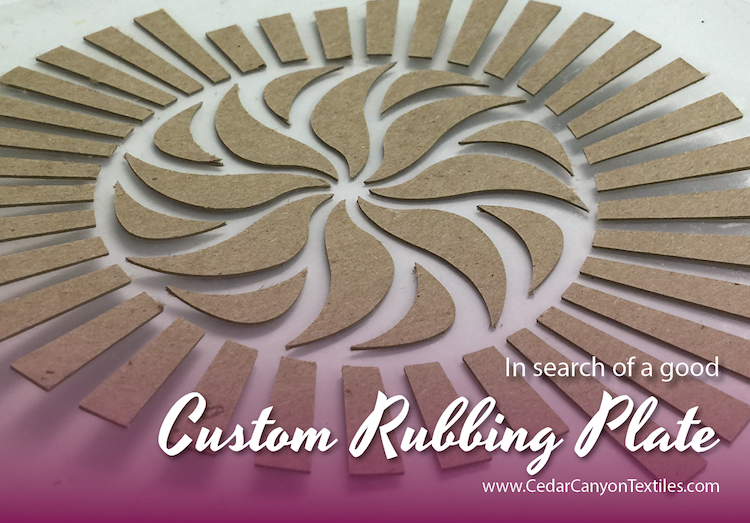 Custom rubbing plates have been on my Most Wanted List for a long, long time. And thanks to my Silhouette Cameo cutter, I'm getting close – verrrrry close – to the finish line on this elusive quest. I definitely need to do more testing on materials and cut settings, but I just have to show you an experiment I did a few days ago.
For those of you who are new to the Community, a Rubbing Plate is a reasonably flat surface with a design embossed into it. For about 10 years, I designed and manufactured the Cedar Canyon Rubbing Plates for adding Paintstik images to fabric. For a texture lover like me, the ability to create a custom rubbing plate as a pre-production prototype – or just for my own use – is pretty much like finding the Holy Grail.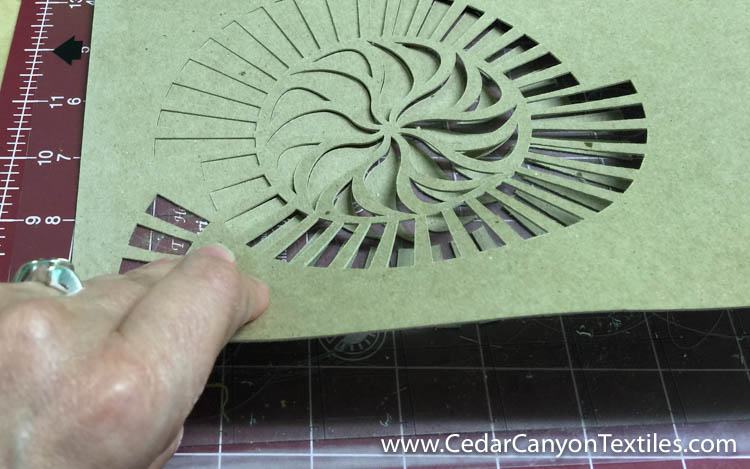 The material has to be thick enough to make a good Paintstik rubbing, but thin enough to cut with a home cutting machine. For my weekend experiment, I used a piece of chipboard I had in the storage room. I'm still working on the cut settings, but I got close enough to lift off the background without tearing everything to bits.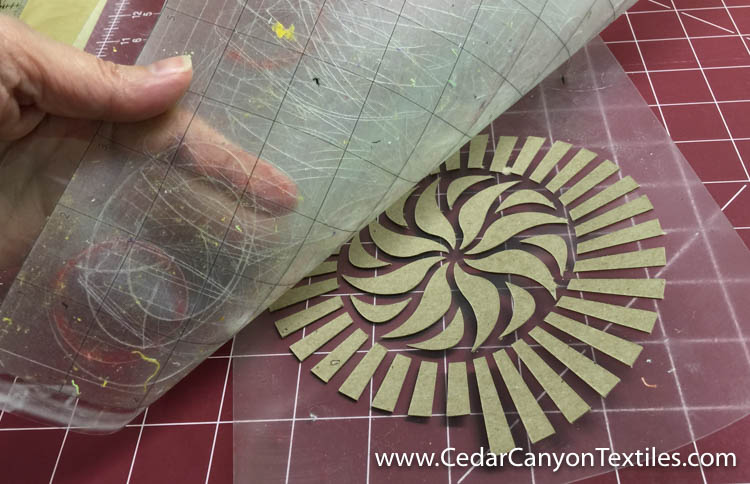 The big dilemma is getting the pieces off the cutting mat and "stuck" to something else without dumping all the cut pieces in a pile and trying to put them back together again. I had some Silhouette adhesive-backed stencil material in the studio, so I cut a piece to act as the base of my custom rubbing plate.
I tore some of the pieces into layers trying to make this transfer, but I was able to stick everything back together again with sticky spray. (What in the world would I do without my stash of sticky stuff?)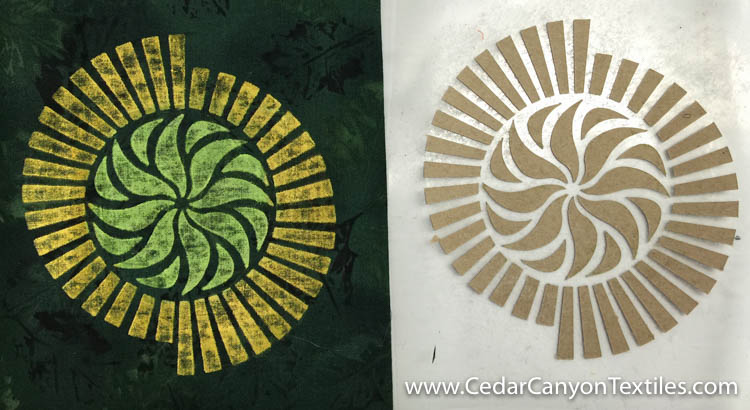 In spite of my numerous mishaps, my custom rubbing plate worked just fine. I sprayed the top with 404 sticky spray (as always) and made a lovely Paintstik rubbing. I wouldn't call it a gold-medal performance, but this turned out pretty darn good!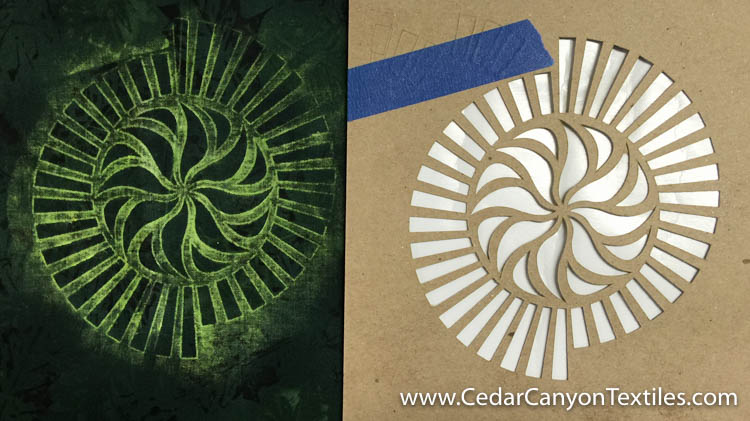 Now here's a pretty special bonus! If you cut a design for a custom rubbing plate, you get two for the price (and work) of one. The left-over "background" makes a nifty rubbing plate that produces the negative image for the design.
Get the full story when you register for a class
My custom rubbing plate process is still a work in progress. I need to test more materials, figure out the transfer process and refine the cut settings, but I'm getting close. To get all the details, sign up for one of my Online Courses.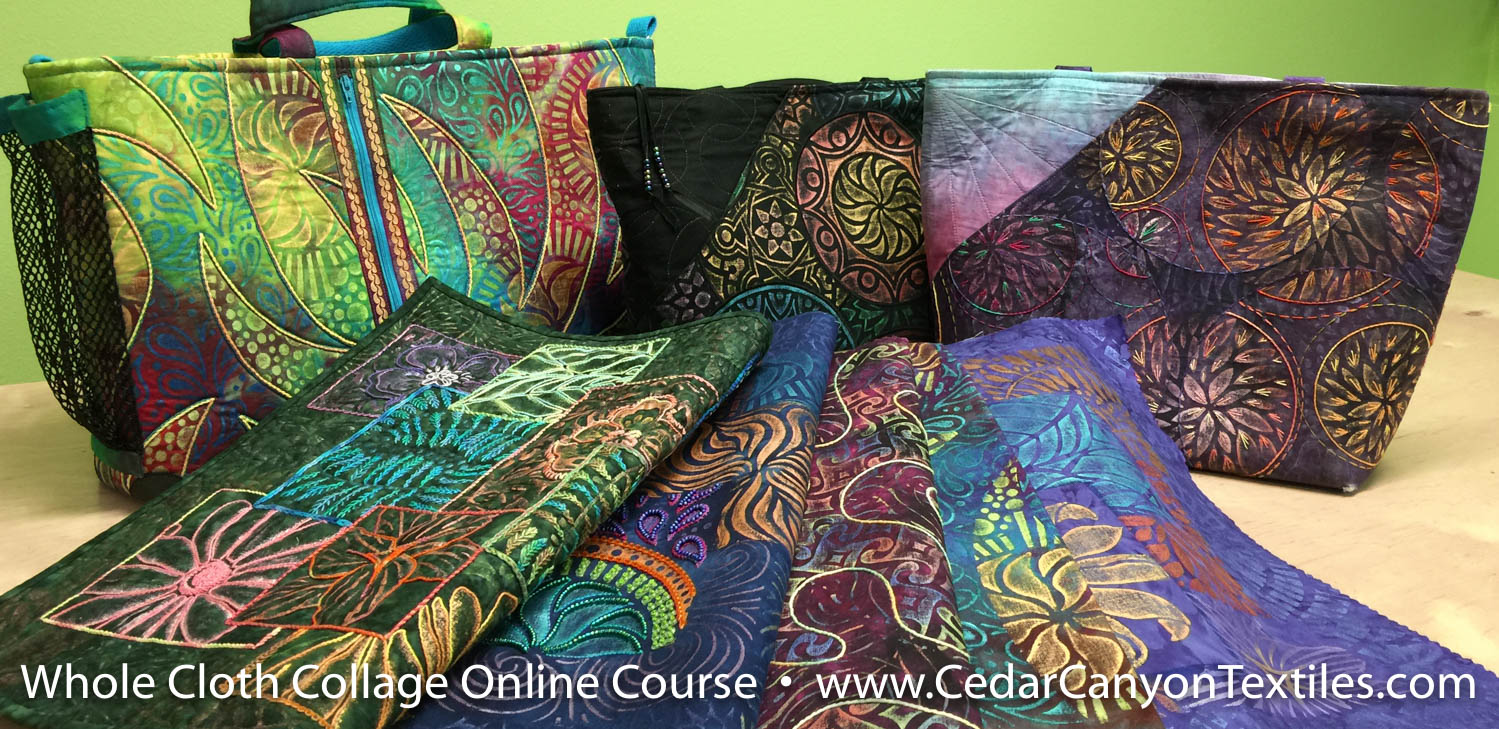 The Whole Cloth Collage group will be working with Paintstiks and textures to create the look of collage on a single layer of fabric. Custom rubbing plates will be just one more way to make our fabric truly unique.

The Silhouette for Fabric Art students will be learning everything they need to know about the amazing Silhouette Cameo machines. We'll cut all manner of materials for stencils – and in this session, we'll go one step further and add personalized textures. Woohoo!
By the way… If you want to experiment on your own, look before you leap with chipboard. There are bunches of different thicknesses and densities out there, and some of them are too dense to cut with a Silhouette. (My next task is to figure out exactly what I had in the back room so I don't purchase a bunch of the wrong stuff!)
Your Turn
Have you got any ideas for this Custom Rubbing Plate quest? Do you know of a good, thick material that can be cut on one of these cutting machines? Do tell! I would love to know of any suggestions or ideas you can add to the list!