I just got a few lovely photos from Mary Brandt, my trusy trade-show companion and special projects go-to gal. Mary loves to play with the paintstiks and try out new things, especially when she has a new pattern to work with. Mary got a copy of the Sassy Bag pattern from Lazy Girl Designs and just could not wait to put one together. Visit the Lazy Girl Designs website for more information and to see a video on the Sassy Bag.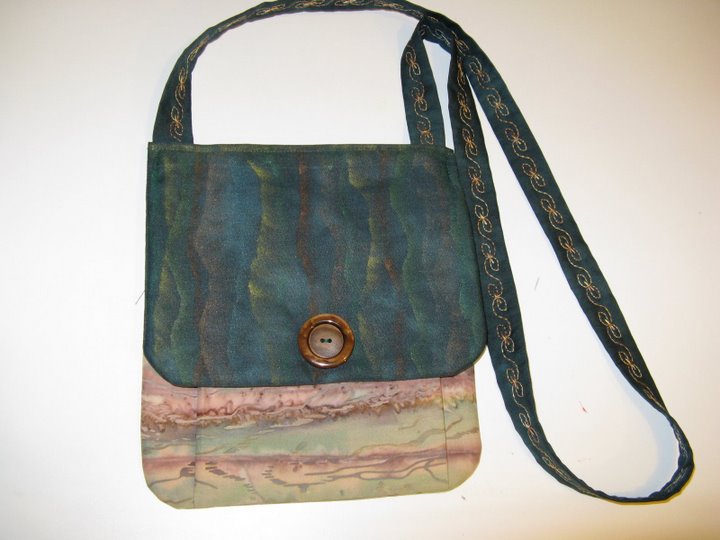 Mary used our paintstiks to create the irregular stripes on the turquoise fabric for the bag flap. The light fabric on the bottom of the bag is a batik from her stash. This is a truly quick and easy technique that you will want to try for yourself, so here's how it works:

Choose a relatively plain piece of fabric from your stash. Press to remove any wrinkles.
Tape your fabric to a work surface, or use a Grip-n-Grip mat under your fabric to keep it from moving around while you work.
Tear a piece of paper to create an uneven edge.
Lay the paper on your fabric, leaving about an inch of fabric exposed.
Apply paintstik color to a palette surface and load the paint onto a stiff brush.
Brush the color off the edge of the paper and onto the fabric.
Move the paper over about an inch, and continue to add stripes until you have enough painted fabric for your project.
Heat set your paint and get started!
OK. the official instructions are to let the paint dry and then heat set before moving on with a project, but there really is not much paint on your fabric when you make these soft stripes, so here is the "heat in a hurry" tip — Just put your fabric between 2 pieces of parchment paper (look in your kitchen for baking parchment) and press for 10-15 seconds over each part of the fabric. The paint will be dry enough to continue working without getting paint on your hands or sewing machine.
Mary tells me the Sassy Bag goes together very quickly. I may have to try one out myself. She was having so much fun that she painted another piece of fabric for a checkbook cover, and then finished off the set with a Wonder Wallet. That seems like way too much for one day.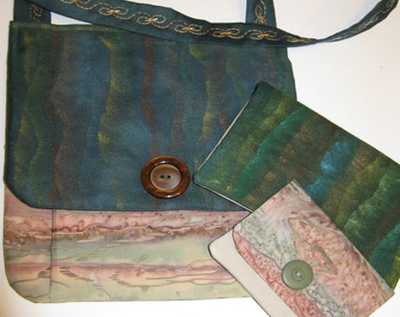 Happy painting!