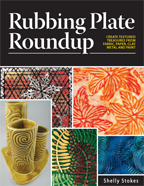 The Rubbing Plate Roundup Book is in the hands of the printer. I don't have a final delivery date yet, but our printer is doing their best to getting it through the process as quickly as possible. I am confident that we will be shipping before the holidays. I'll post a final update in next week's newsletter.
As I read through the book one last time before sending it off, all I could do was smile. It came together beautifully and I'm absolutely delighted with the book. It was definitely worth taking the extra few weeks to get it right. Here's the blurb from the back cover:
If you love texture, this book is for you! Rubbing Plate Roundup is
the definitive guide to adding visual and dimensional texture to
your fabric and craft projects with the simplest tool imaginable –
the molded plastic rubbing plate.
Join Shelly Stokes – author, entrepreneur, artist and teacher – for a
leisurely tour of not one, not five, but twelve completely different
techniques for adding texture to your art. From gelatin prints and
paintstik rubbings to embossed metal and paper castings, you'll be
amazed at the range of possibilities!
Whether you are a crafter, quilter, potter or mixed-media artist,
you'll find useful techniques in familiar territory – and plenty of
inspiration for venturing off on new artistic trails. Each technique
is fully illustrated with complete supply lists, clear instructions and
beautiful step-by-step photographs.
Fire up your imagination, gather your collection of rubbing plates
and get started – you'll be creating textured treasures from fabric,
paper, clay, metal and paint before you know it!
I really enjoyed the process of putting this book together. It was a great excuse to venture beyond my comfort zone. I challenge myself to think up at least 20 ways to use the rubbing plates — and I did! And I got some wonderful ideas from you, the members of the Cedar Canyon community. It was tough to narrow the list down to the 12 techniques that are included in the book, but it was also a lot of fun. I hope you enjoy reading and working through the book as much as I enjoyed writing it.
Last Chance to Pre-Order Rubbing Plate Roundup
As we wait for the printer, you have one last chance to jump to the front of the line by pre-ordering your copy of Rubbing Plate Roundup. When you pre-order the book, you get 3 special benefits.
Your order goes out first. My staff has been working hard to get everything ready so we can get the pre-ordered books out the door as fast as I can sign them.
I will personally sign each and every book that is pre-ordered through this special offer. I'm going to have a serious case of writer's cramp, but you're worth it! I sincerely appreciate your support and I want this to be special — for you, I will sign the books!
We're going the extra mile for our pre-order customers. We are including two free rubbing plates with each book, one from the new Doodles set and one from another set. The plates are chosen randomly as we pack the orders, so I have no idea exactly which plates will come with your book.
Click on this link to reserve your spot at the front of the line. The link will take you directly to a special order form that does nothing put process pre-orders for Rubbing Plate Roundup. (You can also find a link on our home page.)
If you have a US shipping address, you will be charged an even $30. That's $22.95 for signed copy of Rubbing Plate Roundup, 2 free rubbing plates, and just $7.05 for VIP Priority shipping.
For our customers outside the US, the cost will be just $37 USD. That's $22.95 for a signed copy of the book, the 2 free rubbing plates and VIP Priority shipping for just $14.05. We know that international postage rates are very expensive, but you're in luck. We'll pack your book and rubbing plates in a flat-rate envelope instead of a box and that will allow us to send it for a fraction of the usual postal charge.
Finally, before you ask — no, you can't add other items to your pre-order. If you want to combine the book with other items, you'll need to wait until the book is added to the regular online store. I'll keep you posted of progress next week.
End of Year Notices
Holiday Shutdown: Cedar Canyon Textiles will be closed from December 24 to January 2. The offices will open again on Tuesday, January 3. Any orders placed through the online store will be shipped when we return in January. (I haven't figured out how to recruit Santa's elves to help out during the shutdown — I think they go somewhere warm for a well-deserved after-Christmas rest!)
Fair Warning: The prices for many of our products are going up in January. We hate to raise prices, but our production costs have risen sharply along with petroleum prices. If you have something on your wish-list, be sure to place your order before the end of the year — you'll automatically save 10% (or more) on your order. Click here to visit the Online Store.