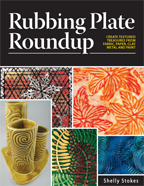 While you're waiting for the big news that your copy of Rubbing Plate Roundup is in the mail, I thought I would share a behind-the-scenes look at part of the process. I recently packed up 10 chapters worth of goodies into a big rolling suitcase and drove off for a day with my photographer. I was amazed at the amount of stuff I had to gather up to get the photos done — and even more amazed that I could actually lay my hands on all of it.
I drove to the cities the night before the shoot so we could get an early start. I knew we had a lot of ground to cover in 6 or 7 hours. And boy, did we get a lot packed into that time. We shot photos for 10 of the 12 book sections that day and a lot of the gallery photos as well. Whew!
Getting ready for a photo shoot is an interesting experience. I gathered up all the materials for each topic and packed them into a separate bag or box. I printed out each section of the book and made notes in the empty photo boxes to detail what the photo would contain and which rubbing plate I wanted to use. And wherever I could, I made the samples up ahead of time. Here's a peek at my suitcase.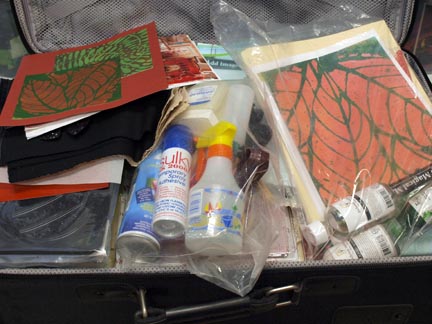 During the photo shoot, I wanted more than the pictures that were going to be included in the book. After all, I thought I should take advantage of my day with John to get as many wonderful photos as possible. Needless to say, we had lots of starts and stops as I put the finishing touches on samples for the pictures.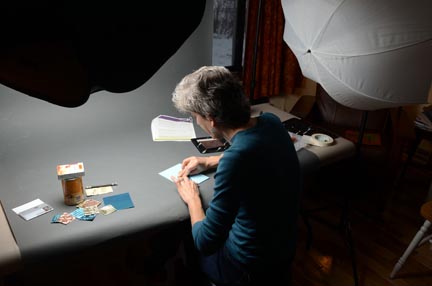 Great photography can actually be done in fairly tight quarters. But it can get a little claustrophobic when you are sandwiched in between and underneath the light umbrellas. (In case you are wondering, the can on the table is a high tech paper-weight. We put one can on each side of the paper to keep in from sliding around on the table. If I remember right, they were cans of pumpkin. Can you smell the pie he's cooking today?)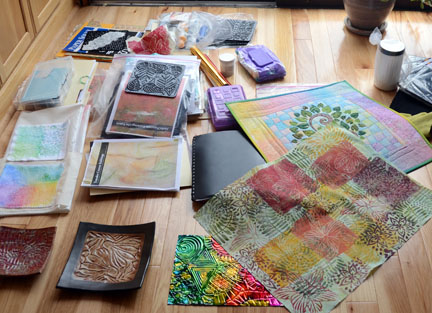 Of course, things don't get put away as neatly as they came out of that suitcase. That would require an extra body and probably a small miracle. I just kept putting stuff into piles as we went along and then packed it all up at the end of the day.
Before I close, I'll show you one of my favorite photos.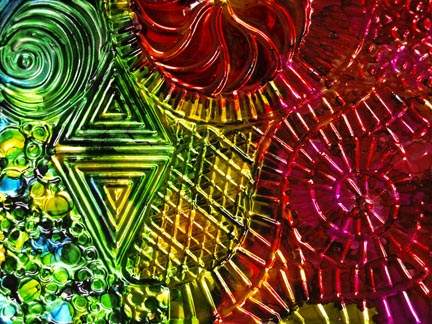 This is the "cover girl" for my section on metal embossing. I used lots of different rubbing plates to emboss patterns into a sheet of copper and then added color with inks. I'll share all the details in Rubbing Plate Roundup — which is almost ready for the printer. If you haven't already done so, you can pre-order your copy here.