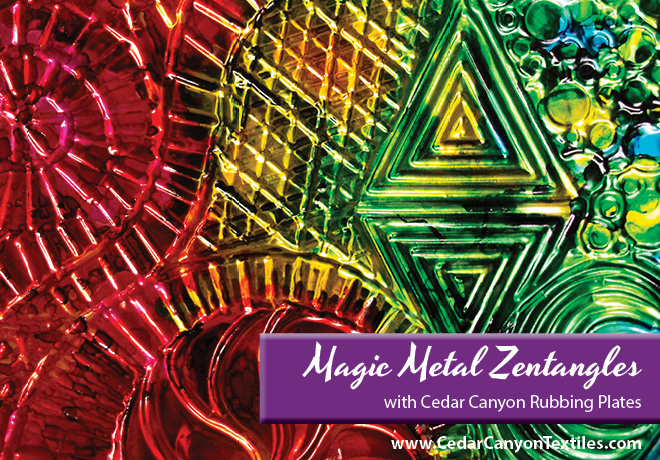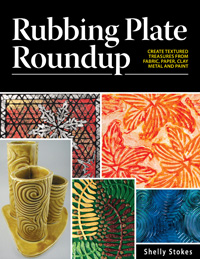 Do you ever find yourself looking at the fun stuff in your stash and just want to do something different? Yes? Oh good – I would hate to think it's just me! Let's take a look at how to you can use your Cedar Canyon Rubbing Plates to make Zentangles with craft metal. Yes, metal!
Now you may be thinking that this is a big departure from my usual work on fabric. And you are absolutely right. Like you, I am a huge lover of all things fabric, but once in a while, it's really cool to break out of my box and play with something totally different. And that's why my Rubbing Plate Roundup book features 12 techniques for making textured treasure with rubbing plates from lots of different materials – not just fabric!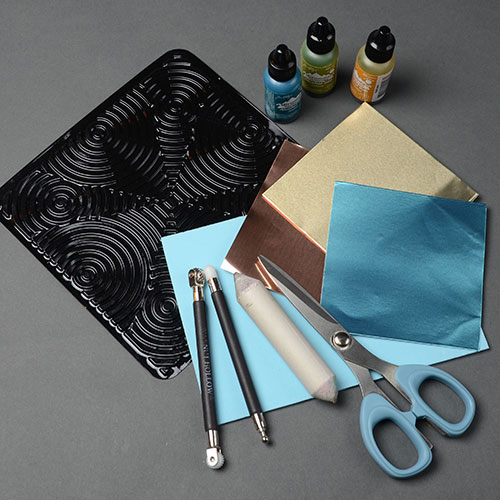 To play with metal embossing, it is helpful (but not totally necessary) to have a few tools like the ones shown in this photo. But I have to tell you that my favorite "found in the studio" metal embossing tool is the wrong end of a Sharpie Marker. How cool is that!
All you really need is a rubbing plate, some craft metal and a Sharpie marker to give this a whirl, so we are not talking about a big investment.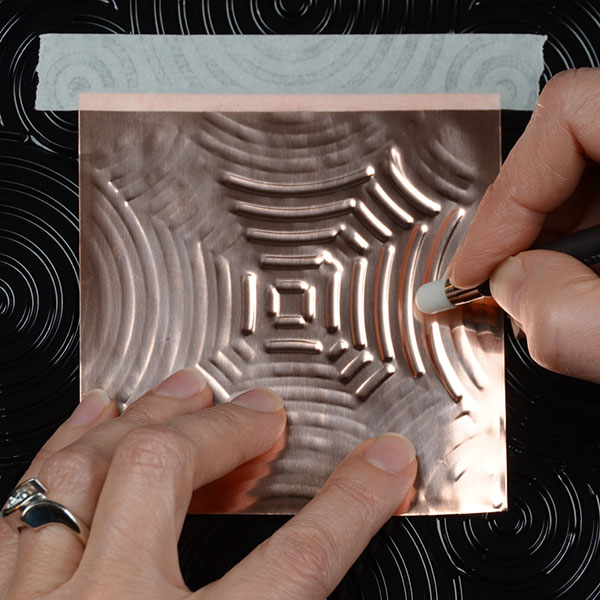 The easiest way to get started is to work with small pieces of craft metal. This allows you to get the hang of the process without using up a lot of materials. After shopping some local craft stores and placing some online orders, I worked with 4" – 6" squares to get the hang of metal embossing.
It quickly became clear to me that the thickness of the metal was the key to success. When I stuck with the really thin stuff, embossing was easy. As the metal got thicker, it was still possible – but it got pretty tough on my hands.
The type of metal also made a big difference. Aluminum was super easy to emboss and copper was a nice "in between" metal. But I will never tackle another piece of brass in my lifetime. That is really tough stuff!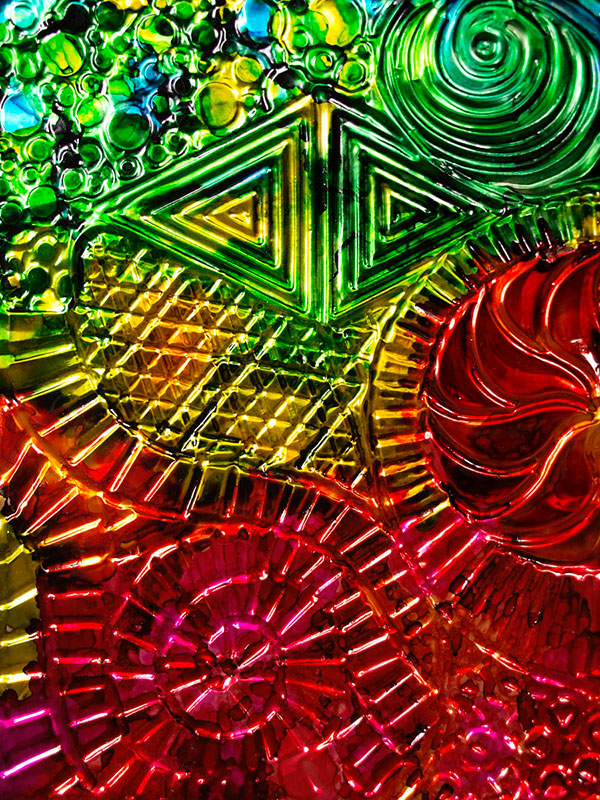 Once you are familiar with the embossing process, you can venture off into Zentangles. Just as you would on paper, you can use different rubbing plates to add texture to different sections of a sheet of metal.
To make a metal Zentangle, gather up your collection of rubbing plates, choose 6 or 8 with different textures, and just dive in. I found it easiest to sprinkle the largest design elements around the metal sheet and then fill in the open areas with contrasting textures. It's a bit different than drawing a Zentangle on paper, but the overall effect is the same.
And don't forget the color! Alcohol inks (solvent-based inks) are great for adding color to metal. It's great fun to drip the inks onto the metal and watch them spread. The results are unpredictable, but completely fascinating. (And if you really dislike the result, you can use a solvent to remove all the color and start over.)
If you are inspired to create your own Metal Zentangle – or want to share this idea with your friends, give us a Tweet or a Share. We love it when you help us spread the word about all the cool things you can do with rubbing plates.
Resources:
More information on embossing metal with Rubbing Plates (and 11 additional techniques!) is available in Rubbing Plate Roundup.
The textures in Shelly's Magic Metal Zentangle are from the Curves, Doodles, Triangles and Op Art sets of Cedar Canyon Rubbing Plates.
For craft metal and tools, do an internet search. The companies in the space have changed over the years.
Your Turn:
Are you a fan of metal embossing? Have you ever tried making a Zentangle from a totally different material? Chime in with a comment! I love to hear what you're up to.