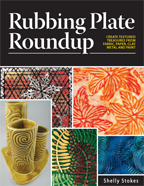 I had a lovely note from a reader in response to last week's newsletter. She said "this book sounds very interesting, but I'm not sure what it is about…" Talk about your V-8 moment! When an author is wrapping up a book project, she naturally assumes that everyone knows exactly what she's talking about. Oops! Here's some additional information for our new community members — straight from the back cover of the book.
Add Texture To Fabric, Craft And Mixed-Media Projects
If you love texture, this book is for you! Rubbing Plate Roundup is the de finitive guide to adding visual and dimensional texture to
your fabric and craft projects with the simplest tool imaginable — the molded plastic rubbing plate.
Join Shelly Stokes — author, entrepreneur, artist and teacher — for a leisurely tour of not one, not five, but twelve completely different techniques for adding texture to your art. From gelatin prints and paintstik rubbings to embossed metal and paper castings, you'll be amazed at the range of possibilities!
Whether you are a crafter, quilter, potter or mixed-media artist, you'll find useful techniques in familiar territory — and plenty of
inspiration for venturing off on new artistic trails. Each technique is fully illustrated with complete supply lists, clear instructions and
beautiful step-by-step photographs.
Fire up your imagination, gather your collection of rubbing plates and get started — you'll be creating textured treasures from fabric,
paper, clay, metal and paint before you know it!
Last Chance to Pre-Order Rubbing Plate Roundup
With the book arriving any day now, we'll be shifting from the Pre-Order form to the regular Online Store. Here's the scoop.
The Pre-Order form will be available through the weekend. If you place your order using this form, you hop to the front of the line and your book goes out first. (If you choose to pay by check, it will go out as soon as we receive your check.)
We will add Rubbing Plate Roundup to the Online Store on Monday, December 19th. If you have other items on your wish-list, you can order them all at once next week.
Reminder: Holiday Shutdown
Please remember that Cedar Canyon Textiles will be closed the last week of December. We will ship all pre-paid orders placed through Thursday, December 22 before we close for the holidays. (And yes, if you order in the wee hours of the morning on the 23rd, we'll do our best to get your order out the door!) We'll be back in the office bright and early on Tuesday, January 3rd and resume shipments at that time.
Even though we will be closed, the last week of December is still a great time to place an order. Price increases go into effect at the beginning of January — do your shopping before the end of the year to save some green!