The new year will be here in just a few short days, and I can't think of a better time to introduce our new Bubbles DesignMagic™ Stencils. If these don't remind you a bit of champagne, I'm not sure what will!
I started this design and then handed it off to Matthew, my graphic designer. I liked it, but it needed something, and I couldn't quite seem to figure it out. When I got the design back from Matthew, my first reaction was "Wow – Swiss cheese on steroids!" I made up a sample, loved it, and sent it off to the stencil cutters. Now how cool is that!
Bubbles DesignMagic™ Stencils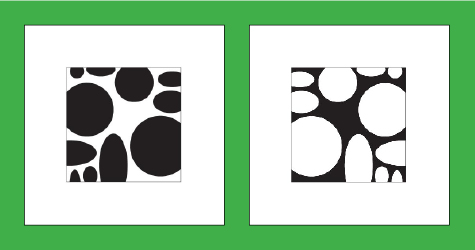 The stencil pair look like this. As with all DesignMagic™ stencils, the shapes are cut out on one stencil and the background is cut out on the other.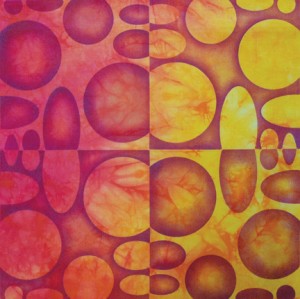 Here is the image painted on a piece of graduated fabric. I love the way the Design Magic images look when the background changes color. It's a little extra bang for the buck.
Fizzy Fun at Houston Quilt Festival
Here's a piece of fabric I stenciled while I was doing demos at Houston. I ran around the merchant mall before the show started because I needed a piece of fabric to paint on. I couldn't believe how lucky I was to find this wonderful print from Robert Kaufman. (It's from the Gallery Basics collection.) I mean really – could I ever expect to find fizz for my bubbles? And what are the odds that I would actually find this in all the bazillion yards of fabric at Festival???
I haven't decided what I'm going to make this one into just yet. Whatever it becomes, it will always be a great reminder of my trip to Houston.
Bubbles to Go
Here's one of my Anything Goes Totes made with the Bubbles stencils. This tote is made of hand-dyed fabric from two of my fabric friends.
The bubbles on this muted stripe look more like a planets in the night sky. It's a totally different look than the lighter pieces, but I like them both.
The Bubbles stencils were definitely our most popular new product at Fall Market. I hope you enjoy them!