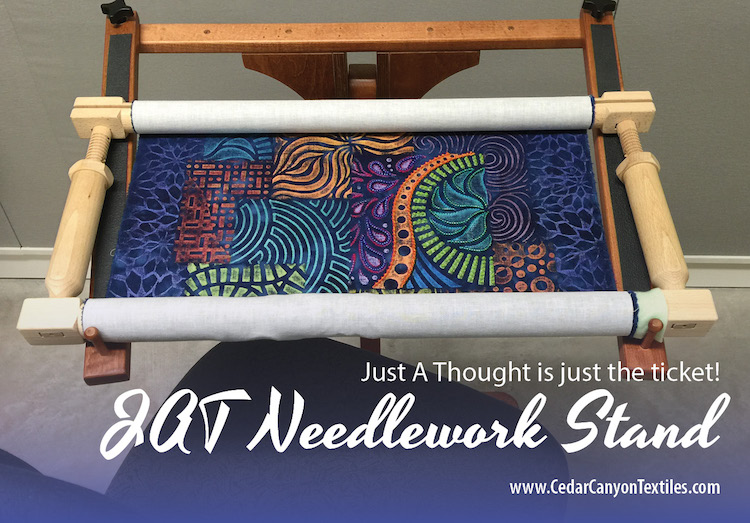 In a previous post, I showed you the Millennium Embroidery Frames I'm using for my stitching and beading work. Today, we'll take a look at the floor stand I use to hold them. The Millennium frames are beautiful, functional – and too heavy to hold by hand. A good, sturdy stand to support the frame is the only way to enjoy stitching with these frames.
With that said, let's take a look at the Just A Thought (JAT) Needlework Stand. Just A Thought is owned by Judy Odell, hailing from the great state of Oklahoma.
The makers of the Millennium Embroidery Frame make a floor stand, but I chose the JAT needlework stand for a couple of reasons.
First, it's made in the US, and the shipping charges were much, much lower. Second, the company ships very quickly. And third, the review on Mary Corbet's Needle-n-Thread site made it sound like it would suit my purposes just fine. (And Mary was right!)
The frame is solid hardwood and very well finished. It arrived very quickly after I placed my order. (Two weeks, max.) There was some assembly required, but it took all of 15 or 20 minutes.
The thing that makes the frame very adjustable is the wedge-shaped piece at the top. You can set it so the frame is flat (like a table-top) or tilt it to a pretty steep angle. Plus, there are a couple of height adjustments as well.
The arms can be set wide, or moved in for narrower frames.
The package includes a couple of spongy rubber strips that you can add to the arms if you wish. I added them after discovering that my frame moved around a bit too much without them.
The one things to note is the base. For stability, there is a triangular piece at the bottom of the stand, and that affects your choice of chairs. A plain four-legged chair or an office chair work fine. Many living room chairs will work fine, but my favorite perch in the living room has a round pedestal base, so it is not compatible with this frame.
(I'm quite sure that my retired-engineer sweetheart could find a solution for me if I turned him loose on it, but I'm not ready to set him loose with my floor stand!)
JAT Needlework Stand Pros and Cons
Here are my personal thoughts about this floor stand.
There are lots of things I like about this stand:
The JAT Needlework Stand is heavy enough to feel solid and sturdy, but not so heavy that I can't move it from room to room.

The manufacturing fit and finish are very nice. The parts feel solid and well-made.

The height of the frame is moderately adjustable, with two sets of holes to accommodate taller and shorter stitchers.

The tilt function allows a lot of flexibility, from table-top flat to a significant tilt.

There are a series of holes across the top of the frame that allow you to set the arms close together or further apart.

The rubber strips are a thoughtful add-on for keeping your work in place.
As with any product, there are a few downsides to go with all the positive points:
The stand is not particularly portable. It can be taken apart for transport, but I would not just pop this in the car for a day of stitching with my friends.

The base of the stand is incompatible with my all-time favorite chair.

To change the tilt of the head, you have to use both hands to loosen and tighten the knobs. Unfortunately, this means that you don't have a hand free to adjust the tilt, so it's a bit awkward.
In all fairness, I was fully aware of the portability issue and the shape of the base before I placed my order. Neither was a surprise, not did these things keep me from ordering and enjoying the stand. They are simply things to keep in mind if you are looking at a stand for your work.
Overall, the JAT Needlework Stand is a well-made stand. At $195 and just $20 for US Shipping, the price is quite reasonable for a stand that can handle decades of use and countless hours of stitching enjoyment.
One thing to note is that Judy has recently introduced a Lap Stand. This was not available when I ordered my floor stand, and I have to say it would be hard to choose if I were buying a stand today.
Learn More
For more information on the stands, head over to the Just A Thought website. Use the links in the right sidebar to get to the information on the Floor Stand and the new Lap Stand. Judy's site does not have an automated shopping cart. Send her an Email or give her a call, and she will get all your information and send a PayPal invoice. (Her contact info is on her site.)
For more information on how the JAT floor stand compares to other stands in the Embroidery market, read the review by Mary Corbet at NeedleNThread.com.
For the record, the link to Just A Thought is not an affiliate link. I am simply sharing my opinions on a product I purchased and enjoy using.
Your Turn
Do you use a stand for your needlework? Which stand do you use? What is your favorite feature? Chime in with a comment. I love to learn about the marvelous options in the wonderful world of stitching.