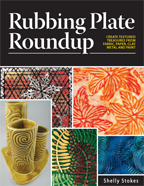 When I asked for submissions for my Rubbing Plate Roundup book, Angela Grasse came through in a very big way. She taught me about using transfer crayons with rubbing plates to make beautiful images on fabric. Are you ready to be transported back to kindergarten? You should be — this is really fun!
I'll be honest. I wasn't always enthusiastic about using crayons on fabric. When I read about people using crayons on fabric for quilting projects a few years back, I thought "oh, that's kid stuff" and went back to my "grown up" paints and dyes. Well, silly me. After getting some coaching from Angela on the transfer crayon process, I was hooked! I had great fun working with some lovely sheer fabric — and I discovered that the images can be transferred to paper and card stock as well.
The basic process is quite simple. You make a rubbing on paper with the crayons, then transfer the image to fabric or paper with a hot iron. There are definitely a few more details that will help you get good results, but as I said, this is one very simple, very cool way to play with crayons! Are you ready to give this a try?
There are two big things to remember. First, you need to find transfer crayons, which are also called Fabric Crayons. Angela recommended the Crayola brand, and I had better luck with those than another set that I purchased. I have yet to find a big box of transfer crayons (you know, the 64 color box…) but I've had good luck blending the colors.
The second key is to use synthetic fabric. I'm not sure what the chemical process is that allows the crayon to bond with synthetic fabric but not natural fabric, but I'm all for following instructions. (Before you ask… no, you don't need to find synthetic paper. Any old paper will do as long as you're not planning to toss it in the wash!)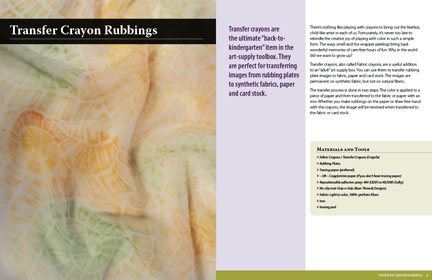 I hope you're nodding and telling yourself "oh yeah, this looks like tons of fun!" It's the perfect way to transport yourself back to the sheer delight of playing with crayons. And while you're at it, share the joy with your friends, your kids, or your grandkids. It's a delightful way to spend a day! You can get all the details on using transfer crayons and rubbing plates starting on page 12 of Rubbing Plate Roundup. Have fun!
Collaborator Corner: Meet Angela Grasse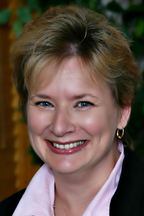 Angela Grasse, from Kitchener, Ontario (Canada) was a huge help as I worked on Rubbing Plate Roundup. She submitted her idea for the book (transfer crayons) and then graciously proceeded to teach me everything I needed to know about how to use them. And she went the extra mile by sending one of her art journals so I could take photos of several of her pieces for the Gallery section of the book. (See what happens when you ask for help?)
Angela is absolutely passionate about art and teaching. she has spent most of her life learning, teaching, exploring and creating. she delights in process. Her joy for learning is readily shared with her students. According to Angela, having fun and creating beauty is what art is all about.
You can learn more about Anglea and her art by clicking over to her blog at princessbubblescreates.blogspot.com. (By the way, don't you just have to love a woman with the confidence to call herself Princess Bubbles? Can't you just see the princess shine through in her photo?)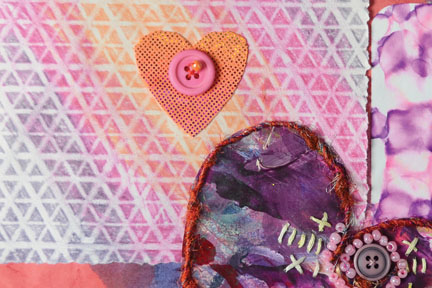 Before we go, I want to share a tip from Angela. During our conversations, she suggested saving the transfer paper you create and using it for another project. On the journal page in the photo, you can see how Angela re-used a piece transfer paper in a mixed-media collage. I think it's great — I love the idea of turning the left-over transfer paper into art!