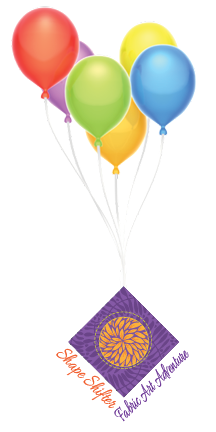 We're counting down to the big day when we reveal the great Shape Shifter Fabric Art Adventure! As I was putting the Shape Shifter Ebook together a few months ago, I realized that this technique had so many possibilities that a book just wouldn't do it justice. So we've planned out an amazing online learning adventure program just for you! I simply can't wait to get started.
I have to tell you that as I was prepping for my visit to Quilt Market, I had a series of "aha" moments that made me change up my plans for the course – and it's going to be even better than what we originally planned! As I continue to work with the Shape Shifter concept, I keep having great new ideas for transferring textures to fabric. Really, it's amazing what happens when you start working on something new.
When I was talking to one person at Quilt Market, I described it like having a popcorn machine in my brain. It takes a while for the sizzle to start, then little ideas start popping up one at a time. And then – oh my goodness – all hell breaks loose in there! In a good way, of course.
Get Your Invitation!
We're having a super-duper bash to kick off the Shape Shifter Adventure. It will all get started at the beginning of June with a totally FREE webinar. I promise, this will not be me just "talking." We'll have some video clips where I actually show you how some of this stuff works, so you can follow along, watch what I do, and see the results!
To make sure you are on the VIP Invitation list, click over to ShapeShifter Adventure.com, enter your name and email address, then click the button. See you there!
P.S. If you are half as excited about this party as I am, I know you'll want to invite your friends. When you're over on the ShapeShifterAdventure page, use the buttons at the top of the page to share the link with your friends on Facebook, Twitter, Pinterest and Email. I can't wait to see you on the big day!