by Shelly Stokes, Founder and Creative Mentor

Are you short of ideas on what to make with your Cedar Canyon Theme Stencils? No problem. We have some great ideas for you.
Original Leaves Quilt by Linda McLaughlin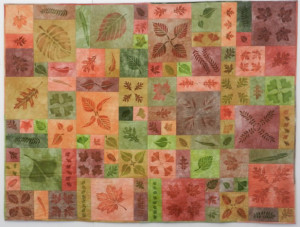 When I announced our Stencil Blowout Sale last week, I received a lovely photo from Linda McLaughlin. Linda is a fiber artist in Weiser, Idaho and a long-time fan of Paintstiks.
To make this lovely quilt, Linda used all of the Cedar Canyon leaves stencils plus several other stencils from her personal collection. She cut her fabric into various size blocks, then pieced it all together to form a simple, yet stunning quilt. You can see more of Linda's work on her blog.
link to
Ginkgo Motif on RunAround Bag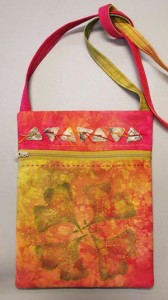 Speaking of leaves, this is a cute little RunAround Bag I made several years ago. I used our Ginkgo stencil to add the image to the front of the bag. (I chuckled when I pulled this photo up on the computer. You can see that I was clearly not excited about embroidery when I added the stitching to this bag.)
Oliver Owl Lamp Shade Cover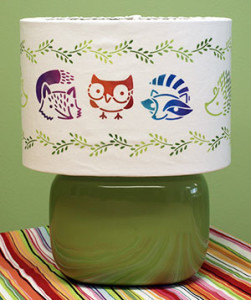 Want to do something totally different? How about a lampshade cover? I was not excited about stenciling directly on the lampshade — I was nervous about keeping my stencil in place. Then one of my friends suggested making a little slip cover for the shade instead. I love it when my friends rescue me from my creative dilemmas!
Stencil as Background by Dinah Tackett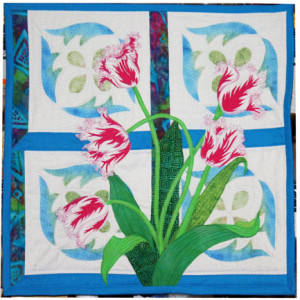 Here is a great idea submitted by Community Member Dinah Tackett. Dina stenciled a simple image in the blocks of her quilt, then added her appliqué over the top. (If you cannot find the perfect fabric for your project, make it yourself!)
What's Your Favorite Stenciled Project?
Have you used any Cedar Canyon stencils on your fabric art projects? Which is your favorite? I would love to hear your stories. You can also send me an image by sending a "Reply" to this newsletter and attaching your photo. I can't wait to see what you have been up to!