Products I Use
I use the following products in my studio and in my Online Courses. You can shop for these products with some of our trusted partners, or find your own sources online. (The companies listed below offer US and international shipping.)
Basic information on each product is listed here. For more information and answers to Frequently Asked Questions, click over to FAQ Page.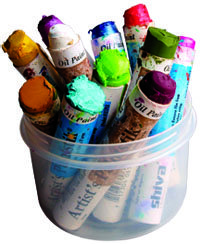 Shiva Artist's Paintstiks are oil paints in a crayon form. Made of wax, a low-acid linseed oil and pigment, they are suitable for use on fabric – and easier to control than liquid paint.
The iridescent Paintstik colors are my favorites. They show up beautifully on dark fabric (due to the light-reflecting quality of the "shiny stuff") and they glide easily over the fabric when making Paintstik rubbings.
Titanium White (a matte color) is very useful as a base when stenciling on dark fabrics. The opaque white acts like a primer and makes it easier to achieve bright colors.
Avoid the Colorless Blender when working on fabric, as it will yellow over the course of several years.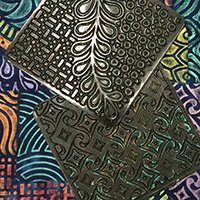 Rubbing Plates are sheets of fabric with a pattern embossed in the surface. If the design elements are spaced far enough apart, they can be used to make Paintstik rubbings on fabric.
Cedar Canyon Textiles rubbing plates have been designed specifically for Paintstik rubbings.
Some rubbing plates from other companies (Roylco) are also quite useful.
Please note that the Cedar Canyon Rubbing Plate product line is now owned by Jack Richeson & Co.
A myriad of textures from around your home, garage and studio can be used for Paintstik rubbings – you'll be surprised what you find if you keep your eyes open to the possibilities.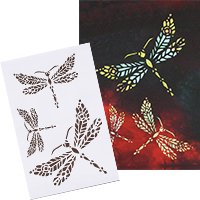 Stencils of all kinds can be used for adding painted designs to fabric.
Precut mylar/plastic stencils are available from a wide variety of sources.
You can easily cut your own stencils from freezer paper and use a warm iron to adhere the stencil to your fabric.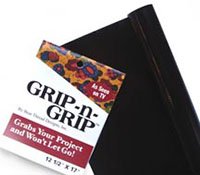 A Grip-n-Grip is a silicone non-slip mat that prevents the things you are working with from sliding around on your work surface. The mats are particularly helpful for:
Keeping rubbing plates from sliding around as you paint
Keeping fabric in place when stenciling
The Grip-n-Grip mat is made by Bear Thread Designs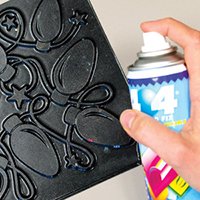 Sticky Spray (temporary repositionable adhesive) is something I use a lot. I call this stuff Post-It Notes in a can, because that is exactly how it works.
404 Spray and Fix (by ODIF) is the product I use most often. It retains its "stickiness" longer than other products, but should be used in a well-ventilated area. Available from Artistic Artifacts and Sew-Craft.com.
KK2000 (by Sulky) has the advantage of being non-toxic, but it does not stay sticky as long as 404. Available from Laura Murray Designs and many sewing machine dealers.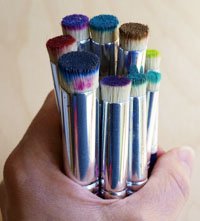 Stencil Brushes: When stenciling with Paintstiks, I prefer dense, short-bristled brushes for faster, opaque coverage. I prefer standard, longer-bristle brushes when I want to avoid brush marks.
Jack Richeson & Co has a line of short-bristle stencil brushes that work very well with Paintstiks.
Cleaning Supplies: There are several cleaning products that I always keep on hand in my studio.
Cedar Canyon Brush Soap (also sold as Jack's Linseed Studio Soap) is an oil-based cleaner that works incredibly well for Paintstik cleanup tasks. It's gentle on your skin, non-toxic and will even remove Paintstik color from clothing.
Citra-Solv is a concentrated orange-based cleaner. It cuts through paint and sticky spray, but is not quite as gentle as the brush soap. (But it's much nicer to use than solvent-based cleaners!)
I also keep a sticky-spray-remover on hand. Just take care that you use it in a very well-ventilated area. The fumes are very strong.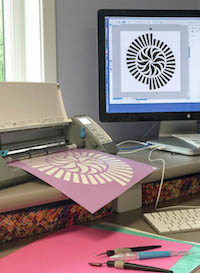 Silhouette Tools and Supplies: I have found a number of tools and supplies to be better suited for fabric-related work with Silhouette Cutting Machines.